by mariel lombardi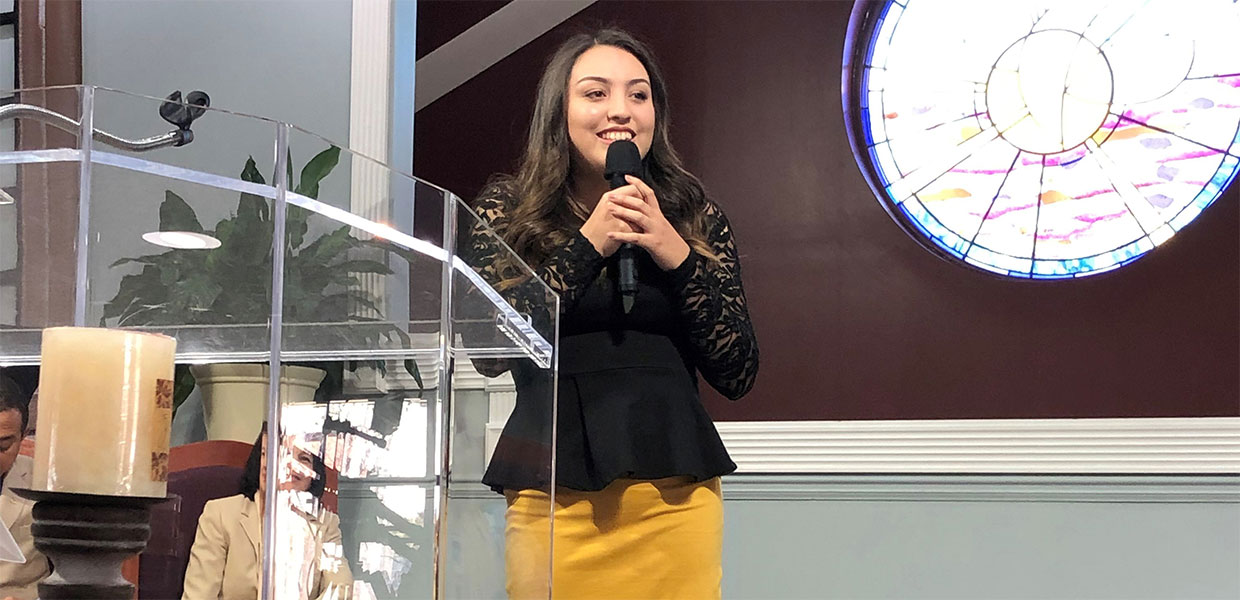 Jaely Vargas
Jaely Vargas, a 20-year-old young woman who attends the Atlanta, Georgia, First Hispanic Church, works for "Leila" and her husband to take care of their child, and she teaches him Spanish. Jaely is a biology major who is studying to achieve her bachelor's degree so that she can continue her education in medical school. Jaely and her parents and siblings are very active in church. Her boss, Leila, respects her religious beliefs, and never questions the fact that she does not work on the Sabbath.
I have had the privilege of watching her grow in the Church, and have noticed that she enjoys what she does for the Lord. She participates in the Youth Department Vacation Bible School and at First Hispanic, sings in the church choir and the praise team, and has been active with Pathfinders for many years. This is a real blessing at a time when so many young people have lost interest in what the Church has to offer. She is a millennial who does not let that label rule the way she serves the Lord, and uses the talents He has given her for His service.
One day, while she was driving to school, a driver rear-ended her car. That caused her to hit the car in front of her. Fortunately, she was not hurt but her car was totaled. Now she did not have a vehicle to go to work or school. The family she works for was on vacation during the first few days of losing her car, so she did not have to struggle with how she would get to work. However, when they returned, it was complicated. She left her problem in God's hands, trusting that He was going to do whatever was good for her.
One Friday, Leila called Jaely to ask if she could come to work. Jaely told her that she did not have a car, and no one was available to give her a ride. Leila replied, "Do not worry, I will pay for an Uber ride, and when you get here, I will rent a car for you." Jaely was happy and thankful to see her boss show appreciation and willingness to help her. When they went to the car rental company, they learned that Jaely was not old enough to rent a car. Plan A did not work. While they were trying to come up with a plan B, Leila asked her how much money she had to buy another car, Jaely told her $2,000, but that the car insurance payment also has to be taken from that money. Leila asked Jaely to wait for her, because she was going to talk to her husband. When she came back, to Jaely's surprise, Leila said, "Tomorrow, Saturday, after your sunset, we want you to come to our house. We are going to add $3,500 to your $2,000 so you can buy a better car." Jaely did not know what to say, she was so happy!
Sabbath came, she went to church as usual, and during the day, she received a text from Leila, letting her know that she and her husband had decided to give her $5,000 instead of $3,500. That evening Jaely went to pick up the money but did not accept the larger amount. Those people had been very good to her and she felt she had no way to pay that money back to them. Once again, God worked His ways. They told her she would never have to worry about paying a penny back, and gave her the $3,500.
Jaely shared her testimony with the church. She kept saying over and over again, "God is Good." With a big smile she told us that her new car, much better than the one she had before, was parked in the church's parking lot that Sabbath.
As I listened to this testimony and saw how much she wanted to share what God had done for her, I thought of God's faithfulness. He has promised so many times that if we let Him be our God, He will always be by our side because he treasures us (Exodus 19:5). He just wants our hearts.
Jaely gave her time and talents to the Lord. She trusted him, and as usual, He did not fail her.
"Oh, that their hearts would be inclined to fear me and keep all my commands always, so that it might go well with them and their children forever," Deuteronomy 5:29 NIV.

Mariel Lombardi is the SURF customer service and accounts manager at the Southern Union in Peachtree Corners, Georgia.
Southern Union | March 2019