by Bill Daniels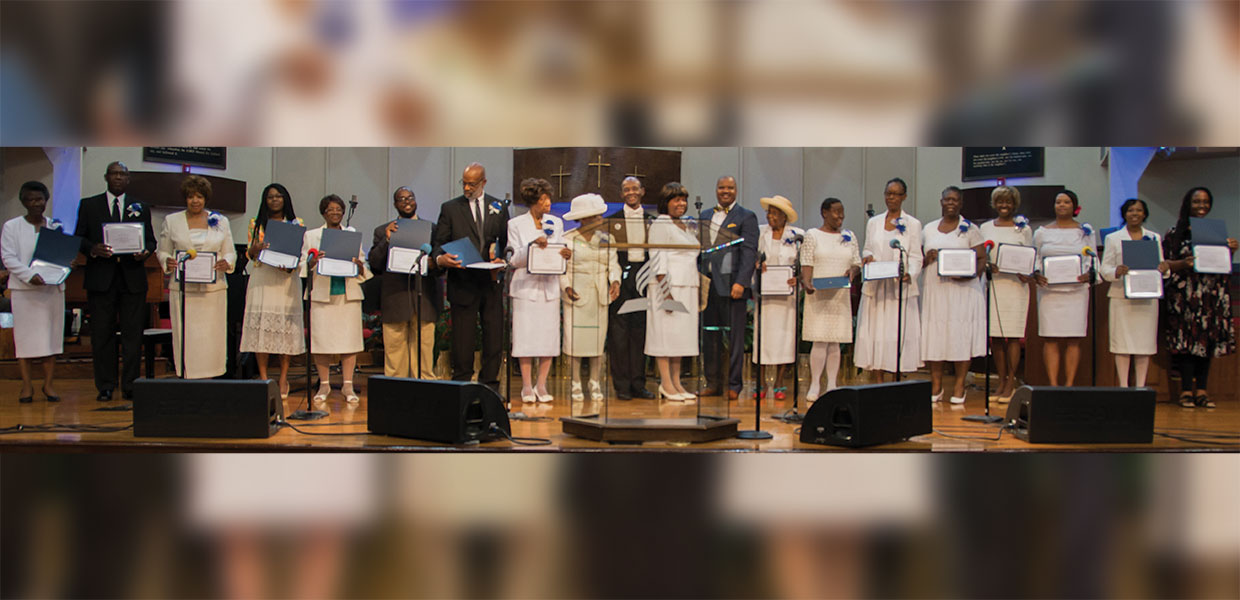 Gospel Medical Missionary graduates Maryse Hilaire; William Drake; Renata Drake; Nesline Damas; Martha Chapple; Lucious Brown; Albert Blake; Mandy Andrews; Lydia Andrews, Ph.D. (Class of 2015); Bill Daniels, B.S., co-facilitator; Louise Daniels, B.S.N., R.N., co-facilitator; Carlton Byrd, D.Min., Oakwood University Church senior pastor; Mabel Hoyte; Cheryl Jones; Edwina Lee; Carrie Logan; Audrey McGriff; Princess Humphrey, M.D.; Lydia Simmons; and Celeste Walker. Graduates not pictured are Angella Blake, Natarcia Chisholm, Marjorie Cooper (a nonagenarian whose birthday was the same day, and who was honored later that morning by Carlton Byrd, D.Min., and the Oakwood family), Rosselda Dixon, Esther Mackey, Deborah Starks-Ragler, and Catherine Hicks.

The Seventh-day Adventist Gospel Medical Missionary Movement of the Tennessee Valley (GMMMTV) has been active since 2005. It began in 2003 when Wildwood Health Evangelism School graduate Jim Ayodo, accompanied by Wildwood medical doctors Ervin Davis and Scott Grivas, started training classes at the New Life Church in Huntsville, Alabama, when Harold Goodloe was the pastor. Graduates of that class coalesced to form the nucleus of what is now the Gospel Medical Missionary Movement of Greater Huntsville. The movement consists of health ministry leaders, health professionals, lay pastors, ordained elders, and others who desire to see the Lord's closing work done, and to hasten His return.
The main goal is to advance the cause of gospel medical missionary work in cooperation with duly ordained gospel ministers, in accordance with the prophetic writings of Ellen White (see Counsels on Health, pages 557, 558). GMMMTV has, in cooperation with Oakwood, Southern Adventist, and Andrews universities, co-sponsored medical missionary conventions at each of these schools. It wants to revive this important and often neglected work, and would like to see the youth, older members, ministers, and every member to embrace this work, according to the Spirit of Prophecy (Testimonies, vol. 7, page 62).
GMMMTV has trained gospel medical missionaries in America and Africa. In 2012, a training course was conducted at the Mt. Calvary Church in Huntsville, under the leadership of Marcel Wip, pastor, and Joy Cavins, health ministries leader.
To advance the educational mandate, the movement has trained interested students in gospel medical missionary work, what the North American Division Health Ministries now calls Comprehensive Health Ministry. GMMMTV wants students to be able to go back to their churches and be out in the community doing health evangelism. In 2015 and 2016, the Mt. Calvary Church, under the supportive leadership of Rupert Bushner, D.Min., senior pastor, hosted the training classes. This year the venue for the training was at Oakwood University Church, under the visionary leadership of Carlton Byrd, D.Min., senior pastor. GMMMTV had a teaching faculty of 16 teachers and a balanced 12-week, 72-hour curriculum, culminating in a certificate ceremony on July 1, 2017, at Oakwood Church.
Lydia Andrews, Ph.D., a graduate of the class of 2015, is — like Lydia in the book of Acts, and Andrew, Jesus' disciple — an inspired facilitator. She arranged for GMMMTV to be at Oakwood Church on a Sabbath afternoon panel on heart health last year, and for representatives to speak to the Tuesday Prayer Band at Oakwood in January this year, where several members decided to take the 2017 training class. Andrews mentioned the 2017 class having to meet in Gurley to Byrd, who immediately offered Oakwood as a more convenient venue. She has also regularly facilitated the setup of the classroom at Oakwood, Sunday after Sunday, and was a part of the 2017 faculty.
GMMMTV wants to commend the faculty and students of the Class of 2017 for their commitment to excellence in health evangelism. The certificates they earned are not the end, but the beginning of a new adventure in the Gospel of Grace.
Those who would like to be part of the Gospel Medical Missionary Movement are offered the opportunity to take the 18-hour hydrotherapy workshop, as well as the standard 72-hour general training course.
Now under the leadership of Louise Daniels, president, B.S.N., R.N., C.M.T., GMMMTV presents for service to the world, the Gospel Medical Missionary Training Class of 2017!
South Central | December 2017