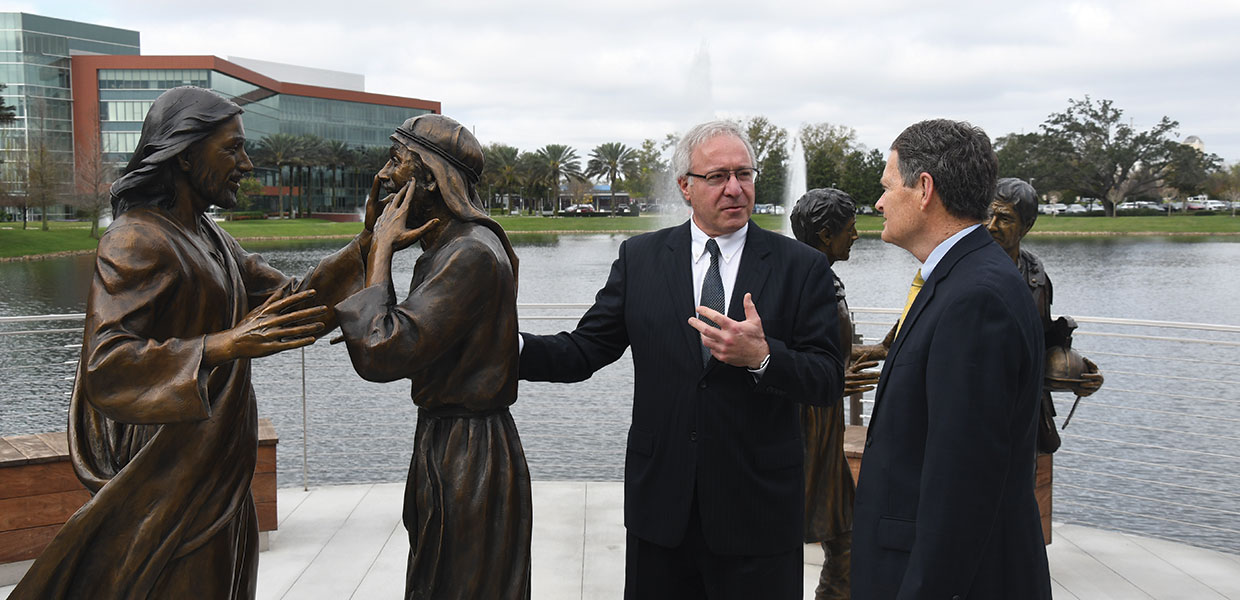 Sculptor Victor Issa talks about The Master Healer with Ted Hamilton, M.D. (right), AdventHealth's chief mission integration officer.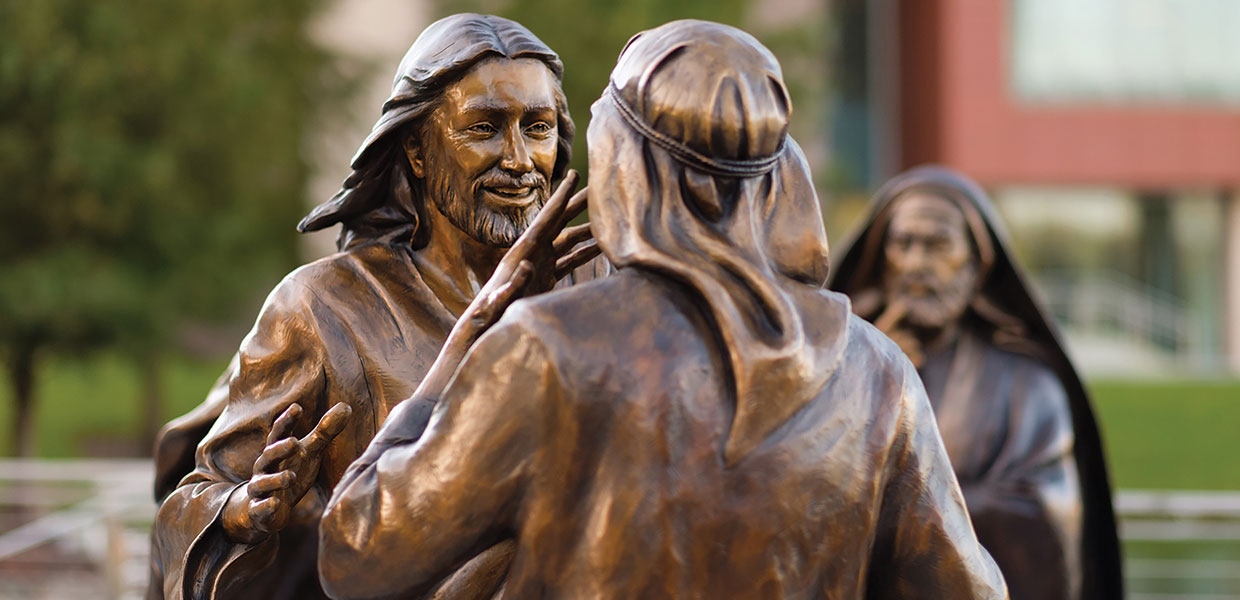 Two bronze sculpture installations at the AdventHealth corporate campus, Healing at Bethesda and The Master Healer, draw from biblical inspiration to portray Jesus' desire to make people whole.
As they drive up to work, or walk to and from their meetings, the employees of AdventHealth's corporate campus in Altamonte Springs, Florida, may be found pausing in their tracks and reflecting before returning to the rush of the day. Their rest stops often include the ponds, flowers, and water features of the 30-acre campus, and other times the biblically-inspired, two-part bronze sculpture series located throughout the property.
The sculpture series, by artist Victor Issa, includes the installations Healing at Bethesda, located on the campus' roundabout with a final scene in its headquarters building, and The Master Healer, which sits on a walkway by the campus lake. Each one exemplifies Christ's healing ministry on Earth — very similar to what AdventHealth's mission aims to do.
"We are so blessed to come to work every day and have an artistic expression of our faith, our ministry, right here on campus, and to have something that symbolizes what our organization stands for: whole-person healing," said Sandra Johnson, executive vice president and chief administrative officer for AdventHealth.
AdventHealth, a national system of care sponsored by the Seventh-day Adventist Church, is made up of nearly 50 hospital campuses and hundreds of care sites. The system shares a single mission, "Extending the Healing Ministry of Christ," and a focus to provide whole-person care — body, mind, and spirit. This sacred calling is directly modeled after Jesus' own wholistic healing ministry, and inspires team members to form healing relationships with the people they care for, including those team members who serve at the corporate campus instead of at the bedside.
"I consider it a great privilege to work with Christ-centered institutions like AdventHealth to bring a distinct and meaningful three-dimensional representation of their mission and vision into existence," said Issa. "On a personal level, working on major liturgical compositions offers me the opportunity to dig deeper into Christ's ministry."
The first AdventHealth statuary, Healing at Bethesda, represents the different manifestations of illness: The Anguished Woman, the mental; The Self-Righteous Man, the spiritual; and The Mother and Her Child, the physical. There is also a character known as The Sick Man, the man who embodies all characteristics of illness — the one who is asked by Jesus, "Do you want to be made well?" John 5:6. The final scene of the installation, located inside the headquarters lobby, expresses restoration and new life after the healing by the Savior.
The second statuary, The Master Healer, was dedicated during a special ceremony with the AdventHealth Board of Directors in February 2019. Like Healing at Bethesda, The Master Healer beautifully depicts Christ's desire to make others whole, except this installation does so by drawing from several healing stories of the Bible. The characters include a centurion, an outcast leper, a young child, Nicodemus, and a young mother and child accompanied by their lamb.
"That entire sculpture series serves as a physical reminder of Christ's healing ministry," said Ted Hamilton, M.D., senior vice president and chief mission integration officer for AdventHealth. "It demonstrates to our team members that the work they do has meaning; and to our visitors, community leaders, and partners, that they are in a place that has a unique brand promise of whole-person health."
This AdventHealth brand promise is for every patient who walks through its facility doors. And, it's one that points back to a Savior who offers radical healing and restoration to all those who dare to believe: "And the whole multitude sought to touch Him: for there went virtue out of Him, and healed them all," Luke 6:19.
AdventHealth | July 2019