By Cecilia Moreno and Hannah Louden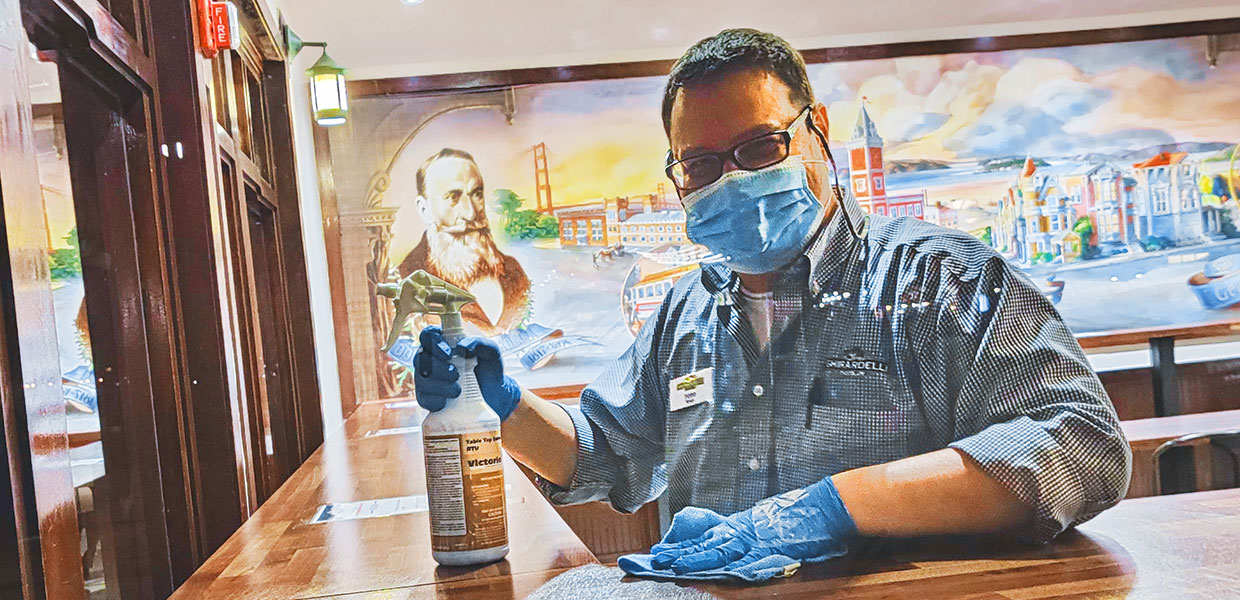 Disney cast member wipes down tables for the safety of Disney goers.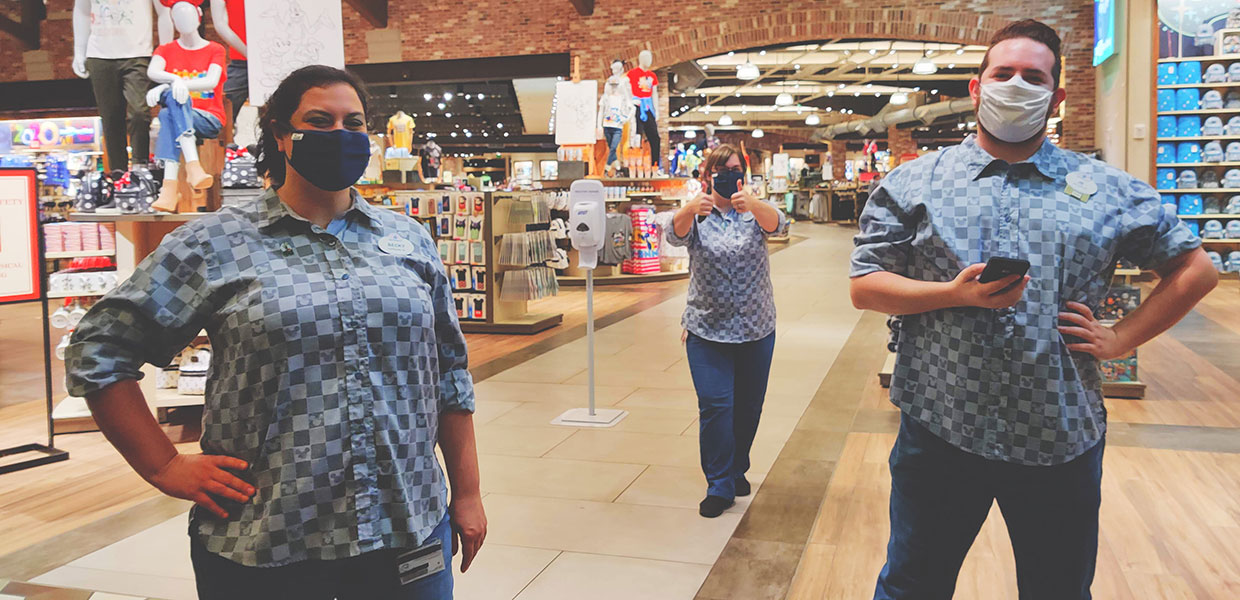 Disney cast members find ways to show their usual enthusiasm despite social distancing.
AdventHealth has been working around the clock to find ways to safely reopen the central Florida area. With places like Disney Springs back in business since May 20, 2020; the company has not only posted guidelines on its website, it also has been supplying employees for temperature checks and other safety measures.
At venues such as Disney Springs and Daytona Speedway, customers can expect to see AdventHealth employees stationed near entrances and exits, as well as at various events, making sure everyone is healthy enough to enter, according to Stephanie Lind, AdventHealth executive director for population health.
Another way the healthcare network has been ensuring safety is through crowd control. At Disney Springs, employees are now stationed at checkpoints and kiosks to count the number of people in the area, according to Lind. AdventHealth has also provided signs and hand-sanitizing stations to remind customers to keep their hands clean and social distance. In addition, the network is distributing Personal Protective Equipment (PPE) to local businesses.
"We have been basically working as a medical consultant or advisory to our clients," said Mark Johnston, executive director for sales and marketing for AdventHealth CentraCare. "The AdventHealth website provides essential information for re-opening any business in this new day and age, along with steps to take to make sure that businesses take care of their customers and employees."
Johnston said AdventHealth has helped about 60 to 70 businesses re-open. With the sudden increase in COVID-19 cases, he does not expect the changes put in place to be short-term. With the uncertainty of the virus, AdventHealth has sufficient resources for its employees and patients, and will continue doing whatever it can to meet the needs of the central Florida area, Johnston explained.
Walt Disney World Resort began its phased reopening on May 20, 2020, according to a May 16 article written by Matt Simon, Disney Springs vice president, and published on the Disney Parks website. The company announced later that month its plans to reopen the theme park on July 11, 2020.
"With the safety and well-being of our guests, cast members and third-party operating participants at the forefront of our planning, we are eager to begin welcoming you back to this part of Walt Disney World," Simon wrote. "… Based on applicable government requirements, as well as guidance from health authorities such as the CDC and appropriate government agencies, we are implementing a number of new health and safety measures and operational changes. Rest assured, there is plenty of magic awaiting you at Disney Springs — it just may feel a bit different than before."
In addition to health screens and temperature checks, Disney Springs has reduced the number of entrance points to four locations, according to the article. The company is also requiring guests, cast members, and third-party operating-participant employees to wear "an appropriate face covering," along with practicing social distancing, cleanliness, and cashless transactions.
"I am honored to work for an organization that is the lighthouse in this COVID storm for our community," said Lind, AdventHealth director of population health. "Our frontline heroes, our courageous leaders, and our community partners have all contributed to a safer and healthier central Florida."
This article was submitted as part of a summer Journalism camp conducted by Southern Adventist University's School of Journalism and Communication. The camp, taught by the School's professors, provided an opportunity for high school students across the country to learn about writing and photography.
AdventHealth | September 2020