by Annalyse hasty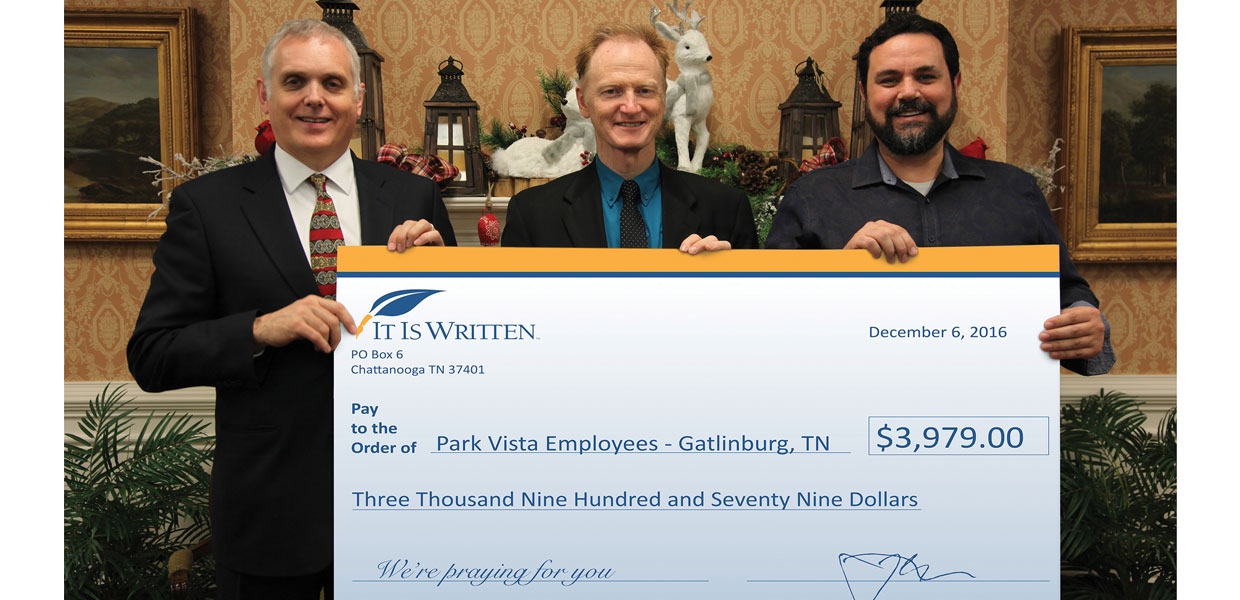 It Is Written staff Charles Reel (left), treasurer; John Bradshaw, speaker/director; and Jesse Johnson, general manager, proudly display a mock check written to the Park Vista Hotel in Gatlinburg, Tennessee, to help defray some of their employees' expenses.
Wildfires ravaged Gatlinburg, Tennessee, on November 28, 2016, four days before It Is Written's final Partnership weekend event at the Park Vista Hotel in Gatlinburg. It Is Written has held Partnership weekend events at the Park Vista hotel for more than two decades, so changing the event location at the last minute was unexpected. "God provided a great alternate location right here in our hometown of Chattanooga, Tennessee," Ellen Metcalf, development director of It Is Written, explained. "Our partners very quickly changed their travel plans. We were blessed with a great, inspiring weekend."
The It Is Written staff and partners who attended the relocated annual event wanted to do something for the Park Vista staff affected by the fire. The hotel itself sustained only smoke and equipment damage, but many members of the hotel staff lost everything. One member of the hotel management shared that the hotel management was purchasing hygiene and clothing necessities. "We have many employees that lost homes and vehicles," she explained.
At the relocated Partnership event in Chattanooga, the Partners generously filled offering baskets with cash and checks. It Is Written made its own contribution, while some people contributed online. "Our Partners were very generous," reported Charles Reel, treasurer of It Is Written. After the initial check was written, even more funds came in. It Is Written is working with the hotel management, and using the funds to provide gift cards for the Park Vista employees. "We missed seeing our friends at the Park Vista this past December," Metcalf said. "We hope this gift helps them rebuild their lives a little quicker."
It Is Written holds seven Partnership events around the country each fall. The weekends are inspirational, faith-building experiences. To find out how you can become involved, visit itiswritten.com/partnership.
Southern Union | February 2017