by Cassie Matchim Hernandez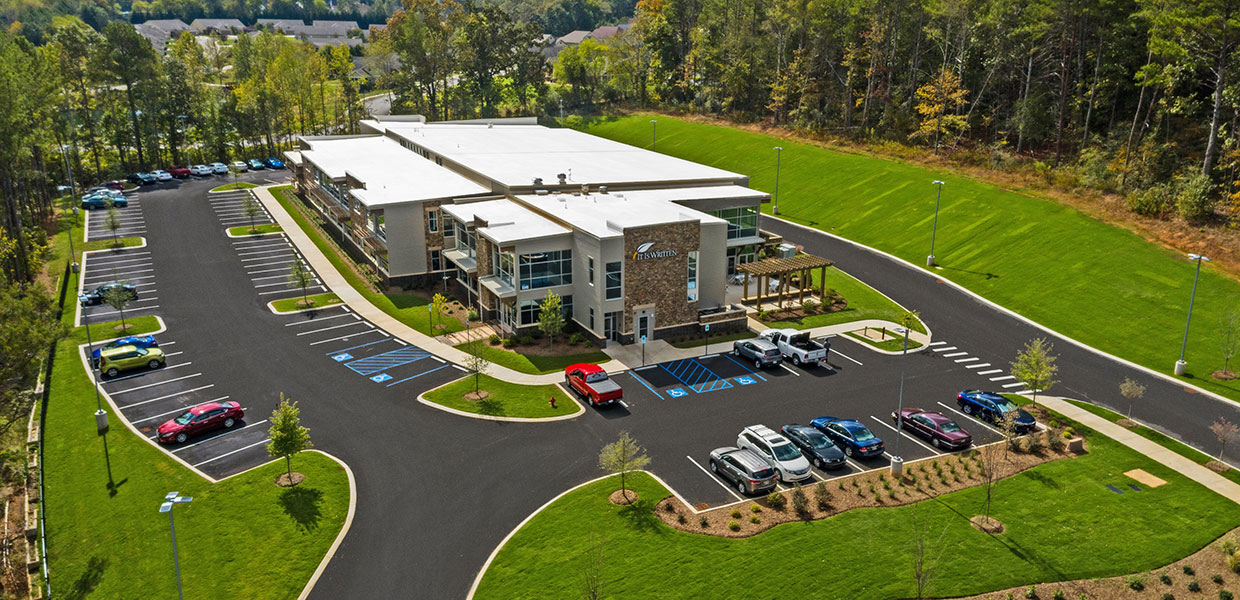 Aerial shot
It Is Written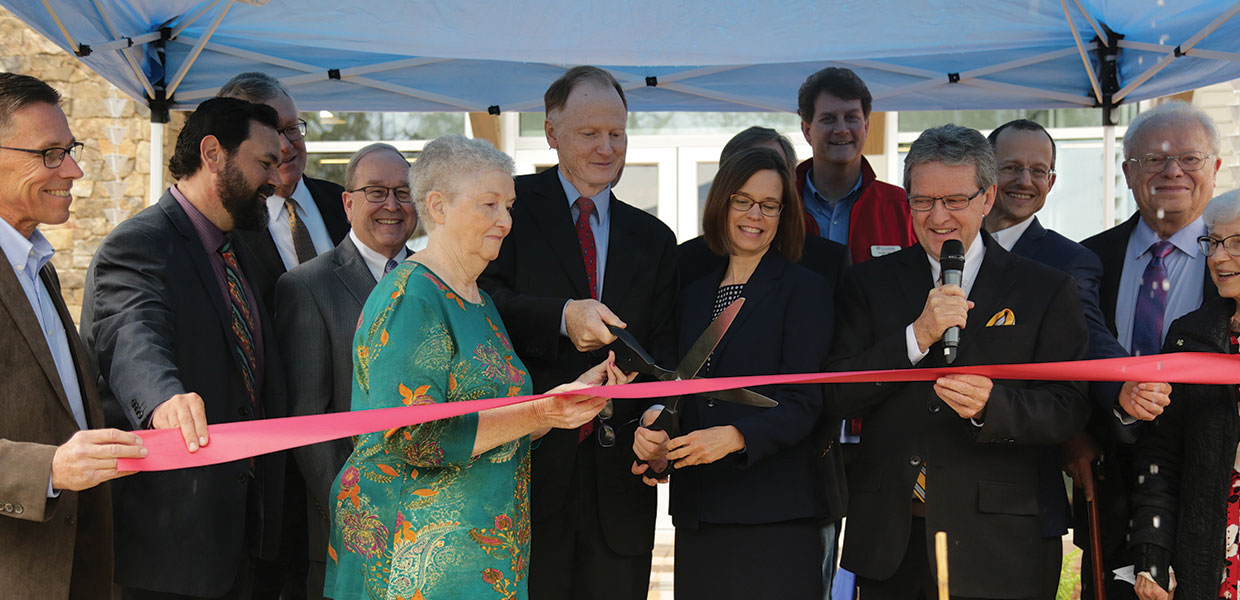 Ed Wright (left), D.Min.; Jesse Johnson; Ken Denslow; David Smith, Ph.D.; Katie Lamb; John Bradshaw; Melissa Bradshaw; Vaughn Berger; Gordon Pifher; Rusty McKee; Ellsworth McKee; and Sharon McKee participate in the ribbon-cutting ceremony.
It Is Written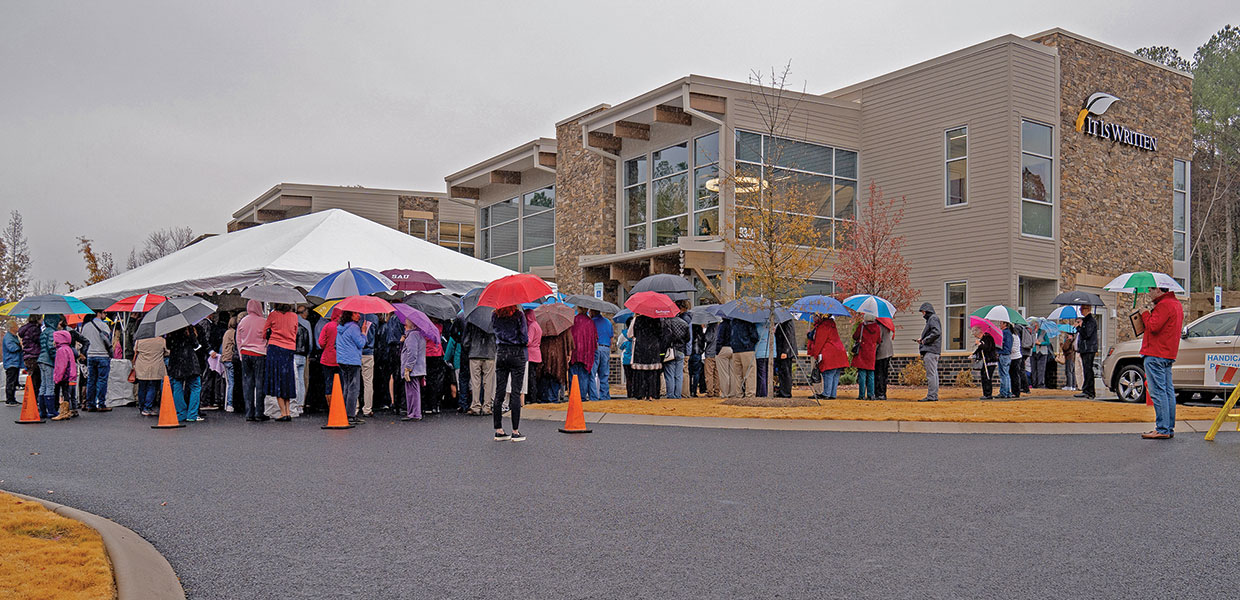 Many attended It Is Written's grand opening ceremony.
It Is Written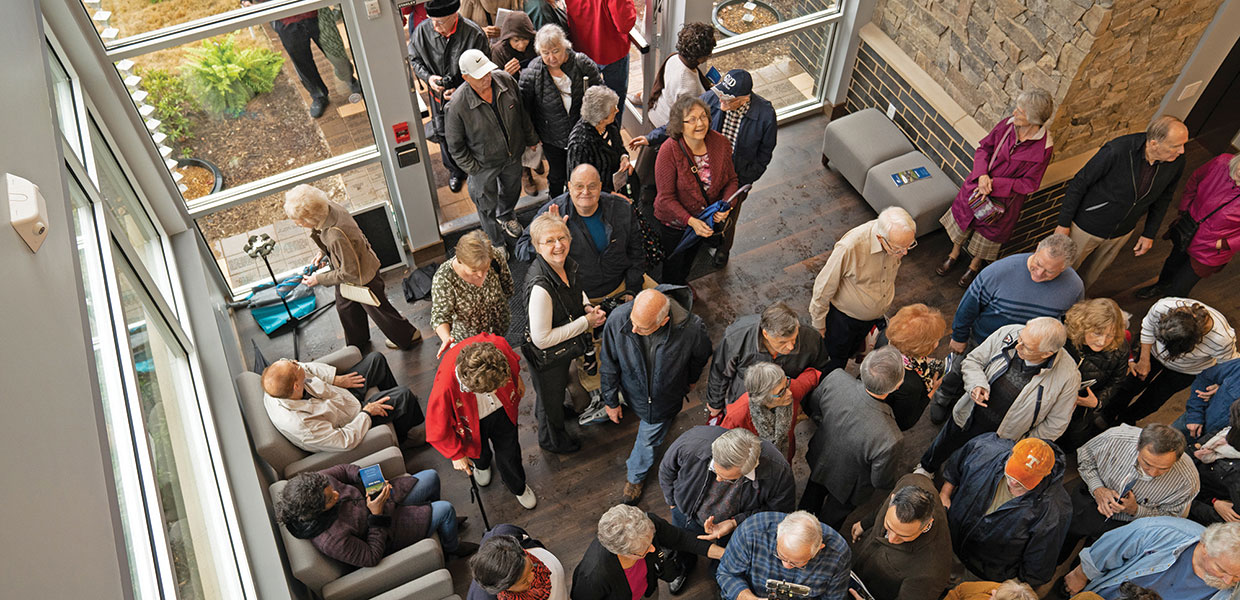 It Is Written's attendees
It Is Written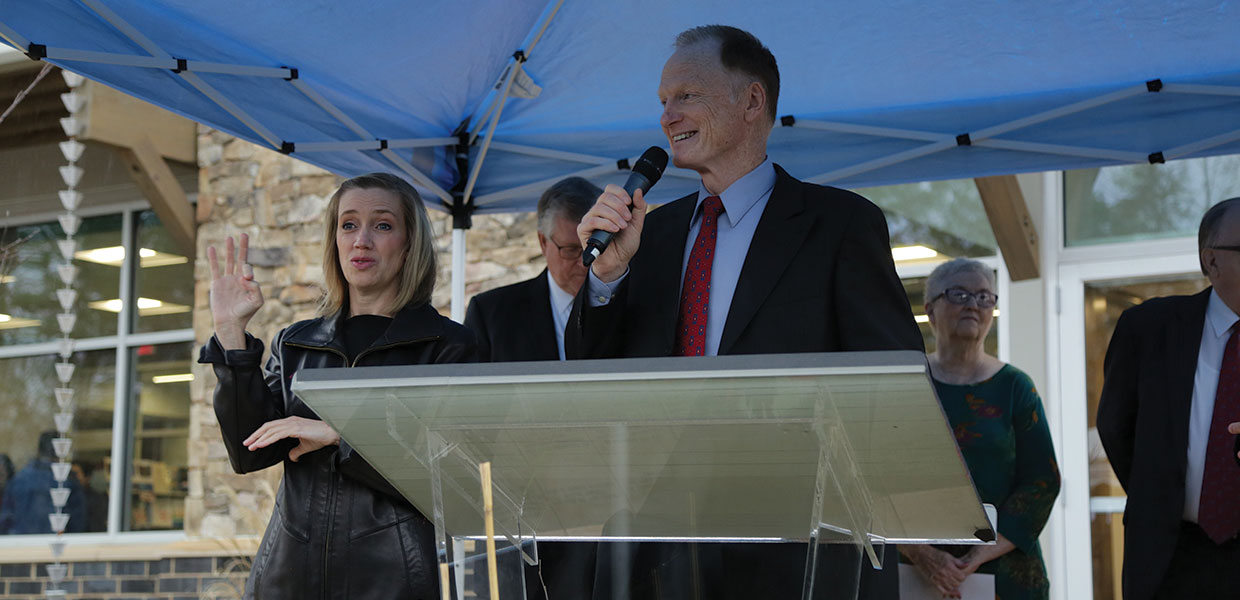 John Bradshaw, It Is Written president, speaks at grand opening ceremony.
It Is Written
It Is Written hosted a grand opening of its new ministry headquarters in Collegedale, Tennessee, on Friday, November 22, 2019, from 12 to 3 p.m. Despite rain, It Is Written welcomed more than 500 people to the event. The event was broadcast via livestream on the It Is Written Facebook page, and featured a dedication, a ribbon-cutting with the local Chamber of Commerce, ministry tours, giveaways, and refreshments. John Bradshaw, president of It Is Written; Katie Lamb, mayor of Collegedale; David Smith, Ph.D., president of Southern Adventist University; Dan Jackson, president of the North American Division, and others spoke during the dedication. There was a self-guided tour at the conclusion of the ceremony. Employees were on hand to provide department highlights. Guests could film their own television spot in the studio, and heard about ministry activities around the world.
After 63 years, It Is Written, a media evangelism ministry of the Seventh-day Adventist Church, finally has its own home. Previously headquartered in leased space in California, the ministry moved to Tennessee in 2014, and began leasing separate office and warehouse spaces in Chattanooga. In September 2019, after two years of construction, employees moved into the new building. The building allows for office, studio, and warehouse space to all be under one roof. The space greatly expands and improves the efficiency of studio capabilities, and provides room for future growth.
"Another major advantage is the increased ministry effectiveness this move brings us," said Bradshaw. "We can not only do more than ever for God, but we can also now be more efficient than ever."
The building site was originally slated for a hospital, but red tape curtailed the plans. Several property owners later, It Is Written is humbled to offer hope and spiritual healing to people around the world from its new headquarters.
Each space in the building is dedicated to ministry. The ministry staff begins the day in the Ruth McKee Worship Room. The ministry's 40 local employees join in person, with field representatives joining by video.
Upstairs, today's president, Bradshaw, uses ministry founder George Vandeman's desk, continuing to share with the world the same message of hope in Jesus.
Next door, My Place With Jesus, the It Is Written children's ministry, offers a smartphone app, a children's Bible, Bible study guides and other study materials, a children's evangelism program, and other material just for children.
Continuing upstairs, the ministry's evangelism staff works with churches and conferences all over the world to arrange evangelism campaigns, mission trips, and SALT education, and to provide evangelism resources.
Also upstairs, the Creative Department focuses on ensuring that ministry materials are well-designed and present the Gospel in an enticing and cost-effective way. Next door, the Information Technology Department designs ministry applications and maintains the ministry's databases and servers.
Downstairs, a large classroom will be used for training and education seminars, and is currently housing the ministry's ingest project, where the archive of It Is Written programs, as well as other ministries' programming, is being digitized for It Is Written TV.
Across the hall, the George E. Vandeman Studio A and Art & Irma Wilson Studio B provide the studio space where the media production department films, produces, and edits It Is Written programming distributed via broadcast and radio stations and It Is Written TV. On average, It Is Written produces more than 650 videos each year.
Nearby is the Escrito Está team, who have been reaching the Spanish-speaking world for 25 years. Through evangelism campaigns and television, radio, online, and print content, Robert Costa, speaker/director, and his team work tirelessly to make the Gospel message available to as many people as possible.
Close by are the ministry's Development and Planned Giving departments. Nearly 98 percent of the funds that support It Is Written's ministry endeavors come from outright gifts, estate plans, or investments. Funds for this building have been raised in addition to annual funds supporting the ministry efforts.
Next door, the Publishing Department provides spiritual resources to people all over the world. One of the many ways the new building allows for greater productivity is that all inventory and storage are under one roof. Thousands of free offers are sent from this department, along with Bible studies in multiple languages and other resource material.
As one exits the building, one will pass the Roy & Leona Berglund Museum and Resource Center. For the first time, It Is Written offers an on-site resource center, where customers can purchase It Is Written DVDs, books, and evangelism resources. This space also doubles as a museum and features original media production equipment, archive documents, and other items from the ministry's history.
Tours are still available for anyone who missed the grand opening. Please call ahead to schedule at 844-WRITTEN. Pictorial and video tours are also available online at itiswritten.build.
About It Is Written
It Is Written is an award-winning media evangelism ministry sharing the everlasting Gospel worldwide for 63 years. The first religious television program to broadcast in color, It Is Written is the ninth-longest running television program in the United States. It Is Written is impacting lives for Christ through satellite and digital television, websites and mobile apps, global evangelistic ministry, and faith-sharing resources.

Cassie Matchim Hernandez is the marketing assistant at the It Is Written headquarters in Collegedale, Tennessee.
Southern Union | January 2020