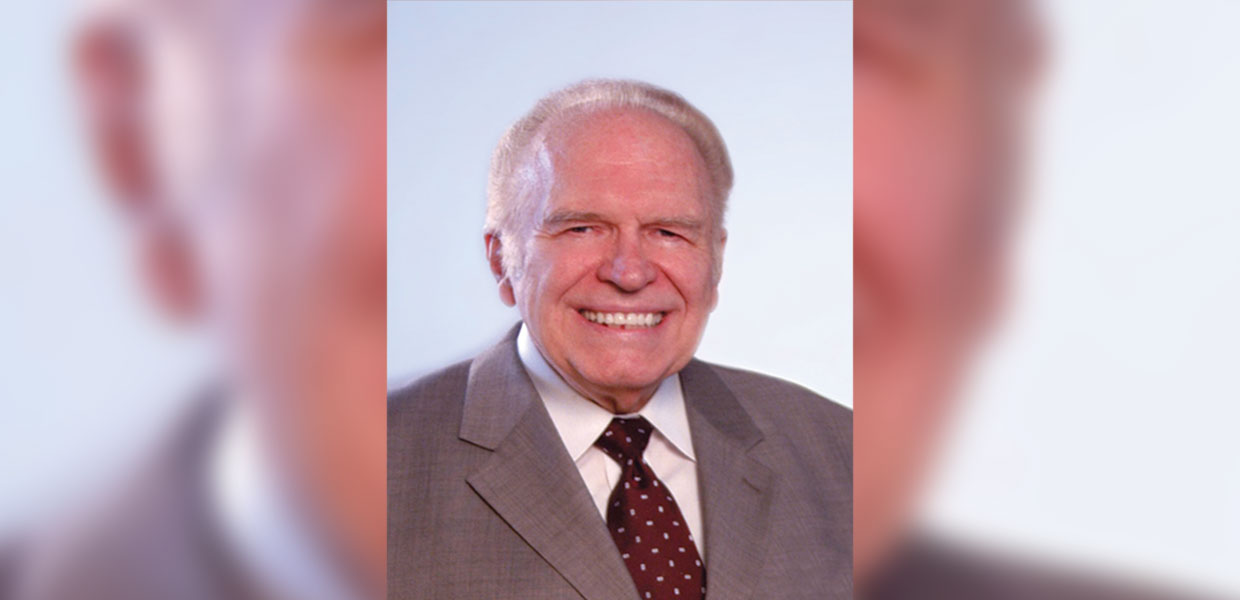 Ron Quick
Malcolm and Hazel Gordon served the Southern Union territory for 13 years, from 1990 until 2003.
Ron Quick
Malcolm D. Gordon, 85, born on May 10, 1934, passed to his rest on May 12, 2019, in Paramus, New Jersey. He knew early in his life that he wanted to be a minister, and the fulfillment of this desire encompassed 47 years of service working for the Seventh- day Adventist Church.
After graduating from Cedar Lake Academy, Malcolm attended Emmanuel Missionary College (now Andrews University) in Berrien Springs, Michigan. He wisely sought someone to be a helpmate for him, and Malcolm and Hazel were married in June of 1954. Following his undergraduate degree, Malcolm also received a master's degree in theology in 1958.
While still in graduate school, he became a ministerial assistant for the Michigan Conference, and later pastored a church in the Upper Peninsula. He also pastored churches in North Dakota before taking on departmental responsibilities, including conference evangelist, education director, and youth director. Accepting a call to Southern New England Conference, Gordon served as director of youth, ministerial, temperance, and religious liberty. He then served three years in the Carolina Conference as executive secretary and ministerial secretary.
Whether at home or in his work, Gordon lived by the motto, "What would Jesus do?" He adopted this maxim as an expression of his guiding principle, that propelled him into leadership as Carolina Conference president; Florida Conference president; and, ultimately, Southern Union Conference president, to which he was elected during General Conference Session in Indianapolis, Indiana, July 1990.
Malcolm Gordon was "characterized as approachable, a motivator, team leader, and proponent of positive thinking," said George Powell, former communication director for the Southern Union. With the blessing of God, the Southern Union grew under his tenure of 13 years to become the largest union in the North American Division, both in tithe and membership.
After 47 years of dedicated service to their Church, the Gordons retired and settled in Apopka, Florida, where they continued to be ambassadors for the Lord wherever they were needed. They moved to New Jersey in February of 2014, to be with daughter Merrilee (George) Miller, daughter Melodee Oster, and three grandchildren.
Even though they moved north, they continued to hold their membership in the Southern Union at the Kress Memorial Church in Winter Park, Florida.
Through the years, Hazel not only stood by Malcolm's side, but she had a burning desire for the women of the Church, and worked tirelessly for women's ministries. The Gordons had celebrated 63 years of marriage when Hazel passed on October 9, 2017. Malcolm followed 3 1/2 years later, on May 12, 2019, just two days after his 85th birthday.
Reflecting on his experience with the Gordons, Richard Center, former treasurer for the Southern Union, says, "I enjoyed being able to work with Elder Gordon during the years he was president of the Southern Union Conference. He was a very kind and generous leader. He believed every phase of the Church's outreach ministry was important, such as public evangelism, education, publishing, youth work, and health ministry.
"He was a modern-day Barnabas, one who provided encouragement and affirmation to both church members and workers.
"Elder Gordon and his wife, Hazel, made a remarkable team, with her important supporting role in women's ministries. They both were a tremendous example of Christ-like love for their Church family."
Another Church leader, Ralph Peay, remembers his four-decade relationship with Gordon.
"In the 1970s, Elder Gordon was the youth director in the Southern New England Conference; I was the senior youth director in the Northeastern Conference.
"Annually, all youth directors in the Atlantic Union Conference would go to Atlantic Union College to recruit student missionaries, and also staff counselors for our summer camps.
"After the chapel program and consultation with the prospects for student missionaries and camp staff, we would take time for dinner. Sometimes we would eat in the school dining room or go to a public restaurant.
"On one occasion, I remember very distinctly that Elder Gordon invited me to his home for dinner. This was in the early 70s when the civil rights of all citizens were not fully appreciated and recognized by 'all citizens.' He and Hazel were excellent host and hostess as we enjoyed the 'edible arrangements.' I then wondered why he invited me to his home for dinner. I would later learn that his view of all humanity was consistent with the biblical view of the Creator of all humanity.
"A second defining moment that rose to prominence would transpire in the Southern Union. From 1988 to 1997, I served as president of South Atlantic Conference. Elder Gordon was president of the Florida Conference. In the 1980s and 1990s, the regional conferences in the Southern Union were baptizing large numbers annually. The South Atlantic Conference was averaging 1,000 or more accessions each year.
"It was the expressed thinking of some Caucasians administrators that African-Americans were easier to evangelize than others. I remember challenging that concept. It was my honest, sincere belief that the God who blessed in South Atlantic evangelism was available and accessible to the other conferences. The regional workers did not have a monopoly on the Holy Ghost.
"Elder Gordon quietly accepted the challenge, and the Florida Conference soon thereafter began baptizing more than the South Atlantic Conference. His belief in the availability and accessibility of the Divine was rewarded. A quick review of the statistics in the Southern Union in the late 1980s and the early 1990s will show this to be a fact. Elder Gordon's leadership was subsequently recognized in this regard when he was elected president of the Southern Union."
Malcolm Gordon had a great burden for his constituents. Many years ago, he penned the following words that are still relevant today: "When all of God's people will be welcomed home by our Savior and the unnumbered multitude of angels, let's determine, by the grace of God, that we will be a part of that welcoming ceremony!"
Southern Union | November 2019