bryant taylor, d.min.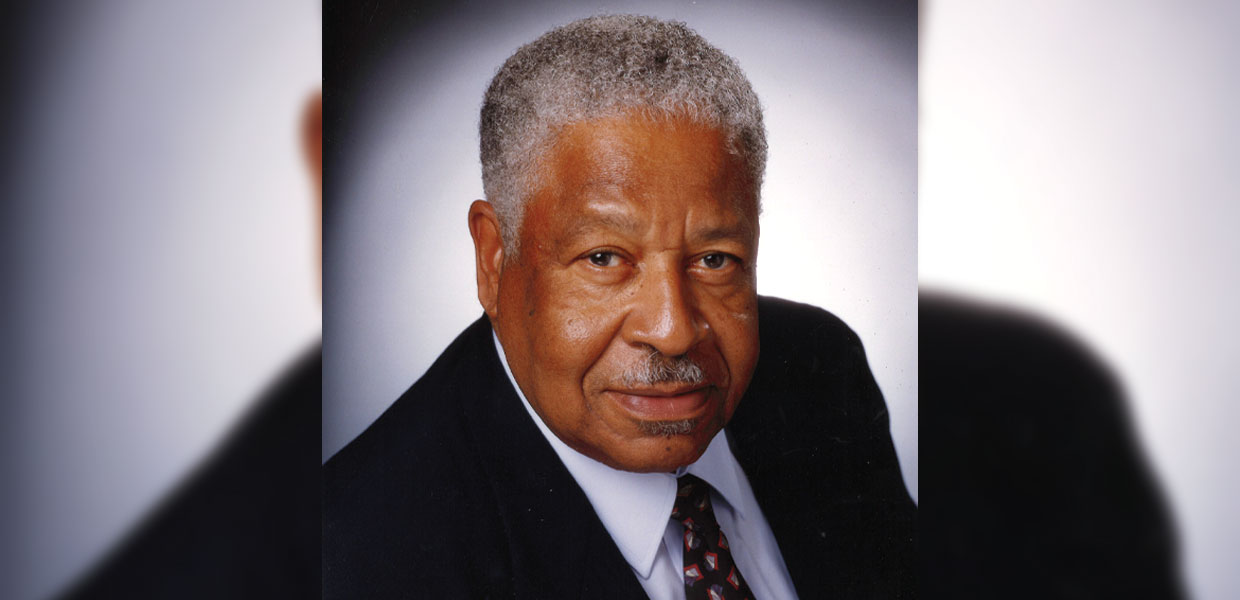 Charles Edward Bradford, Ph.D.
One of Bradford's early evangelistic tent efforts: After preaching he does what he loves — shaking hands, talking, thanking people for attending, and encouraging them. Connecting with people was one of the traits that made him so loved by people.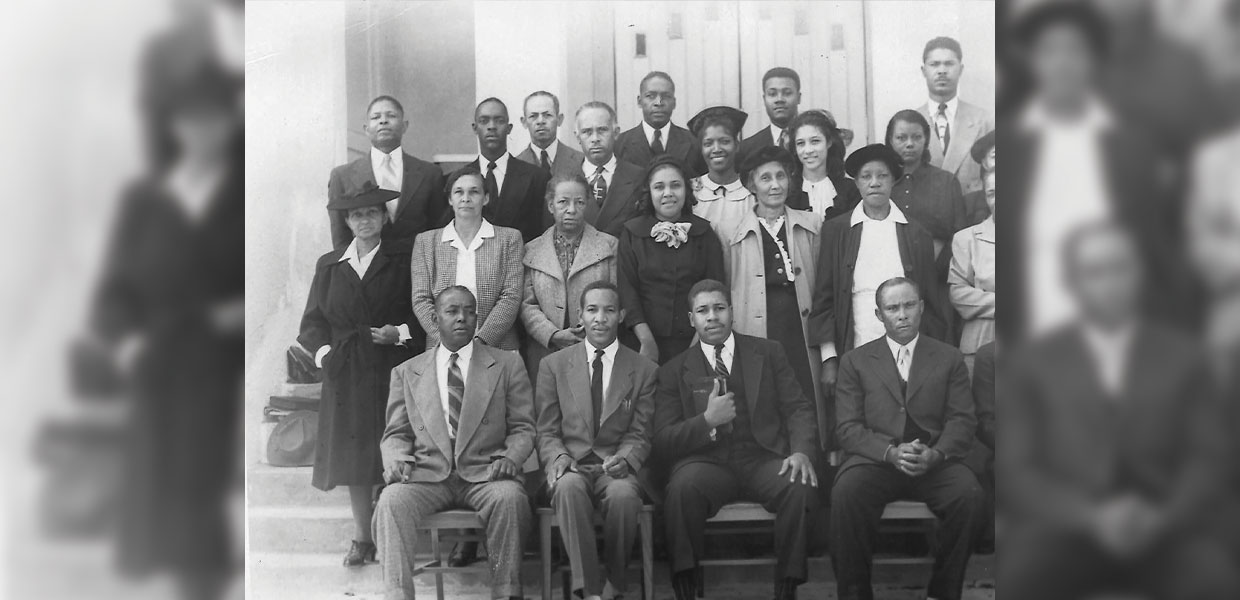 The members of Berean Church in Baton Rouge, Louisiana, pose for a photo with their young pastor, Charles E. Bradford (front row, center). This was his first pastoral assignment. While there he built this church building.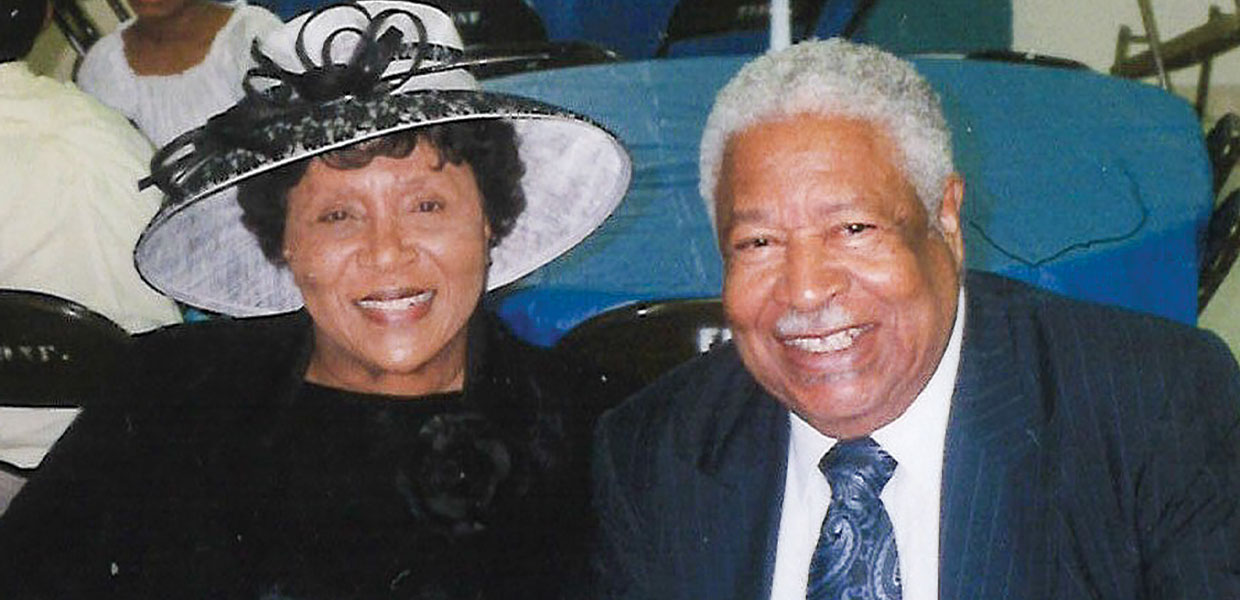 Charles and Ethel Bradford easily light a room with their radiant smiles.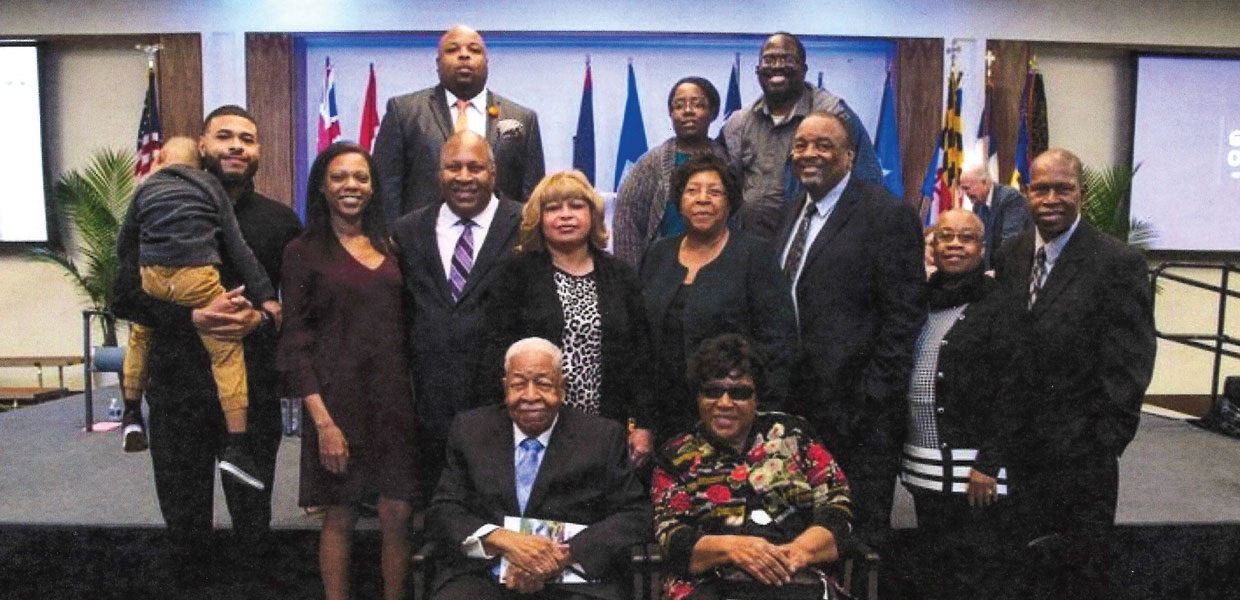 The Bradford family poses for a photo in the new North American Division building. They attended the naming ceremony of the Charles E. Bradford Chapel.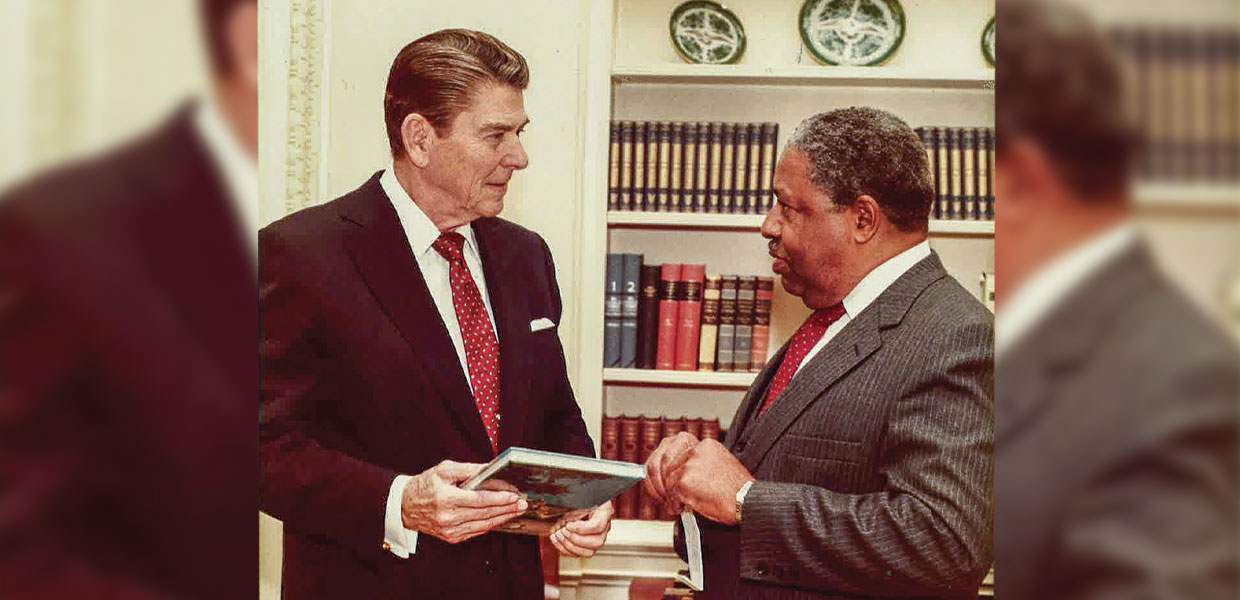 Ronald Reagan was one of the many United States Presidents Charles Bradford had the privilege of meeting. Bradford presents Reagan with a book from The Review & Herald Publishing Association.
Charles Edward Bradford, pastor, mentor, scholar, writer, the first president of the North American Division, a man respected in any boardroom and welcomed in any home, passed away on Thursday, September 9, 2021, in Huntsville, Alabama. He was 96.
He was born July 12, 1925, in Washington D.C., the eighth and youngest child of Robert Lee and Etta Elizabeth Bradford. It was the combination of his parents' influence, his obsession for reading and his God-given gifts of a prodigious memory, a charming wit, keen intuition, a commanding voice, and arresting communication skills, that fashioned him as the stellar pastor, preacher, counselor, author, and administrator that he became.
He was a living link to the generation of Black pioneers of Adventism. His mother, Etta Elizabeth Littlejohn-Bradford, who accepted the Gospel from the decks of the Morning Star boat, was one of the original students at Oakwood in 1896, and was a nurse attendant for Ellen G. White.
There were obvious indications through high school and junior college of ministerial gifts. In his sophomore year at Oakwood the call to ministry was acknowledged and accepted. "Over the years, we in the Oakwood community have been blessed every time Elder Bradford came to the pulpit, either for a speaking engagement or to give remarks. His deep love for the Church was always evident, as well as the wisdom of one who had a role during the civil rights movement, the urban crisis, major doctrinal and institutional challenges, and new technologies and emerging, postmodern generations," shares Leslie Pollard, Ph.D., D.Min., M.B.A., president of Oakwood University.
Upon finishing Oakwood College in 1946, he was hired by the Southwest Conference where he pastored churches in Louisiana and Texas. While there he received mentoring from his two primary clergy heroes and tutors, W. W. Fordham, Conference president, and Willie Lee, pastor. However, his chief inspiration came from the love of his life, Ethel Lee McKinzie of Jacksonville, Florida, whom he wed May 28, 1948. Ethel's secretarial and musical talents, her friendly but dignified bearing, blended perfectly with his skills and personality, and they were off to a 72-year marriage filled with romance and productive service.
His years in the Southwest Conference were followed by ministry in the Central States and Northeastern conferences, where he also spent time in departmental leadership and evangelism.
Charles Bradford's administrative services began in 1961 when he assumed the presidency of the Lake Region Conference. "Elder Charles Bradford was a genius of a man in the pulpit and in the boardroom. However, if you were fortunate enough to sit across from him in his den and listen to him 'pontificate,' then you saw the classic Charles Bradford in his rarest and purest form. Absolutely amazing!" shared William Winston, president of South Atlantic Conference.
He was called from this position in 1971 to become the associate secretary of the North American Division, and soon after to be one of the associate secretaries of the General Conference of Seventh-day Adventists. On January 7, 1979, he was elected vice president for North America. In September of 1986, he became the president of the North American Division. Thus, he became not only the first Black to hold that title, but the first of any lineage. He retained that position for 11 years until his retirement in 1990.
G. Alexander Bryant, president of the North American Division, says, "He is the 'Jackie Robinson' of the Adventist Church, for he paved the way for those who followed; he is a spiritual giant among us, a consummate powerful preacher, an abled theologian, a gifted administrator, but most importantly, a man of God who served faithfully and with distinction."
While very approachable, many viewed him as a celebrity, "The first time I ever saw him I could hardly breathe because I was in awe of this great man, and I think we should not be afraid to identify those in our midst who are great — and he was a great one," says Daniel Jackson, retired president of the North American Division. "Anytime he stood up to speak he always delivered it with eloquence and humor. His sharp wit, the music of his speech, the poetry of his words, the resonance of his voice made him in my opinion the most effective communicator that I've ever been around."
Charles Bradford is the author of six books: Preaching to the Times, The God Between, Find Out About Prayer, The Pastoral Epistles, Sabbath Roots-The African Connection and a Biblical Perspective, and The King is in Residence. These books, in addition to chapters provided in major theological works, the SDA Bible Commentary, volume 9, and numerous articles in publications such as the Adventist Review, Message Magazine, and the Regional Voice, ensure that his voice will remain a current and perpetual blessing to God's people.
Among Bradford's major citations are the Certificate of Merit given by Oakwood College in 1968, the doctor of divinity degree by Andrews University in 1978, the citation for Humanitarian Services by the Capitol-area Division of the United Nations in 1980, the American of the Year Award by the American Religious Town Hall of the Air in 1982, the induction into the Martin Luther King Jr. Board of Preachers and the Scholars of Morehouse College in 1992, and the honorary Ph.D. degree from Oakwood University in 2018. He would tell you, however, that the greatest blessing of his life was none of these, but rather the souls he won to Christ, and above all, the loving family God gave him — Ethel and their children: Sharon, Charles Jr., and Dwight.
As highly decorated as Bradford was, he still took time to mentor Ron Smith, D.Min., Ph.D., president of the Southern Union. Smith noted, "There are three principles Elder Charles Bradford poured into me: firstly — do not pray for an easy life, pray to be a stronger man; secondly — do not pray for tasks equal to your powers, pray for powers equal to your task; and lastly — do not try to do miracle performances, instead allow God to make your life a miracle."
Ted N. C. Wilson, president of the General Conference of Seventh-day Adventist says of Charles Bradford that he was "a giant in so many ways, faithful follower of Christ, wonderful preacher, diligent Bible student, dynamic intellect, experienced administrator, a caring pastor, a loving husband and father, an encouraging brother in Christ, and a longtime friend."
There is an honor placed on preachers of high regard who are also highly respected in the field and the craft, such as Charles Gilchrist Adams, D.Min., known as the Harvard Hooper, and the late Gardner Taylor known as the dean of preachers. Charles E. Bradford was affectionately known as Brad. While it was colloquial, it was in no way disrespectful, but quite the opposite: it was a high honor such as the terms Rabbi, Prophet, or Priest would be regarded.
Although he was seen as larger than life, Calvin Rock, Ph.D., retired vice president for the General Conference, reminds us, "He was not selfish; he shared his wisdom and goods. He was not money hungry; I never heard him complain about ministerial salary. He was not political; he did not elbow his way to prominence and authority. He was not intimated and he was not critical. He was not a doubting man; he never doubted his Church, he never doubted his God. He was supremely equipped by God, and divinely anointed to be and faithfully serve as an instrument of the Most High."
Those closest to him now left to continue in cherished memories and ardent hope of "that better day" are his devoted wife, Ethel; his daughter, Sharon Bradford (James) Lewis; his son, Charles Jr. (Ann-Marie); his son, Dwight Lymon (Janet); his three grandchildren, James Lewis II, Marquita Bradford (David) Brown, and Dwight (Tiffany) Lymon Jr.; his four great-grandchildren, David Brown Jr., Dwight Lymon III, Harper Loraine Bradford, and Craig Payne.
Southern Union | January 2022