Julie Z. Lee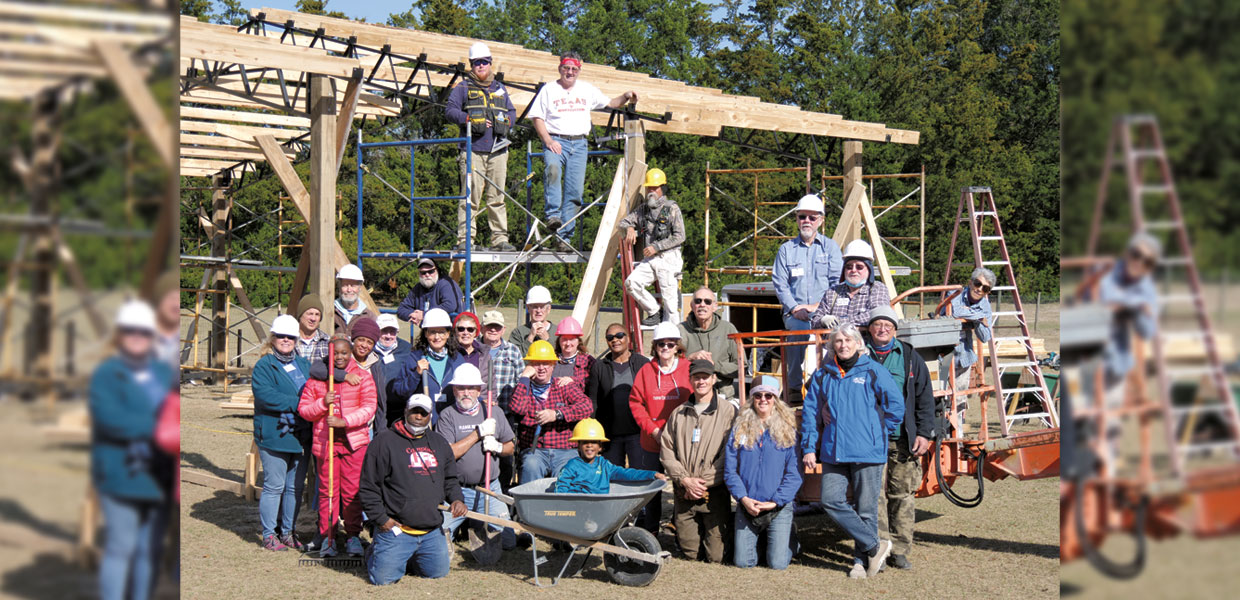 Maranatha volunteers are shown in front of a new 40×60-foot outdoor pavilion being contructed for Camp Kulaqua in Florida. Masks were removed briefly for the photo.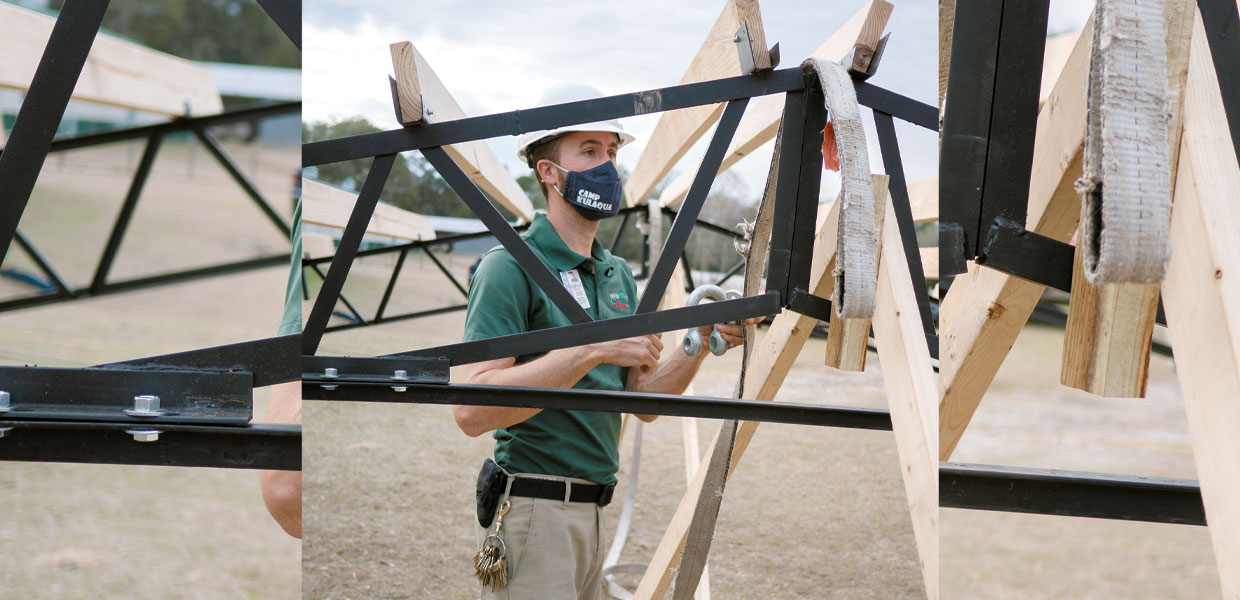 Michael Hopkins, building maintenance director at Camp Kulaqua, is shown overseeing construction of the new outdoor event pavilion.
Decks painted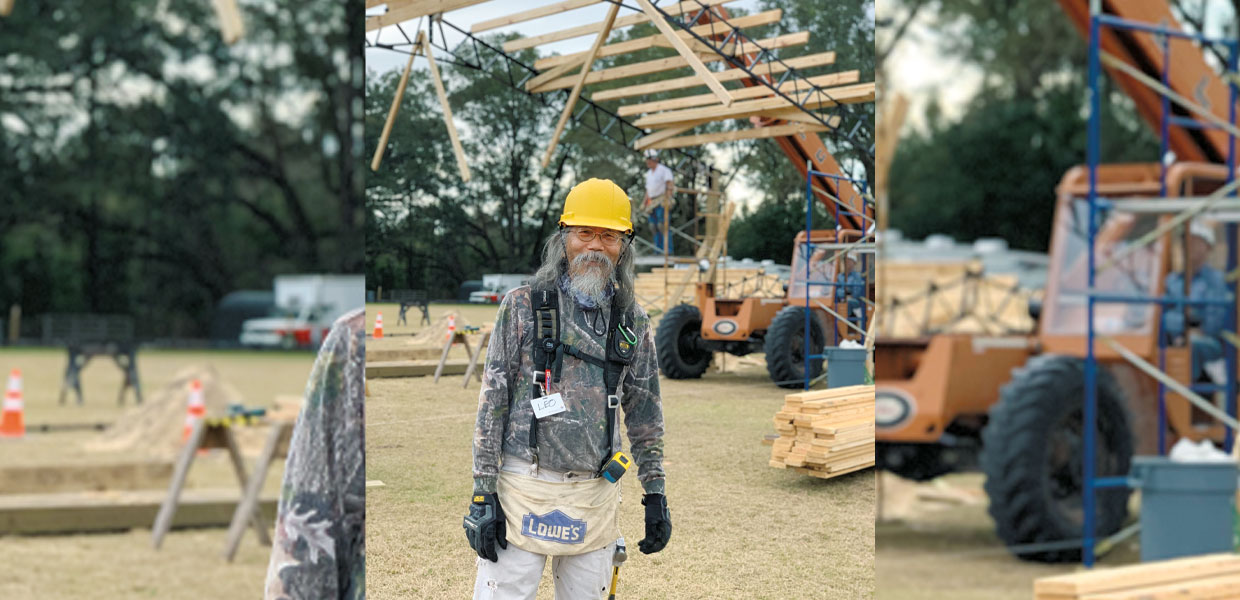 Prepared to work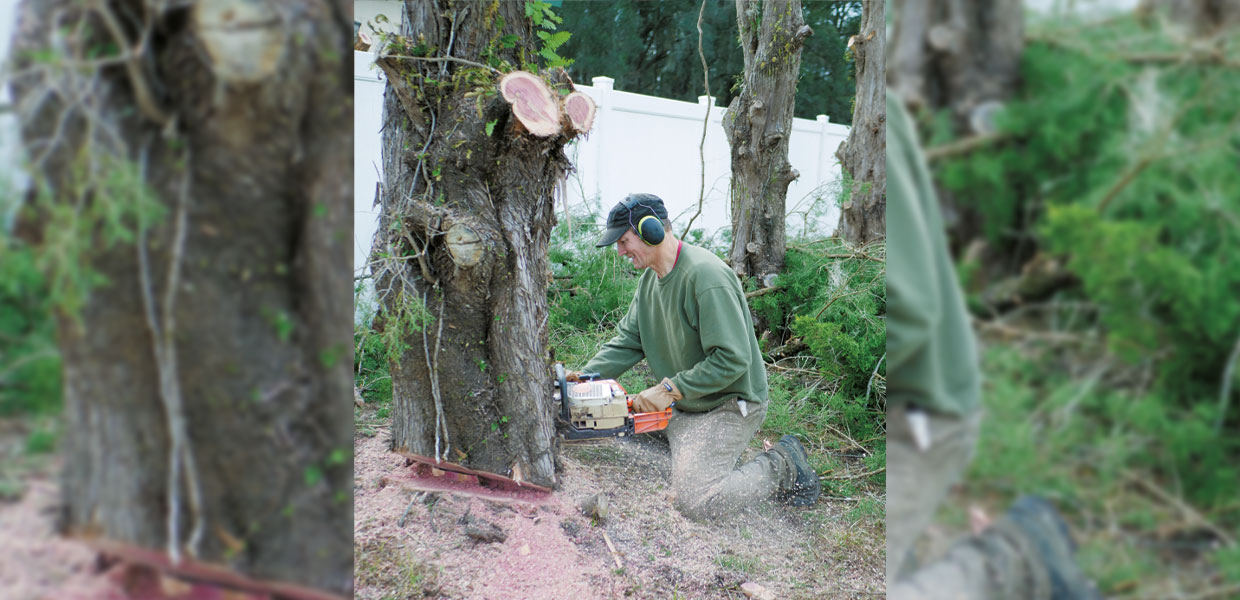 Damaged trees cut down
For the third consecutive year, Maranatha Volunteers International organized a work project at Camp Kulaqua in Florida. This year, January 6-16, volunteers focused on the construction of a 40×60-foot outdoor pavilion which will provide a gathering place for picnics, meetings, and other events. Additionally, the team cut and cleared a dozen trees on the property, cleaned and created horse trails, painted decks, and laid 1,500 feet of water line.
"The reason we keep asking Maranatha to come back is the value they bring to the camp — their work ethic and just the energy that they bring," says Michael Hopkins, building maintenance director at Camp Kulaqua. "In my line of work, it's pretty easy to get bogged down with all the different small things that are happening, plus the projects that we try to accomplish. And so, having Maranatha with us, it feels like taking a big leap in those responsibilities and the goals that we're trying to reach."
Hopkins first invited Maranatha to Kulaqua in 2018 after hearing a presentation at the Association of Adventist Camp Professionals convention. When he learned that Maranatha offered assistance to churches, schools, camps, and other organizations in North America, Hopkins arranged a meeting and filled out an application. A few months later, 78 volunteers arrived at the camp ready to work.
"I was just blown away by that first year and the work ethic that people come with. You know, if you're not keeping [the volunteers] busy, they start to get frustrated with you, and that's a good problem to have," says Hopkins, with a smile.
The group ended up constructing 18 decks on several cabins, painting, making repairs, landscaping, and building 1,300 linear feet of fencing — labor that was valued at more than $136,000. Since then, having Maranatha at the camp every winter has become a bit of a tradition.
"Now, we're three years into this, and it feels like friends are coming back each time. I know this event — I think about half the volunteers are returning and then half are new. And it feels a lot more comfortable, like they're coming and they're part of the family at this point," says Hopkins. "So that's a really neat relationship to have there, and to have the support of an organization that wants to come and invest in us is just a huge benefit."
Camp Kulaqua is located on 800 acres in High Springs, Florida. Established in 1953, it is the largest summer camp and retreat center in North America and boasts horse trails, a water park, and even a zoo. Maranatha's project at Camp Kulaqua is one of many at camps, schools, churches, and other entities in the United States and Canada.
Florida | May 2021