by washington johnson II, D.Min.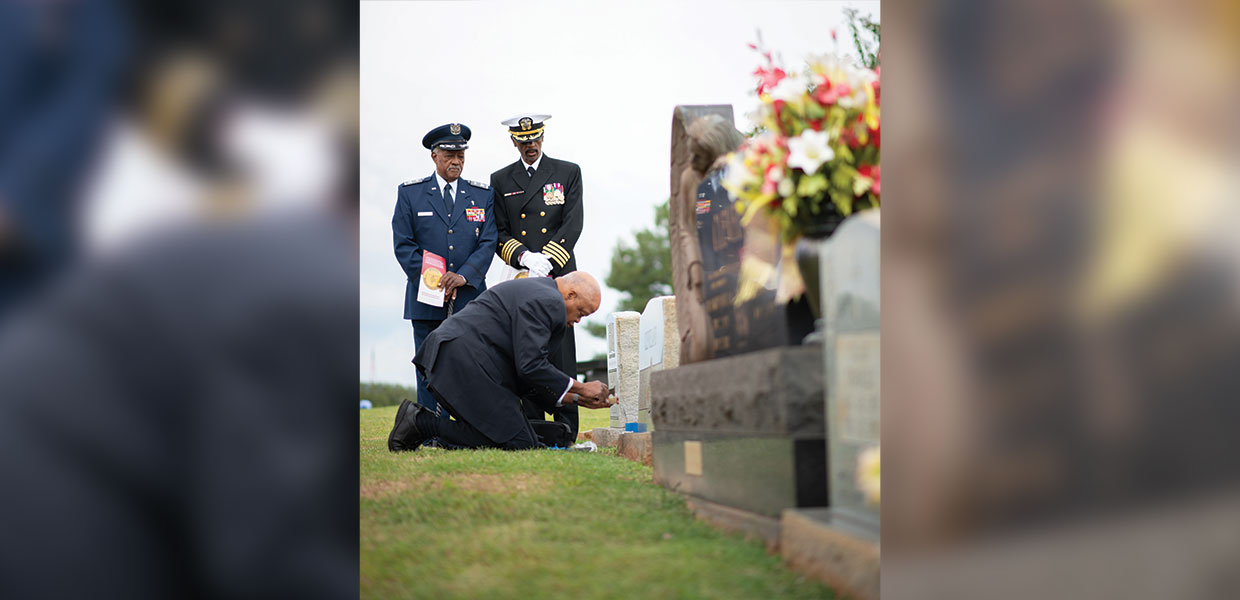 R. Steven Norman III (kneeling) prepares epoxy to affix the clergy medallion to the grave marker of Edward Earl Cleveland, while Washington Johnson II, D.Min., and James Melancon looks on.
On a picture-perfect autumn afternoon during a special ceremony, a bronze memorial clergy medallion was affixed to the grave marker of chaplain Edward Earl Cleveland (1921-2009) at Oakwood Memorial Gardens Cemetery in Huntsville, Alabama, to honor his service as a Civil Air Patrol (CAP) chaplain. The idea for a medallion was conceived by R. Steven Norman III, communication director at the Southern Union Conference in Peachtree Corners, Georgia, to acknowledge clergy and educators in memoriam who have dedicated their lives to service in the Seventh-day Adventist Church. The officiant for the ceremony was Capt. Washington Johnson II, D.Min., United States Navy Chaplain Corp, who serves as an assistant director of Adventist Chaplaincy Ministries at the North American Division. The honor was most fitting for Cleveland.
Known as a legend in the field of public evangelism in the Seventh-day Adventist Church, Cleveland conducted countless evangelistic crusades, authored 16 books, served as an administrator at the General Conference of Seventh-day Adventists and Oakwood University, and was later inducted into the Martin Luther King Jr. collegium of preachers and scholars at Morehouse College in Atlanta, Georgia. In 2007, Oakwood University dedicated a building bearing Cleveland's name and those of two other distinguished leaders in the Seventh-day Church — The Bradford-Cleveland-Brooks Leadership Center.
While there is much more that can be written concerning Cleveland's numerous accomplishments, his role as a CAP chaplain is remembered with distinction, as it held a special place in his heart and ministry. He considered it a great honor in 1993 when he became a chaplain in CAP at the urging of his close friend and colleague James Melancon, who also served as a CAP chaplain in the rank of colonel. During Cleveland's 10 years of service, he was assigned to the Huntsville Composite Squadron and received several medals, ribbons, and unit awards. Cleveland was devoted to duty with the CAP, and showed great appreciation for all military service personnel, including special honor and endearment for his father's service in World War I. A handsome photo of Cleveland's father, William C. Cleveland Sr., could be admired on his home office desk at any given time.
In attendance for the historical occasion was Charles Bradford, former president of the North American Division. Other participants include Mervyn Warren, Ph.D., D.Min., who gave a heartfelt invocation; James Melancon, who passionately spoke of Cleveland's role as a chaplain in the CAP; R. Steven Norman III, who shared the background of the medallion and affixed it to Cleveland's grave marker; Harold Lee, D.Min., former director of the Bradford- Cleveland-Brooks Leadership Center; and T. Marshall Kelly and Joyce Johnson, Ph.D., who led the congregation in a melodious, inspirational reminder of the second coming symbolized in part by the medallion, with a verse of the song "We Have This Hope":
We have this hope that burns within our hearts,
Hope in the coming of the Lord.
We have this faith that Christ alone imparts,
Faith in the promise of His Word.
We believe the time is here,
When the nations far and near
Shall awake, and shout and sing
Hallelujah! Christ is King!
We have this hope that burns within our hearts,
Hope in the coming of the Lord.
(Wayne Hopper, 1962)
The words of the song also portrayed Cleveland's strong belief in the imminent and soon return of Christ, as evidenced by his passionate work as a Gospel evangelist. The memorable ceremony that honored Cleveland's service to God and country concluded with a benediction of love, hope, and divine protection by T. Marshall Kelly.

Washington Johnson II, D.Min., United States Navy Chaplain Corp, serves as an assistant director of Adventist Chaplaincy Ministries at the North American Division.
Southern Union | December 2019