Stefanie Green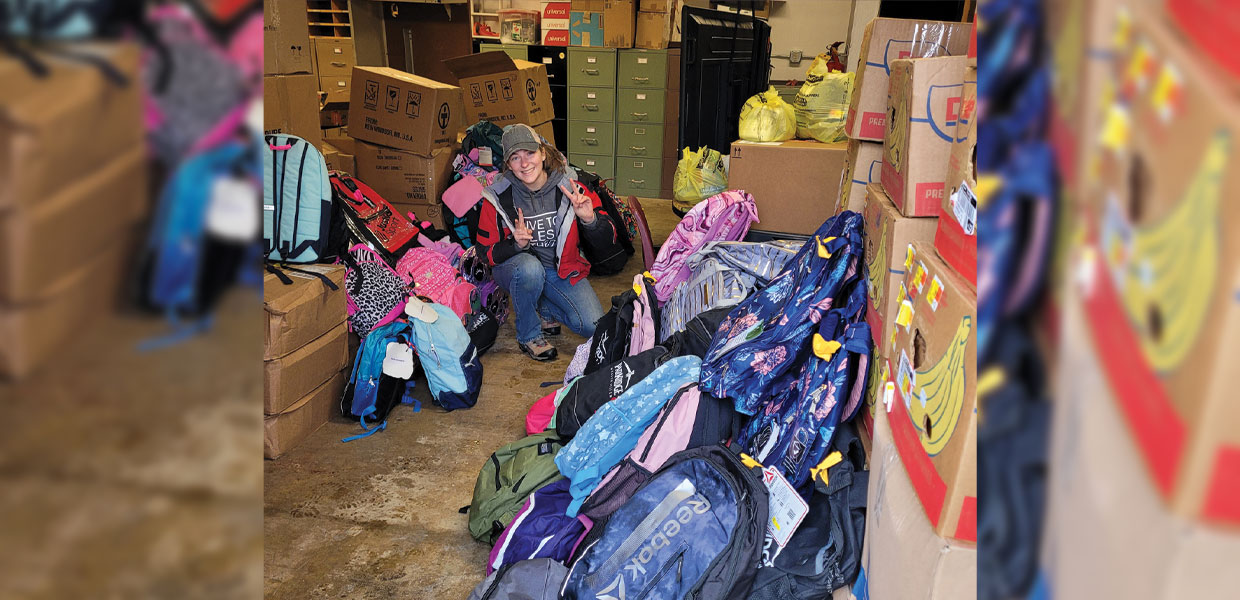 Following devastating tornado damage, Bree Adams coordinated help for more than 160 children in need of school supplies.
Bree Adams packed her small SUV full of backpacks and school supplies and began the drive from Collegedale, Tennessee, to Mayfield, Kentucky. Adams, who is currently pursuing her master's degree in social work at Southern Adventist University, had been inspired to take action after seeing firsthand the devastation caused by strong tornadoes in December 2021.
Shortly after the storms, Adams spent a week in Mayfield with 2Serve, a disaster response organization; the group cleared debris, cut up trees, tarped roofs, and distributed food. They focused on helping a lower-income community that had been hit especially hard and lacked the resources to recover.
Adams initially connected with 2Serve while earning her bachelor's degree in social work at Southern, participating in a 2018 University-sponsored trip to help with hurricane recovery in the Carolinas. Additionally, she took the opportunity to get Community Emergency Response Team (CERT) training on campus. While the trip to Mayfield was Adams' fifth time participating in disaster response, it had a profound impact on her.
"Seeing how the tornados took everything from these people was really heartbreaking," Adams said. That's why, when her week there was over, Adams decided she could do more to help.
During the trip, she had noticed that most of the school buildings had not been hit hard — meaning that classes would resume — yet many of the children had lost their belongings in the disaster and would be returning to school empty handed. Adams was inspired to buy a few backpacks and school supplies and give them to a school in that community for whoever needed them.
Originally, she planned to donate five backpacks, but felt impressed to invite her family and friends to get involved. As word spread, donations and support began to roll in. She posted to social media, which led to several organizations offering to promote the cause or serve as drop-off locations for donations.
"Multiple people told me that they had been looking for a way to help out and that this cause was an answer to prayer," Adams said.
She set a new goal of filling 100 backpacks with school supplies, but after surpassing 150, she realized that she could not put a limit on what God could do. In the end, Adams was able to deliver 164 backpacks for children in need to a school in Mayfield this January.
"I don't take any credit for what I did," Adams said. "It was all God's work; I was just boots on the ground."
As a social worker, Adams plans to make serving others her career. Her classes and professors at Southern are equipping her with the skills she needs to be an effective and compassionate leader in the real world.
"We are incredibly proud of Bree! She really embodies the mission of our social work program," said Laura Racovita, Ph.D., dean of the School of Social Work. "She has a heart for giving and a level of compassion that few have. Through this project, she saw a need and exceeded all expectations, making a tangible impact and helping to restore dignity to those affected by this disaster. Combining her skills and passion in partnership with a Higher Power, Bree will accomplish big things in life!"
Adams encourages everyone to find ways to make a difference: "If serving others is on your heart, God's got a plan to make it happen."
Southern Adventist University | March 2022