by Jason Max Ferdinand, D.M.A.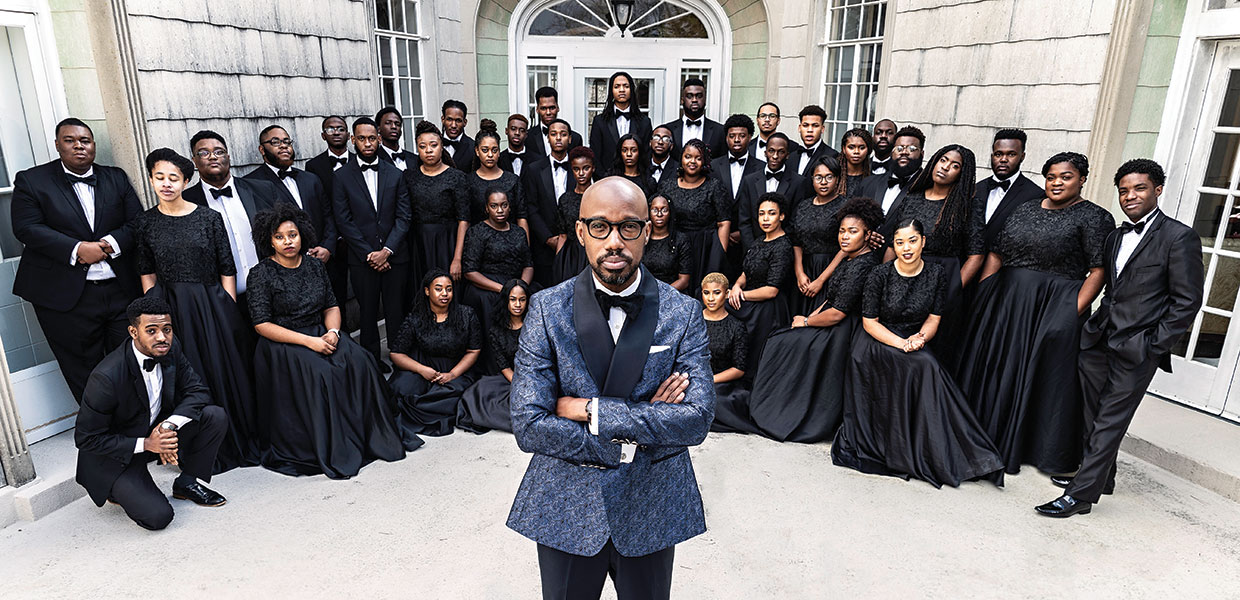 The Aeolians were pleased to represent Oakwood University in musical excellence, led by Jason Max Ferdinand, D.M.A. (standing), professor and chair of the Music Department.
Gianna Snell
Ladies and gentlemen, making their first National American Chorale Directors Association (ACDA) appearance: The Aeolians of Oakwood University!" I took a big breath and walked out to center stage. We were received with such warmth. We acknowledged the audience, and then I turned to face the choir and mouthed to them, "Let's go to work." Our first set went attacca (without break between the songs). Song one, "Regina Coeli," was simply beautiful. Song two, "Lobet den Herrn," I stood there thinking "this is incredible!" They made the difficult piece seem like they wrote it. Song three, "Jubilate Deo," was so expressive. After this first set, the audience jumped up and went into a mad applause. They literally would not stop. Keep in mind that the organizers stressed for months that you could not go overtime. So, I jokingly pointed to my watch to let the audience know we have to move on. They all laughed and sat down.
We met with our 17-piece chamber instrumental group that was based in Kansas City, Missouri, on February 27, 2019, and the Aeolians proceeded with confidence. The rehearsal was very methodical, making sure to cover all the small details of the pieces and the transitional elements therein. Due to the large number of the conference attendees, we would have to perform our set twice and on two different stages. On performance day, the Aeolians gathered in the holding area and the nervous energy was palpable. Some had headphones on, trying to focus. Others were practicing their choreography and staging. Our accompanists were playing imaginary instruments as they practiced in their minds. A friend and Grammy award-winning music educator, Jeffrey Redding, Ph.D., stopped by to give a pep talk. "Sing to inspire, not to impress," was his message to us. Backstage, word kept getting back to us that the hall was filled to capacity. Without seeing the audience, we could sense the anticipation.
During the singing of "My Lord, What a Morning," one could hear a pin drop in that big hall. Cedric Dent, Ph.D., took the stage and we all had fun in the choreographed singing of Dent's setting of "Smile." "Promised Land" was our final statement. It was indicative of this choir making it to this significant stage. This song was fully staged with huge transitions of the stage plot as we sang. It was simply majestic. We ended the last note, and immediately came a thunderous applause. In the hall we were met with people crying, hugging us, and unable to speak. Our students could share hundreds of stories of encounters they had right after we sang.
In some aspects, the second performance was better than the first. We were met with even more exuberance. There were many folks who belonged to the first track (attendees are supposed to stay true to their tracks) who managed to hear us again the second time. The standing ovation at the very end was longer than the first. Praise God for His wondrous mercies. What a way to end Black History Month.
It was beyond gratifying to hear choral legends, whom I've read about in books and heard their recordings, sing high praises of our young people. We, as believers, must not take for granted the treasure we have. We have the ability to heal. The ability to bring hope. We have received hundreds of messages of how lives were changed. The message needs to reach to all the world, and this is our tool.

Jason Max Ferdinand, D.M.A., is Oakwood University professor of music, director of choral activities, and Music Department chair.
Oakwood University | June 2019