by jim davidson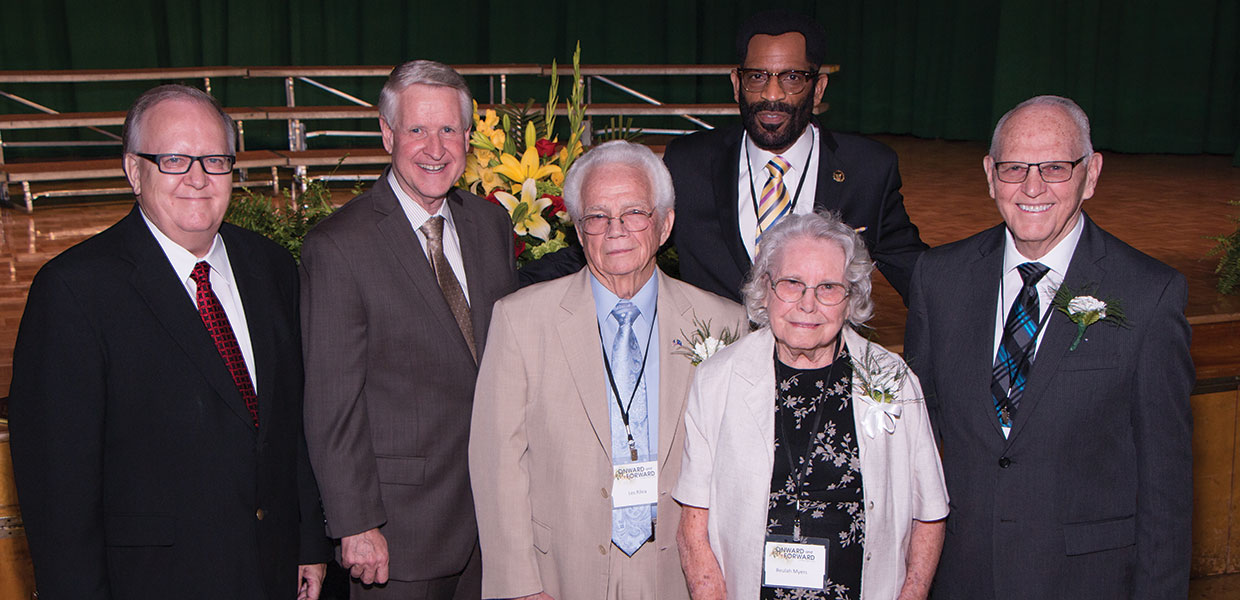 Dan Jackson (left, back row), president of the North American Division; Jim Davidson, executive secretary of the Southern Union; and Ron Smith, D.Min., Ph.D., president of the Southern Union, stand with three retirees who worked the longest for the Church: Les Rilea, retired NSO/chaplaincy director for the Southern Union, who served for 45 years; Beulah Myers, retired Church school teacher; and G. Tom Carter, retired planned giving and trust services director for the Southern Union, who served for 46 years.
Stephen Ruf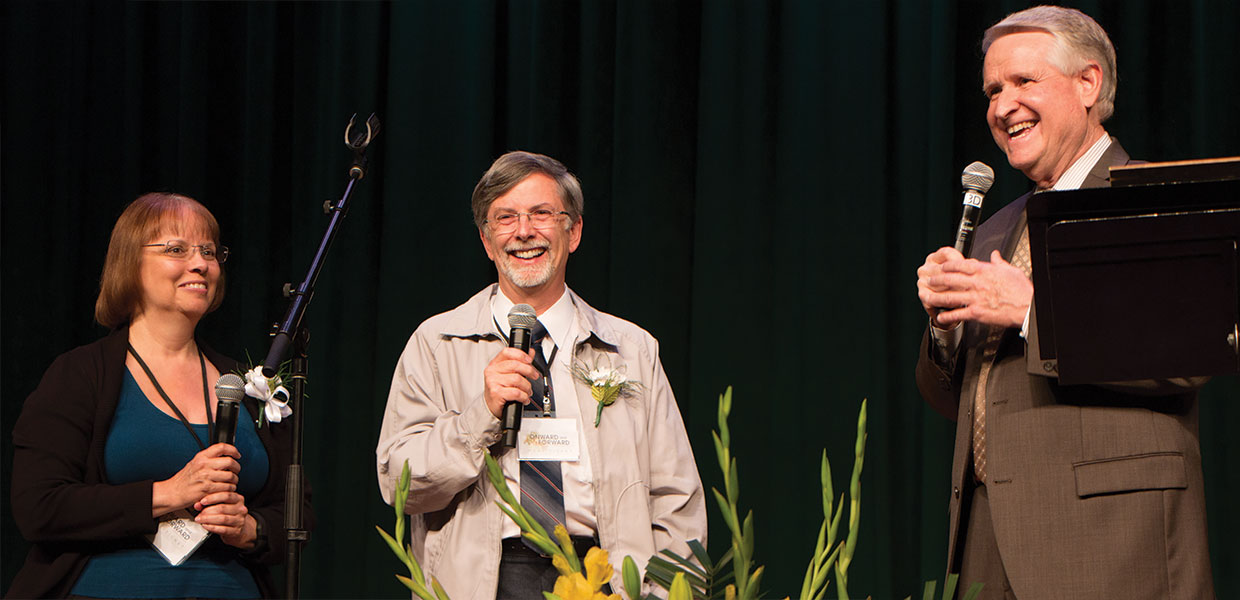 Jim Davidson (right), executive secretary of the Southern Union, interviews David and Carol Cotton, employees at Manchester Memorial Hospital in Manchester, Kentucky, to learn more about the almost mission-field-like ministry that takes place at Manchester Memorial.
Stephen Ruf
This has been a wonderful weekend…" "It was so good to see people we haven't seen in years…" "When will this event happen again?" These were the comments and questions that were heard from attendees at the first Southern Union-sponsored convention for current and former Church and Adventist hospital employees age 55-plus. The event, themed "Onward and Forward," was held June 22-24, 2017, on the campus of Southern Adventist University in Collegedale, Tennessee.
Several hundred attendees participated in an event that was designed to provide nurture, information, fellowship, and affirmation for lives of service to God's Church. Pastors, teachers, administrators, literature evangelists, and Adventist hospital employees gathered and spent the weekend in seminars and plenary sessions designed for their needs.
The opening night keynote speaker, Ed Reid, challenged the group to remain faithful in their walk with the Lord. The next morning he shared from Scripture and current events the nearness of Christ's return. Doug Jacobs, D.Min., professor of religion at Southern Adventist University, presented a stirring message designed to encourage a personal life of study in God's Word.
Recently, the North American Division significantly changed the healthcare delivery for its retired employees. Ray Jimenez, newly elected director for Adventist Retirement, was on hand to make a presentation explaining the reasons for the change, and how it effects retirees.
Throughout the day on Friday, participants were enriched by seminars on topics ranging from senior finance; gardening; senior travel; and Ellen White and the Civil War, presented by Jud Lake, Th.D., D.Mn., professor of homiletics at Southern Adventist University and director of Adventist Studies at the Institute for the Study of Ellen White and Adventist Heritage, and based on his recent book, A Nation in God's Hands.
Friday evening the group was once again inspired, this time by Ron Smith, D.Min., Ph.D., president of the Southern Union. Sabbath morning for worship service, the Collegedale, Tennessee, Church, graciously provided the venue for Dan Jackson, president of the North American Division, to present the message.
Perhaps the best blessing was simply the sweet fellowship. In addition to meeting and making new friends, many enjoyed reunions with people they may have worked with years earlier. An often heard remark was, "It is so good to see you again!" There is a special camaraderie that exists with those who have given their lives to some form of full-time ministry. It was easy to see expressions of joy on many faces as they reconnected with someone with whom they had previously labored.
The convention was planned by the eight conferences' executive secretaries in coordination with the Secretariat Office at the Southern Union. They provided support, insight, and guidance to this event that had been in the planning stage for more than two years. As plans progressed, they prayed that an atmosphere of affirmation and appreciation for these soldiers for God could be sensed. It was calculated that more than 10,000 years of collective service was represented by the hundreds who attended. Thousands of souls have been baptized by the pastors in attendance. Thousands of students have received an Adventist education from the teachers. Many more thousands have been ministered to in hospitals throughout the Southern Union. Unnumbered doors have been knocked on by literature evangelists. What a legacy of service these individuals are providing to the Church. Truly an army for God was represented by this special group.
But, not only were they appreciated for their years of full-time service, but also for their continued involvement in local churches, schools, and communities while in retirement. The Church continues to be blessed by their knowledge, experience, and faithfulness.
Sabbath afternoon the group was reminded of the many facets of ministry that take place in the Seventh-day Adventist Church. David and Carol Cotton, current employees, shared the almost mission-field-like ministry that takes place at Manchester Memorial Hospital in Manchester, Kentucky. Situated in the heart of the Daniel Boone National Forest, Manchester Memorial Hospital, part of the Adventist Health System, provides healthcare services to Clay, Jackson, and Owsley counties. These counties are in the eastern coalfield region of Kentucky. Manchester is a small community of less than 2,000 people, and collectively the three counties have a population of less than 40,000 residents. And yet, this rural lighthouse averages 60,000 patient visits each year, including 20,000 emergency visits and nearly 200 births. These long-time employees shared the influence that this 63-bed hospital has on the community, and its impact for the Seventh-day Adventist Church.
Bill Hicks, retired school teacher and academy principal, reminisced about the blessing that working with young people throughout his career had been to him. He told of individuals, now adults, introducing themselves and saying, "You used to be my teacher." What a joy to see former students who continue to be part of God's Church, and are experiencing a walk with Him.
Gary Moyer, current executive secretary for the Carolina Conference, as well as a pastor for a number of years, expressed the joy working for the Church had brought him. He also told the poignant story of the death of his first wife at a very young age, and the support the Church had given him.
Dave Haugsted, long-time literature evangelist and publishing director, told of an experience that God had given him.
He was following up a lead card that had come to him in the mail. When he knocked on the door, a young woman and her two small daughters were surprised, for they expected the information to be sent to them in the mail. However, they invited Dave in and he presented the canvass, showing them The Bible Story set. After the presentation the young woman said, "Oh, they are wonderful, I would love to have them. However, there is no way I would be allowed to buy them. For you see, my husband hates religion. He has forbidden me or the girls from ever even bringing up the subject. In fact, if he were to come home right now and see these religious books on the floor, he would probably beat you up."
Realizing he wasn't going to make a sale, Haugsted began to gather up the books when one of the little girls said, "I hear Daddy in the driveway." With a look of fear on the young mother's face, she hastily gathered up the children and ran into another room.
Haugsted, left alone in the room with his books and wondering what he should do, decided to confront the situation head on, and went to the door and opened it just as the man came onto the porch. He extended his hand and said, "Hello, I'm Dave Haugsted, how are you?" The man looked at him and said, "What are you doing here?" When Haugsted began to explain that he was selling The Bible Story books, the man flew into a rage and began to curse and swear. He shouted, "I don't want anything to do with God!" As the man continued to curse and threaten Haugsted, he went to pick up volume 9 of the books, and opened to a picture of the crucifixion, Jesus hanging on the cross. He said, "Sir, Jesus knows everything about you and He loves you." The man stood in silence for several moments, not saying a word, and then tears began to form in his eyes and roll down his face. He said, "I want to know God. I want Him in my life." And in that moment, this avowed atheist gave his heart to the Lord. Haugsted and his wife studied with the family, and a few months later, joyously witnessed their baptism and joining the Seventh-day Adventist Church.
At the conclusion of this story, Haugsted said, "This not only changed him, but this experience and others like it changed me too."
As the weekend unfolded, it became evident that not only has the Church been blessed by this group of people, but they in turn have been blessed and enriched by having the opportunity to minister. During the Sabbath church service, a short video was shown featuring Jynean Reid, long-time teacher at Greater Atlanta Adventist Academy in Atlanta, Georgia, and Ken Coonley, retired pastor and conference president. The video can be viewed at www.southernunion.com/OnwardForward. In this video, they represented the nearly 10,000 current and former Church and hospital employees who are age 55-plus, and reside in the Southern Union. Their message was simple, but heartfelt. They thanked the Church for the opportunity to serve. They expressed the difference the Church has made in their lives. Through the faithfulness, loyalty, guidance, and friendship of you, the Church, they have been brought closer to Jesus. For that they thank you for giving them the wonderful privilege of sharing Jesus and the Good News of salvation. With anticipation, they look "Onward and Forward" to that glorious day when Jesus comes again.

Jim Davidson is the executive secretary at the Southern Union Conference in Norcross, Georgia.
Southern Union | September 2017