Marya Latson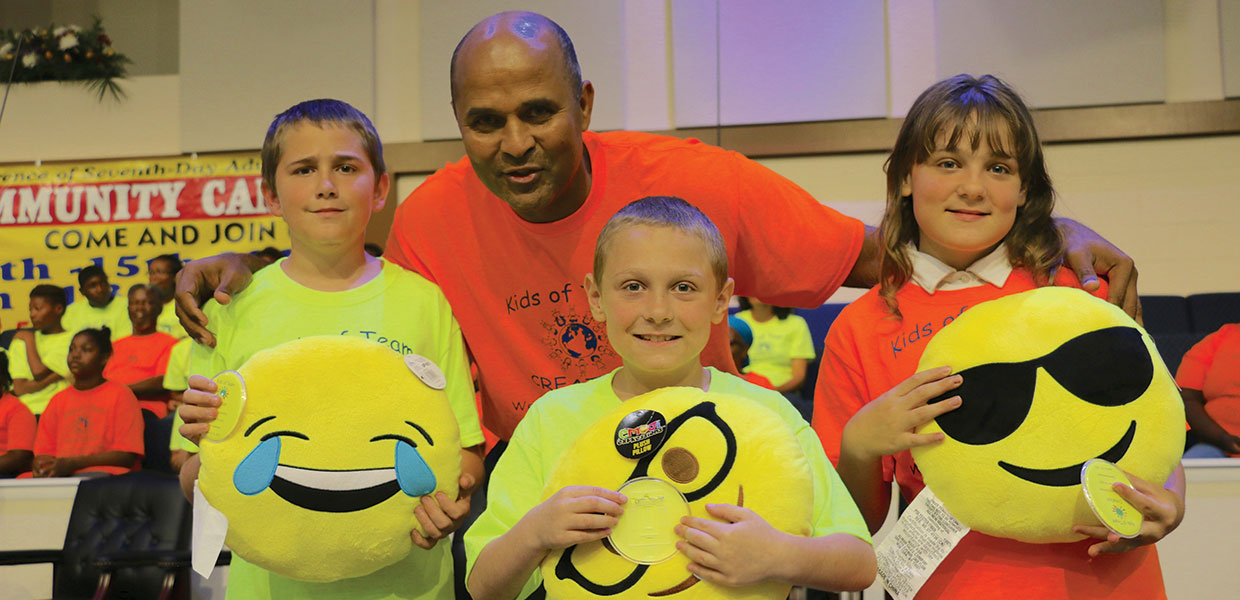 Community Vacation Bible School attendees received a special gift from Maxime Pape, Southeastern children's ministries director. Children from Palatka, Hawthorne, and surrounding areas in Florida participated in the VBS program, as well as the opening service of Southeastern's Camp Meeting.
Arnaldo Cruz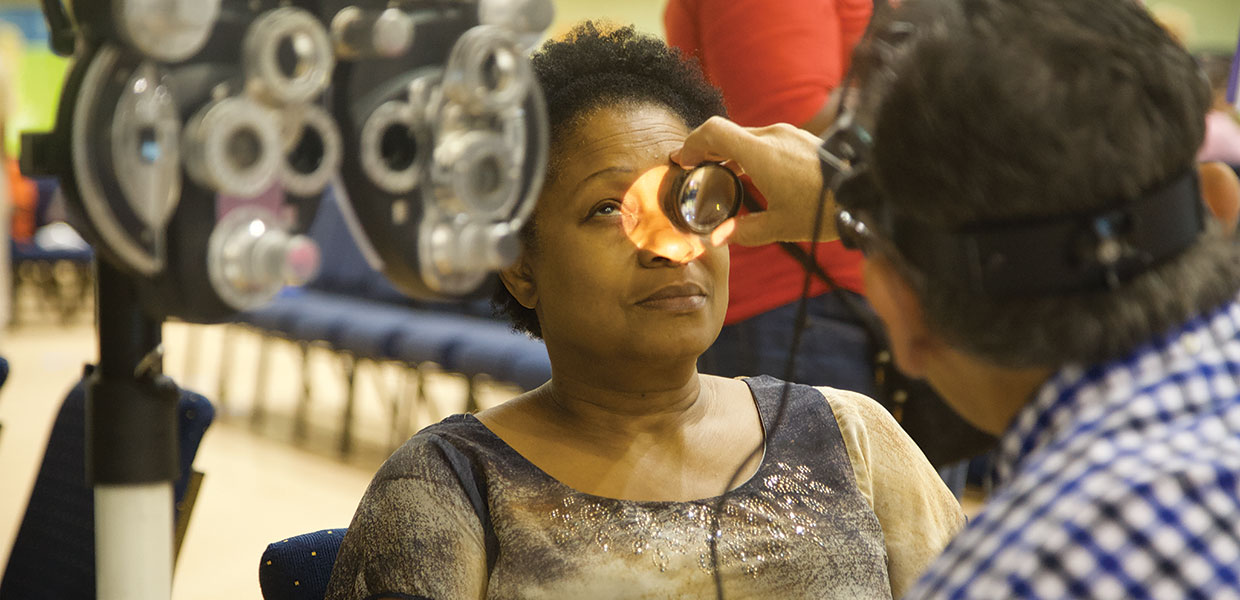 A FreeD.O.M. Clinic participant receives a glaucoma test from Todd Lang, O.D. Lang is one of the many health professionals from across the state of Florida who volunteered their services to provide care to clinic attendees.
C.C. Thompson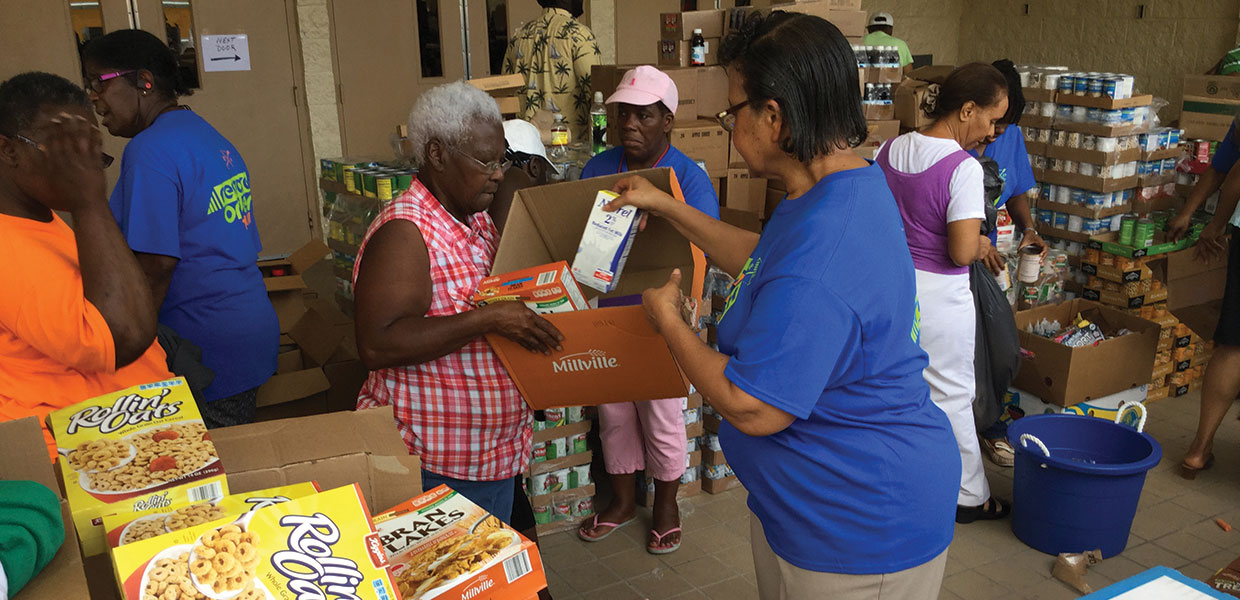 Hawthorne, Florida, area residents received food items from Southeastern volunteers during food giveaway. Some residents came to recieve bags of food while they waited to receive medical care at the FreeD.O.M. Clinic.
C.C. Thompson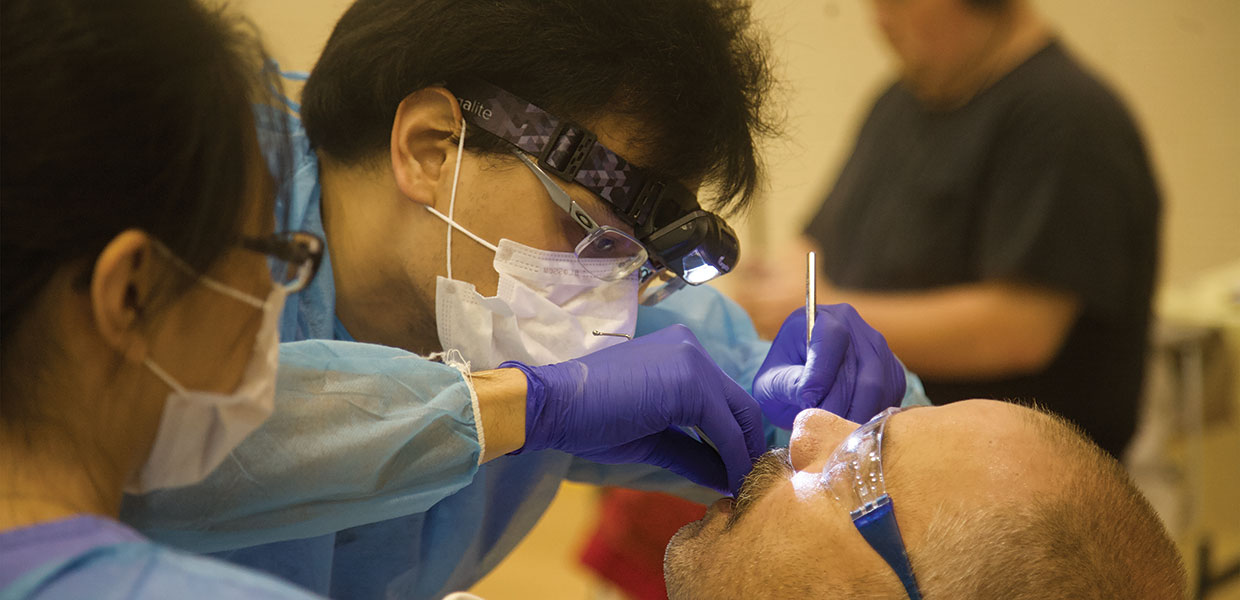 A FreeD.O.M. Clinic opens wide for a dental procedure. Clinic organizers report that dental care is in the highest demand because many insurance policies do not cover dental procedures.
C.C. Thompson
Eight-year-old Mariah Baker and her three siblings will never forget the fun-filled, inspirational Community Vacation Bible School (VBS) Camp held on the Southeastern Conference (SEC) campground in Hawthorne, Florida. She and about 75 other children who weren't Adventist, ages 4 to 16, came from nearby communities to learn the principles of CREATION Health, and learn of Jesus' love. As the first-ever Community VBS Camp offered to the children of the community at no cost to the families, this program was historic.
Beginning on June 11, 2017, Maxime Pape, Southeastern children's ministries director, along with 30 volunteers, served the community's children. Daily, they would sing their theme song, "Kids of Team Creation, that's who we are! We love living healthily, we love the Lord!" By God's divine planning, the volunteer staff included registered nurses, physical therapists, and teachers who were trained to work with special needs children enrolled in the camp. Parents of children with physical limitations, food allergies, autism, behavioral issues, and learning disabilities were especially relieved to know their children would not be excluded; they were welcomed with open arms. Not until Heaven is reached can any human assess the value this community camp had upon the children, families, and staff who participated.
The volunteers who came from as far away as West Palm Beach and Jamaica were pleased to see that by the end of the five-day camp, most of the children, who knew very little if anything about the Adventist faith, expressed delight in learning to make good choices, eat healthily, get rest and exercise, and trust in God for everything. They enjoyed creating crafts and learning Bible lessons, songs, and games to remind them of their camp experience.
Camp concluded with its finale presentation program on the opening night of Southeastern's 36th annual Camp Meeting on the main worship stage, usually reserved for the president's opening address. Gregory O. Mack, Southeastern president, who inspired this year's Camp Meeting to be "mission-driven and service-directed," willingly allowed the children on the platform in his place. Dressed in colorful T-shirts and bright smiles, the children presented a spiritually moving program that will not be soon forgotten. During the program, four exceptional VBS participants received certificates to attend the SEC Junior Summer Camp for free.
After the Community VBS ended, service to the community continued. On June 17, 2017, Pathfinders marched around the City of Palatka, 25 miles away from the campgrounds. This Freedom Parade, complete with floats and drum corps from all over Florida, informed community residents that a food and clothing giveaway and free health clinic would take place on Southeastern's campground the next day. Southeastern partnered with FreeD.O.M. Health Clinic USA, Inc., an independent ministry to provide "FreeD.O.M." — free dental, optical, and medical services to low income persons, the uninsured, and underinsured.
Late Saturday night and early on the morning of June 18, volunteer medical doctors, dentists, optometrists, nurses, and other skilled medical professionals came from across the country, and set up examining and treatment areas in Southeastern's newly remodeled worship pavilion. Under the direction of Don Bovell, M.D., and his wife, Ann Burnett, 82 persons received dental services, 17 people received optical services, and 144 persons obtained medical treatment. In addition to housing the clinic area, the sanctuary also served hundreds with groceries and clothing. The efforts of the Conference and the volunteers of FreeD.O.M. Clinic were to alleviate, educate, empathize, and empower those in need. The city council and mayor of Palatka issued a formal proclamation to Southeastern for its service to the community on June 22, 2017.
Ministry to community residents did not conclude in June. On July 30, 2017, the members of Zion Hill Church sponsored a Back to School Bash across the street from the campground. More than 200 backpacks and school supplies were distributed to the area's children, who also enjoyed free food and fellowship. This year Southeastern has operated with a clear understanding of the words of E.G. White when she said, "we are all woven together in the great web of humanity, and whatever we can do to benefit and uplift others will reflect in blessings upon ourselves," Patriarchs and Prophets, pages 534-535.
While Mariah Baker won't soon forget the CREATION Health VBS theme song and the big hugs from the VBS camp mother, Grandma Mabel, neither will Hawthorne, Palatka, and the surrounding area be allowed to forget that Southeastern members' arms are always open to receive them, meet their needs, and share with them the Good News about Jesus and His love.
Southeastern | October 2017