by Karey Messina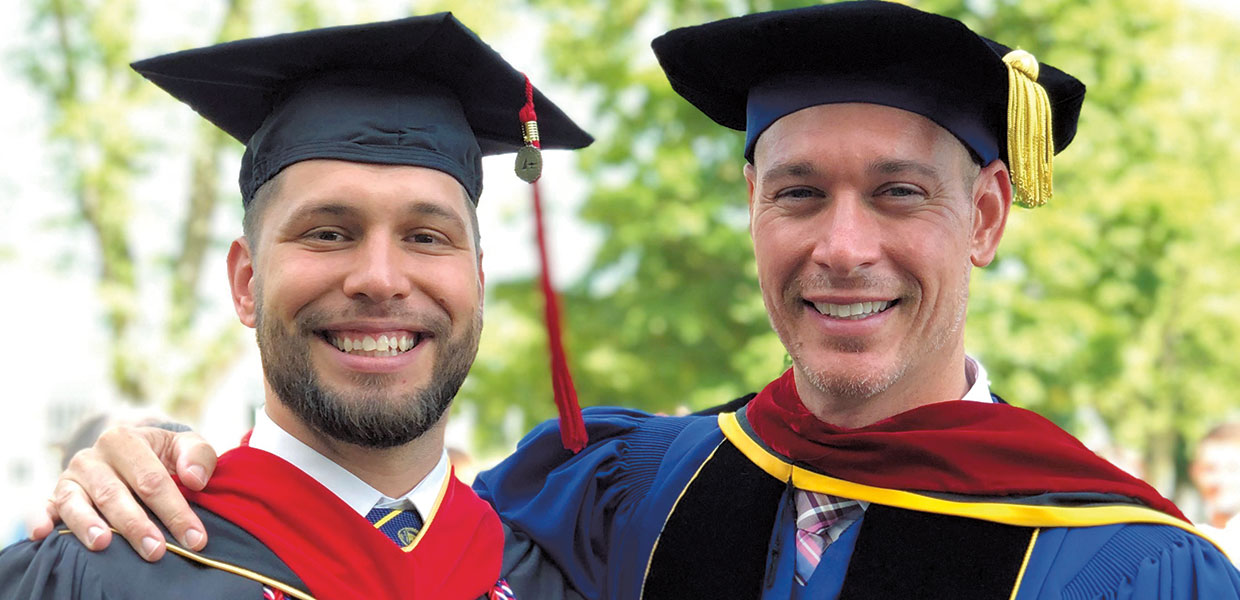 Graduation day at Andrews University, Berrien Springs, Michigan, in August 2019, saw two pastors and friends receive degrees: Kevin Messina (left), master of divinity; and Brian Cassell, doctorate of ministry.
Miriam Cassell
Pastor Brian Cassell could not have known what the outcome would be when he began Bible studies with Kevin Messina in the spring of 2012. Messina had recently begun attending the church in Port Charlotte, Florida, where Cassell was the senior pastor.
The hours of study were life changing for Messina. As a result of friendship and study the two men shared, Messina was baptized by Cassell on March 9, 2013, in the Gulf of Mexico. On the following day, Cassell united Messina in marriage with the love of his life, Karey.
Fast forward to August of 2019 at Andrews University in Berrien Springs, Michigan, the two friends shared another special connection–they graduated in the same ceremony. Cassell received the doctorate of ministry degree and Messina received the master of divinity degree.
"I would like to give credit to my Savior Lord Jesus Christ," says Messina, "certain loved ones along the way, and the kindness and godly life shown to me by Pastor Brian Cassell."
Cassell and Messina are now part of the ministerial team of the Florida Conference. Cassell serves as senior pastor of Spring Meadows Church in Sanford, Florida. He is joined in ministry by his wife, Miriam, and his son, Brandon. Messina serves as pastor of the Ocala, Florida, Church. He is joined in ministry by his wife, Karey, and children: Evia, Weston, and Leo.
Florida | August 2020