by Janell Hullquist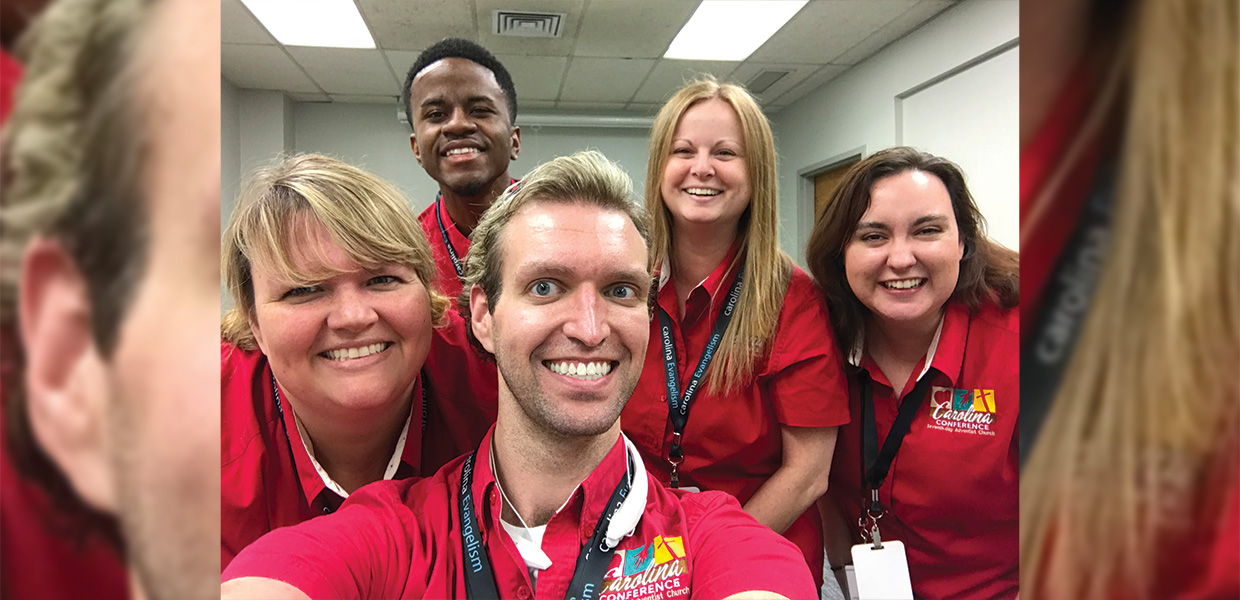 Rachel Beaver (right) enjoyed her summer internship in the communication office of the Carolina Conference.
Young adults face numerous decisions and uncertainties as they look to the future, pondering questions such as "What profession should I pursue?" "Will I be able to find a job?" and "If I do, will I LIKE that job?" Southern Adventist University embraces every opportunity to help students process and prepare for a successful career, and connecting students with experiential learning is an important piece of that process.
In fact, the majority of Southern students participate in an internship, practicum, or other on-the-job training by the time they graduate; most academic schools and departments on campus require this type of learning as part of the curriculum.
"Internships provide not only practical, real-world experience of information that is covered in classes, but they also give students a really good idea of the culture of a company," said Lisa Kuhlman, assistant professor of business at Southern. "Sometimes that's even more important, because if it's not a good cultural fit, they're not going to be happy."
Twice a year Kuhlman coordinates a networking event called "Meet the Firms" and graduate schools on campus, helping to connect recruiters with students. More than 50 organizations participate in the event, allowing students to make one-on-one connections that frequently turn into internship or job offers.
"It's nice to have recruiters in one place where you can actually go and see them, shake their hands, and ask them about their companies," Kuhlman said. "The best way for students to market themselves is to network."
Another key way that students connect with hands-on learning is through their academic departments. For Rachel Beaver, senior public relations major, an email from the School of Journalism and Communication let her know about an opening in the communication office of the Carolina Conference, where she ended up interning this past summer.
"My internship was a life-changing experience," Beaver said. "I got to see the work that I was doing make a difference. It meant something to my employers, and to those who were impacted in some way by my work. Suddenly, it meant something to me!"
Her newfound purpose made her an asset to the team.
"Rachel was a delight to have in our department. I feel like I learned more from her than she did from me about how to be a willing, dedicated worker with a servant's heart," said Rebecca Carpenter, director of communication for the Carolina Conference. "We have an intern on our team every summer; not only do they get to interact and learn, but building a relationship with them keeps us plugged in with young people, and what they like and hope for the Church to be."
To better facilitate these connections, Southern launched a new webpage this fall where businesses and organizations can submit internship openings. By entering the pertinent details at southern.edu/internships, the information is automatically distributed to the relevant academic departments, which then connect qualified students with the opportunity.
"Besides helping our graduates obtain gainful employment, internships allow students to have purposeful exploration of their vocation," said Rick Norskov, M.D., biology professor. "We aim to introduce students to a career through what God is calling them to do in life."
Sometimes internships help students eliminate a potential career path, while others confirm the direction that God is leading them.
"My internship at the Carolina Conference solidified my career decision, and gave me peace that I was pursuing the right profession," Beaver said. "Now I can't imagine doing anything else."

Janell Hullquist is editorial manager at Southern Adventist University, where she graduated in 2005 with a degree in mass communication.
Southern Adventist University | December 2018