Lisa Dalrymple, Ph.D.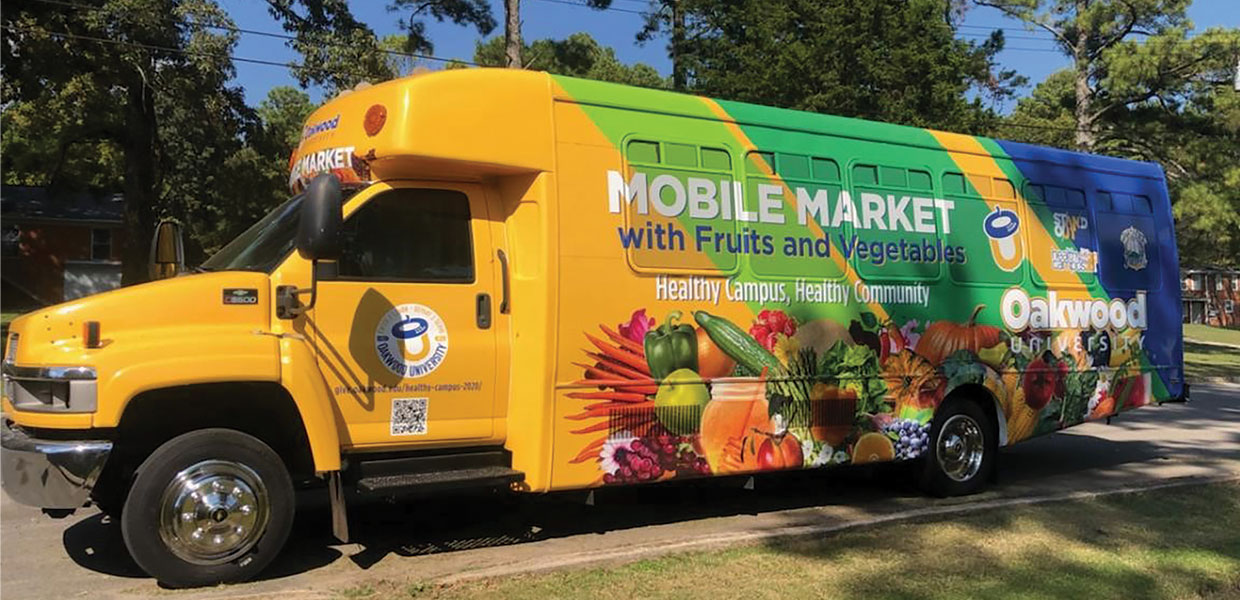 Oakwood University IMPR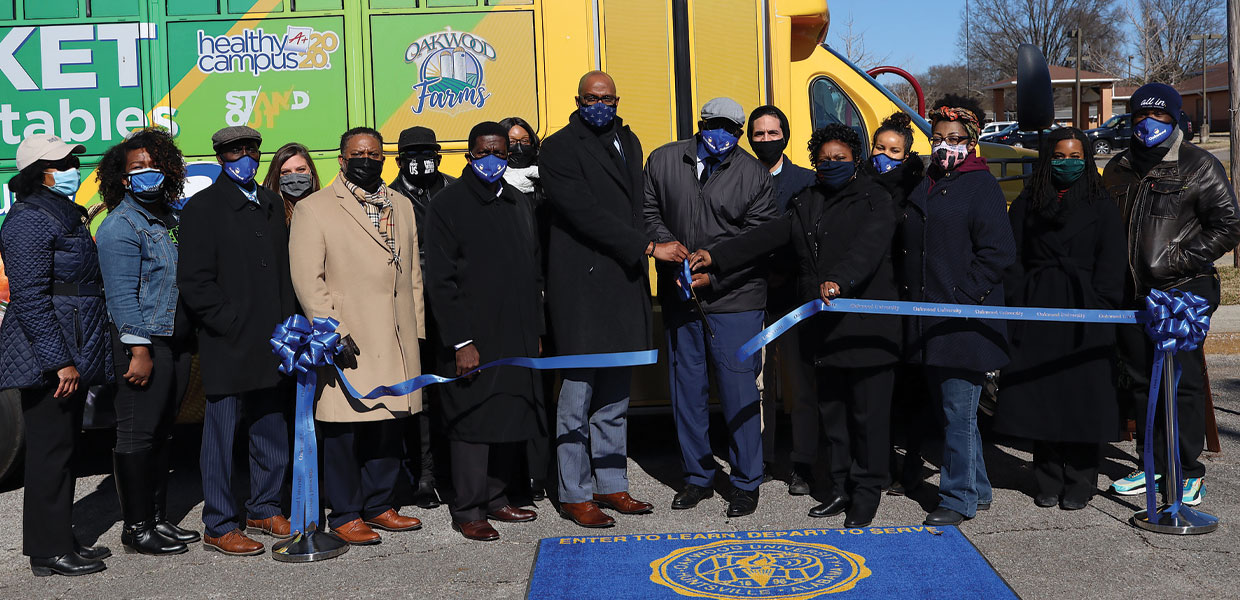 Oakwood University held its Mobile Market launch and ribbon cutting on February 2, 2021.
Oakwood University IMPR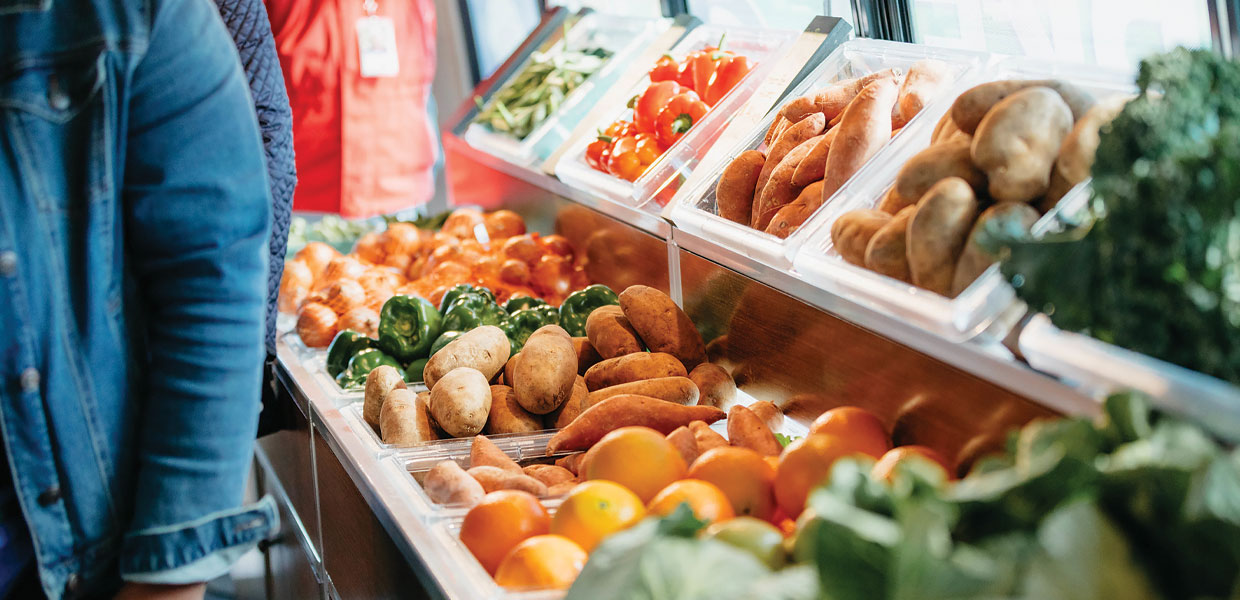 Oakwood University IMPR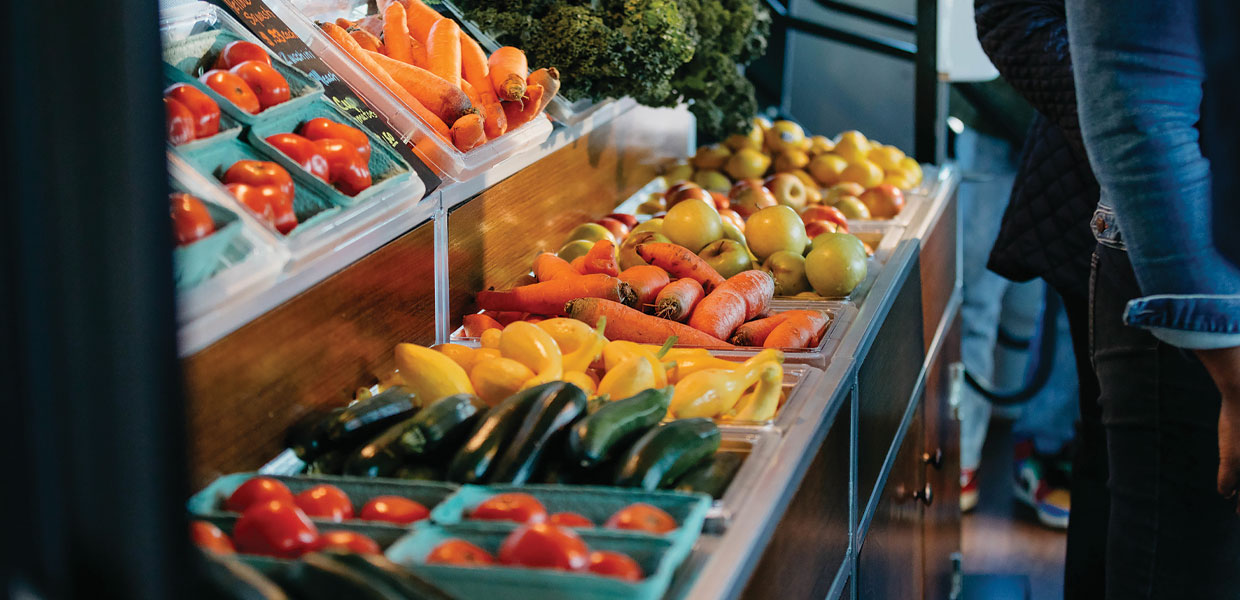 Oakwood University IMPR
Oakwood University's, Huntsville, Alabama, campus-wide health initiative, Healthy Campus 2020®, marked its five-year anniversary in the year 2020. As part of "Vision 2020" encompassed by Leslie N. Pollard, Ph.D., D.Min., president of Oakwood University, and whose vision came to life by Prudence LaBeach Pollard, Ph.D., vice president of quality assurance, research & faculty development, Healthy Campus 2020® achieved its primary goal of making Oakwood University the heathiest campus in America.
This momentous accomplishment was marked by receipt of the 2018 Crystal Apple Award, bestowed by our partner, Partnership for a Healthier America®. During the past five years, we have worked to transform our campus to a healthier environment for our students, employees, and visitors using a three-prong approach addressing nutrition, physical activity, and campus programs. With Phase 1 completed and now in its maintenance and sustainability stage, Oakwood is looking toward Phase 2, Healthy Campus, Healthy Community, where we intend to promote health beyond our campus, and address the needs of our community members — one neighborhood at a time.
As part of the Phase 2 initiative, our long-awaited Mobile Market was officially launched on February 2, 2021. This initiative is part of an effort to address food insecurity faced by many residents of north Alabama residing in food deserts, and to also combat diet-related health disparities and co-morbidities which plague so many residents in the deep south, particularly in northwest Huntsville communities.
Through a grant funded by the State of Alabama, and the Alabama Department of Economic and Community Affairs (ADECA), the initiative "Health in the Deep South: An Effort to Combat Health Disparities and Food Deserts in the Deep South," is designed to take fresh fruits, vegetables, and health education to underserved communities of the deep south via a state-of-the-art, customized traveling Mobile Market and Health Education unit.
It is through our community initiative the following outcomes are now being achieved: (1) providing health and nutrition education, and (2) providing access to healthy, affordable foods to several identified food deserts and underserved communities.
Direct and indirect support of innovative programs such as this is necessary. The Mobile Market is an extension of Oakwood University's Community Health Action Center and Clinic (CHAC), the latest community structure that is currently under construction and scheduled for completion in late Spring 2021. This facility will be the site of many community engagements and activities that will address community needs from health, wellness, and nutrition, to tutoring and fall prevention. The CHAC will allow for continuous efforts to meet the many challenges and health needs facing our communities. Completion of the CHAC will serve dual purposes, including a site for training of our HC2020® Student Health Ambassadors and providing resources to our communities.
The Mobile Market is a creative and innovational concept for transporting healthy foods for the expansion of choices and accessibility to fresh food while addressing food insecurity, which has been exacerbated by the current pandemic. As seen thus far through our community health initiative, this can be accomplished and will improve the quality of food in areas of food deserts and food swaps. Our goal is to decrease food insecurity for residents that reside in food deserts and those residing in underserved, low-income communities.
Our fully equipped traveling Mobile Market officially launched on February 2, 2021, in north Huntsville, aimed at safely delivering affordable, fresh, pesticide-free, locally grown produce for all on a biweekly schedule. We have successfully partnered with local stakeholders to optimize the success of our community health initiative. Thus far, we have partnered with the offices of Community Action Partnership® of Huntsville, Madison & Limestone Counties, Inc., the American Heart Association®, and the Huntsville Housing Authority. We look forward to expanding our efforts to build partnerships for the continued success of our program, and the opportunities that are ahead.
Oakwood students are an integral part of Oakwood University's mission and standing legacy. Advancement of our students in training and technical skills as the next generation of leaders, medical professionals, and missionaries are molded every day. Student Health Ambassadors are trained in Oakwood's eight Principles of Health, STANDOUT, and will be equipped to provide service locally, nationally, and internationally. Health Ambassadors will take the lead in providing nutrition awareness and health education to community residents and members, as part of their service-learning activities with the Mobile Market. Students will engage in promoting the consumption of healthy foods through healthy-cooking demonstrations, healthy recipe distribution, and providing resources and education on how to live a healthier life. Health Ambassadors will also conduct educational supermarket health tours for interested community residents, which is intended to (1) assist in informing the most effective way to shop for healthy foods, and (2) inform on how to choose foods that will provide the most nutrients and benefits to their daily diet. Residents will become more familiar with healthier choices available for purchase in their local grocery stores, and on the Mobile Market to promote a healthier lifestyle.
North Alabama consists of Huntsville City, Madison, Morgan, and Limestone counties. Huntsville is a city located in Madison County and extends west into neighboring Limestone County, and south into Morgan County. Huntsville's population is 200,574 according to the latest figure from the U.S. Census Bureau. The average income for Huntsville residents is $35,634 per year, and approximately 16.8% of the adult population lives below the federal poverty line. The goal of the Mobile Market is to serve low/fixed-income residents and senior citizens by ensuring prices are affordable, and optimizing opportunities for residents who receive public assistance to purchase healthy foods provided by our Mobile Market.
Part of the reason our communities are unhealthy is because they do not have access to healthy food options. Oakwood's vision for the Mobile Market is to bring healthier foods to community residents that are unable to access it. When residents are unable to access fresh fruits and vegetables because they cannot walk, ride, or drive to food sources, we intend to make accessibility easier. Through our community initiative, it is our intent to lower health risk associated with diet, lower incidence of diet-related preventable diseases, and empower residents of our community to make healthier food choices.
Oakwood University's mission is to "Transform students through biblically- based education, for service to God and humanity," and our motto is "Enter to Learn, Depart to Serve." While our students are enrolled at Oakwood University, it is our hope that, through service-learning opportunities such as the Mobile Market, they will have the opportunity to observe the needs of their community and take an active part in meeting the needs of their fellow man. Romans 12:13 NIV reminds us, "Share with the Lord's people who are in need. Practice hospitality." So, let us be God's light in darkness, and be a help to those in need.
Oakwood University | May 2021