by lisa marie esser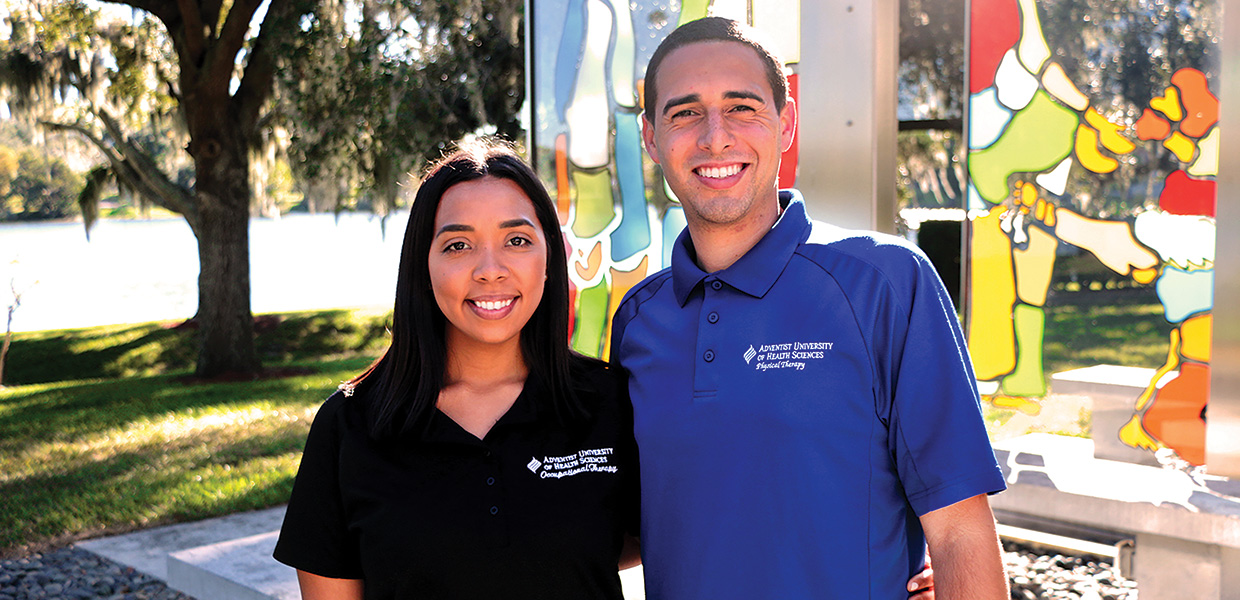 Isabel Adujar (left) and Sergio Sepulveda pose in front of AdventHealth University's Garden of Miracles.
Fifteen months have passed since Hurricane Maria made landfall in Puerto Rico on September 20, 2017, devastating the island. The storm brought widespread power outages, catastrophic damage, and the loss of almost 3,000 lives. It is difficult to find fortune amid tragedy, but husband and wife Sergio Sepulveda and Isabel Andujar, current students at AdventHealth University (AHU) in Orlando, Florida, triumphed over adversity. Sergio, a physical therapy (PT) student, and Isabel, an occupational therapy (OT) student, were ready to begin their second year at The University of Puerto Rico's Medical Sciences campus when the hurricane struck.
October marks one year since they made a difficult journey from their home in Manati, Puerto Rico, to Orlando. They described the atmosphere after the hurricane as "chaotic," with no electricity, running water, phone service, or gasoline. It was nearly impossible to get flights off the island.
Their University re-opened a couple weeks after the storm, so the couple returned to classes. However, they faced over a five-hour commute each time, and classes would cancel midway through the day whenever the University would lose power.
During the same week, a former classmate, now in the U.S., contacted Isabel. He was enrolling in the OT program at AHU and asked Isabel about joining the program. By visiting a local pizza shop with Wi-Fi access, she began communicating with Tia Hughes, Dr.O.T., chair of AHU's OT Department. Isabel was a good candidate for the program, but she would only go if Sergio could also transfer to AHU's PT program. "We're in this together," she asserted.
Jennifer Collins, P.T., Ed.D., then chair of the PT program at AHU, contacted Sergio next. Whereas Isabel could transition more easily into the OT cohort as it was still in its first trimester, Sergio's PT cohort was in its second trimester, making his integration more challenging. Considering his positive academic record, they would make it work if he could get to campus as soon as possible. The couple had three days to make it to the U.S.
Isabel and Sergio faced a tough decision to leave their home and families in such a short time to go to an unfamiliar country. Their own professors advised them to go to AHU if they had the chance. But, their family warned them of the difficulties they could face in America. "We were overwhelmed," Isabel said.
They could not get a direct flight to Orlando, but they found a connecting flight to Miami and arrived in Orlando hours before they were due at AHU. They enrolled in the first trimester and AHU waived their tuition fees. It would serve as a trial period for them both to see how they would adjust and whether they enjoyed it.
Isabel recalled, "We felt lost and scared when we arrived." Everything was different from how they expected. Lectures were in English, and although the couple had learned English in school, they felt uncomfortable using it. It was a particularly challenging time for Sergio. He had to catch up on the trimester the rest of his cohort had completed while keeping pace with the current coursework. And, they missed their home. They felt guilty for leaving their loved ones.
But, through all their challenges, Isabel and Sergio quickly experienced moments of gratitude. From the start they felt welcomed and motivated by their new professors and classmates. They recalled several faculty members who came to them in their first weeks, giving them support and praying for their success. Isabel spoke of the surprise she felt during her first class when Hughes began with a devotional. She thanked God for safely bringing Isabel and Sergio to AHU: "You brought them here for a reason. Show them why they are meant to be here."
Isabel recalled the impact of those words and the prayers they both received from other faculty and students. Her and Sergio's other classes were the same – the University's faith-based, open, and diverse environment brought ease to them during their struggles. Teachers would encourage students to relay positive news in class. They heard stories of cancer survivors and babies being born. "It lifts you up," said Isabel, adding, "It's genuine, honest." Sergio said, "It reminds you why you're in the healthcare profession. You want to help bring that positivity into people's lives."
Sergio had to make up for tests and course content he had missed. But, the faculty worked with him, even arranging 1:1 classes to assist him. Fellow students also helped. Sergio recalled two who offered to let him borrow books and stay late after class to help him study. Classmates and faculty from each department would ask about the other's spouse and offer to pray for them.
The first three months were filled with hardships, yet the couple was starting to thrive. "We were surprised that we were doing even better than we expected," said Isabel. "We decided as a couple this is our opportunity. There is purpose behind this." They had found the reason that Tia Hughes had prayed they would.
In January 2018, after returning home to visit loved ones, the couple returned to continue their education at AHU. "It was hard at the beginning and it's still hard," Isabel explained, but they appreciate how AHU has supported and cared for them.
Isabel said, "All those things throughout the year – 'filling the cup' – there was always something to be grateful for. It helped so much." Sergio added, "I don't think it would have been the same if it were another university." In just over a year, Sergio and Isabel have faced challenges many would see as insurmountable. Yet, they prospered, overcoming an upheaval in their life to become "better versions of themselves," as they put it.
AHU's mission is to develop skilled professionals who live the healing values of Christ, and to advance the practice of healthcare as ministry. For Sergio and Isabel, this chance to experience healthcare with a Christian worldview has enabled them to "feel more empathetic" and be confident in their future as healthcare practitioners. Every graduate who leaves AHU should have a broader understanding of what whole-health means and the benefits of whole-person care.

Lisa Marie Esser is the communication manager at AdventHealth University in Orlando, Florida.
AdventHealth University | December 2018