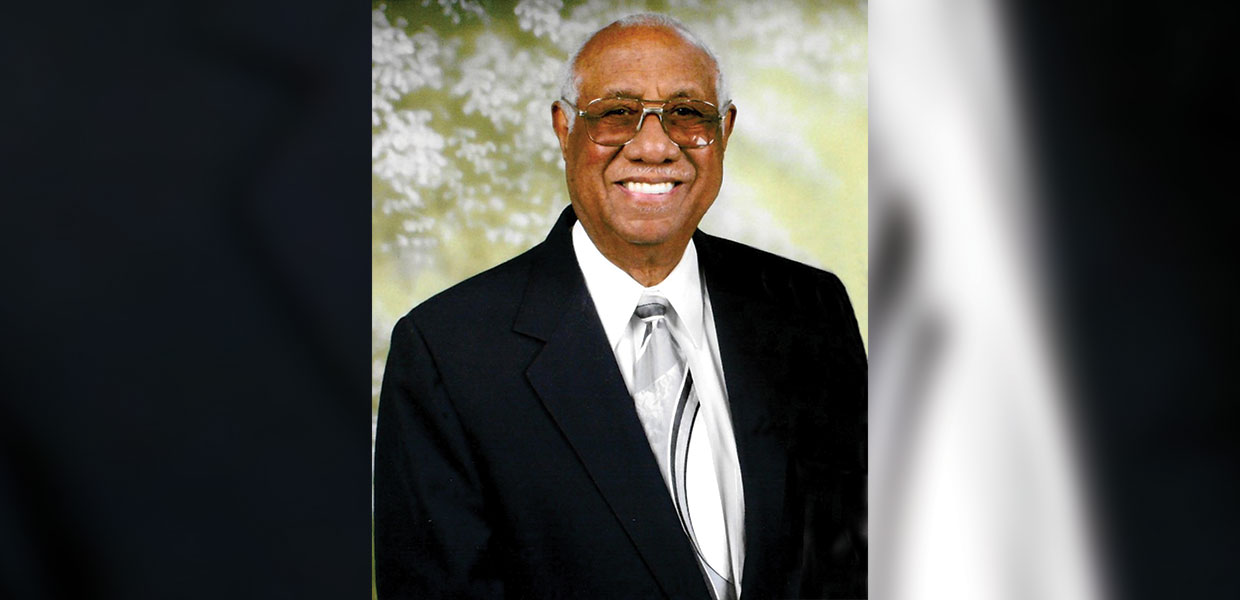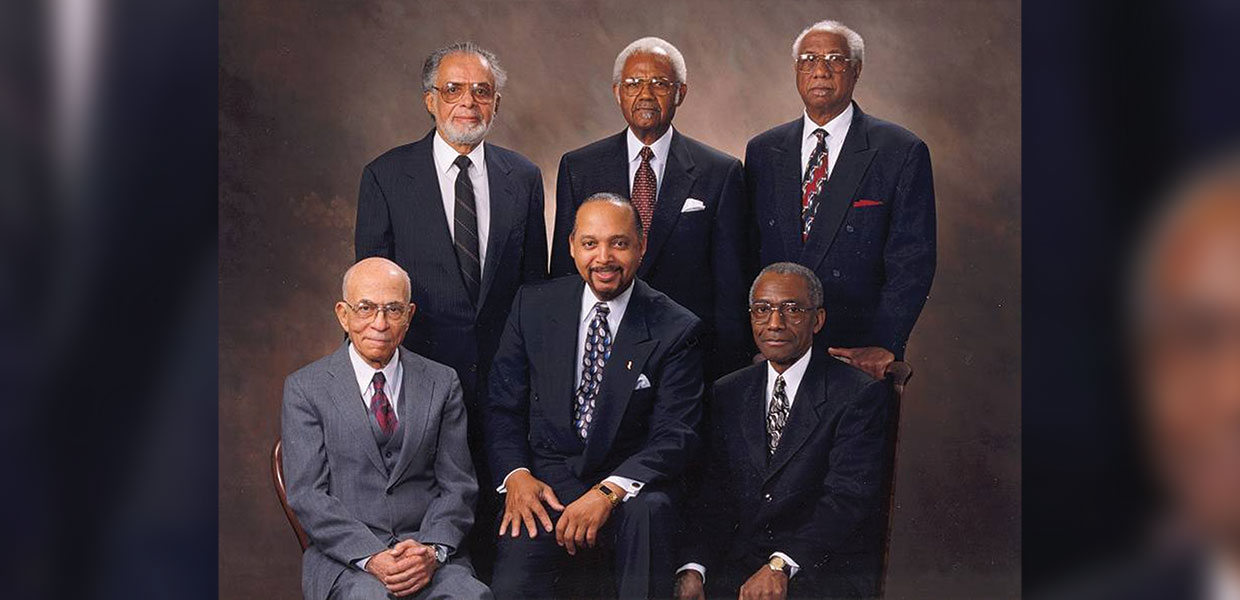 Ralph B. Hairston Sr., was one of six South Atlantic presidents living in 1997. Harold Singleton (seated, left) 1945-1954; Vanard Mendinghall, 1997-2011; Ralph Peay, 1988-1997; Warren Banfield (standing, left), 1960-1971; Robert Woodfork, 1971-198; Ralph B. Hairston Sr., 1981-1988; not pictured, John Wagner, 1954-1960; and William L. Winston, 2011-present.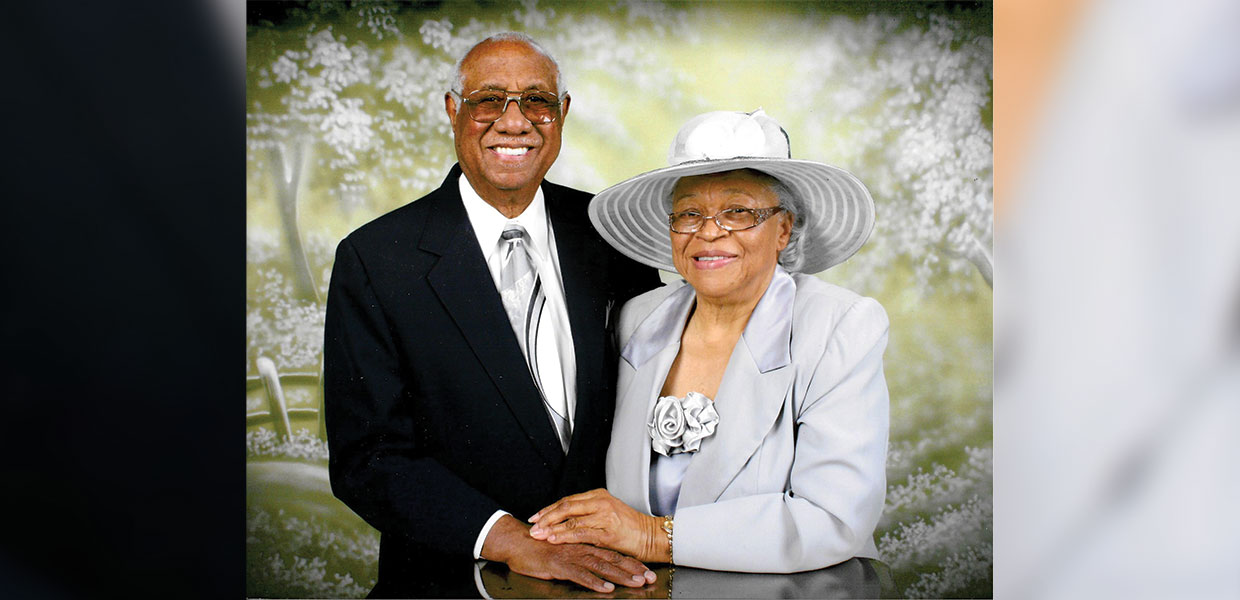 Ralph and Katherine Hairston were married for 70 years.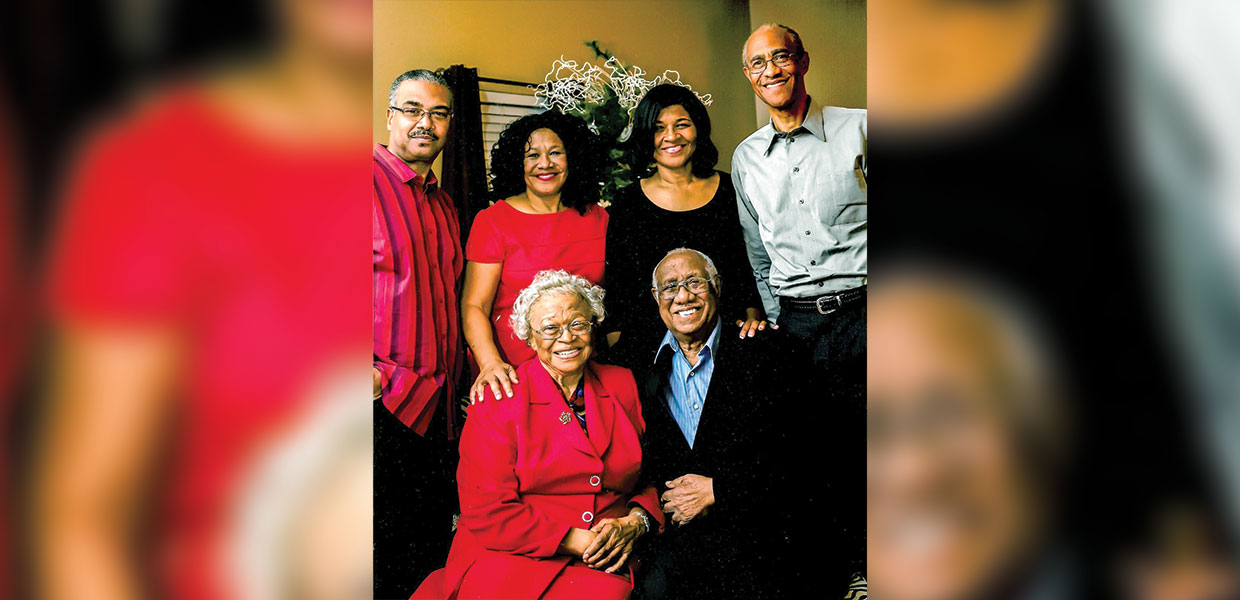 The Hairstons and four of their five children: Anthony, Angela, Teresa, and Ralph Jr. Derrick is not pictured.
Ralph B. Hairston Sr., 96, was born December 17, 1923, in Atlanta, Georgia, to the late Forest and Fannie Hairston. He passed January 28, 2019. His mother died when he was two years old, and his father raised seven children. In addition to Ralph, there were Lizzie Mae Hawk, Ethel Bell Miller, Forest Hairston Jr., Clara Hairston, Charles Hairston, and Edward Hairston. He received his early education from Howard High School in Atlanta, where he met Katherine L. Latimore. Ralph would often walk from school with Katherine, as they became good friends. Also, he attended Thomas Jefferson High School in Los Angeles, California.
He was drafted into the United States Army in 1943, and was honorably discharged in 1945. He served during World War II in battles and campaigns in Ardennes, Rhineland, and Central Europe, where he survived several life-threatening attacks from the enemy. After surviving an attack in Central Europe, he made a promise and commitment to God. Sargent Ralph Hairston was a demolition expert, and received three bronze stars, American Theater Ribbon, and World War II Victory Medal. It was during this time he met his life-long friend Corporal Joe Hinson. The Great War ended, and the prayers of his family brought him safely home.
After his honorable discharge, he returned to Atlanta, where he stayed for five years. He then moved to California to live with his cousin, Jester Joseph Hairston, American composer and actor. During this time, God reminded him of his promise, and he fulfilled his commitment to God and joined the Seventh-day Adventist Church in August 1946, in Los Angeles, along with his friend, Leonard G. Newton. This is also where he met family friends E. C. Ward and Calvin Rock. Because of his conversion, Hairston felt that God was leading him to attend Oakwood College (now Oakwood University) in Huntsville, Alabama.
Hairston entered Oakwood in 1948 and graduated in 1951 with a B.A. degree in theology. In 1949, while a student at Oakwood, he married the love of his life and high school friend, Katherine. The union was blessed with five children, and all five are Oakwood alumni.
After graduation from Oakwood, Ralph was employed by the South Atlantic Conference. He pastored numerous churches in Florida, North Carolina, Georgia, and South Carolina. With the number of churches in his territory, he traveled to more than one church each Sabbath in order to minister to his congregations. "I would go to the furthest church first, and then head to the next church on each Sabbath, which would include three churches each Sabbath." Hairston conducted 30 evangelistic meetings across Georgia, Florida, and South and North Carolina, with more than 1,500 people accepting Christ because of his preaching. After a few years as a pastor, he was motivated to attend Andrews University in Berrien Springs, Michigan, in 1970 with his wife and five children. Despite the challenge of attending school and taking care of his family, he graduated from Andrews with a master of divinity degree. With the pastoral experience he gained and good leadership qualities, he was elected executive secretary of South Atlantic Conference in 1972, and moved from Jacksonville, Florida. He served in this capacity until 1980, when he was elected president of the Conference. He was re-elected president on April 25, 1982, and serving until 1988.
The South Atlantic Conference had a new beginning with Hairston as president on January 1, 1981. The membership at that time was 13,448. By the end of 1987, the membership increased to 20,495, a total gain of more than 9,679 new members. During his presidency, the Conference acquired five HUD senior housing facilities, all still serving senior communities today. More than 1,000 individuals were baptized into the Conference every year for seven years. Nineteen new church buildings were built or purchased, and a new academy was opened in Atlanta — Greater Atlanta Adventist Academy. In 1983, a new 106-acre campground in Orangeburg, South Carolina, was purchased and developed.
During this time, more than 30 pastors and interns were employed under Hairston's administration. South Atlantic became the second largest conference in the Southern Union, the largest regional conference in the Southern Union, and the second largest regional conference in the nation out of 60 conferences.
Hairston owed much of his success to his wife, Katherine. They celebrated their 40th wedding anniversary in 1989. At the time of his death, they were married for 70 years. Until his death, he was living in Atlanta.
As Ralph Hairston is remembered, it is timely to reflect on things that reveal his character. One of his favorite Bible texts was Proverbs 3:5, ''Trust in the Lord with all your heart and lean not on your own understanding. In all thy ways acknowledge Him and He shall direct thy path." His favorite sayings were "Time is too short and eternity is too long," and "Weeping endures for a night, but it has to get permission from God." His passion was helping those in need, and saving souls for the Kingdom.
Hairston will be remembered most by his family as a deeply spiritual man who loved God with all of his heart, and proclaimed that love to his last breath. He leaves to cherish his memories his wife of 70 years, Katherine Hairston; five children, Ralph (Zanetta) Hairston Jr., Anthony (Ann) Hairston Sr., Angelia Hairston, Teresa Hairston, and Derrick Hairston; nine grandchildren, Raymond (Jennifer) Saunders IV, Terrell Saunders, Anthony (Melina) Hairston Jr., Candice Butler, Tracey (Tarron) Carter, Crystal Hairston, Samantha Hairston, Reggie Hairston, Nathan (Erica) Hairston; 13 great-grandchildren, Raymond Saunders V, Jaxson Saunders, Ayana Warner, Anthony Hairston, Jailyn Hairston, Isaac Hairston, Ryan Butler, Ramira Hairston, Ryan Hairston, Trey Scott, Keira Hairston, Eriel Hairston, and Kailyn Hairston; and two step-great-grandchildren, Tavari Carter and Amauri Carter.
South Atlantic | May 2019