Ashley Noonan Fox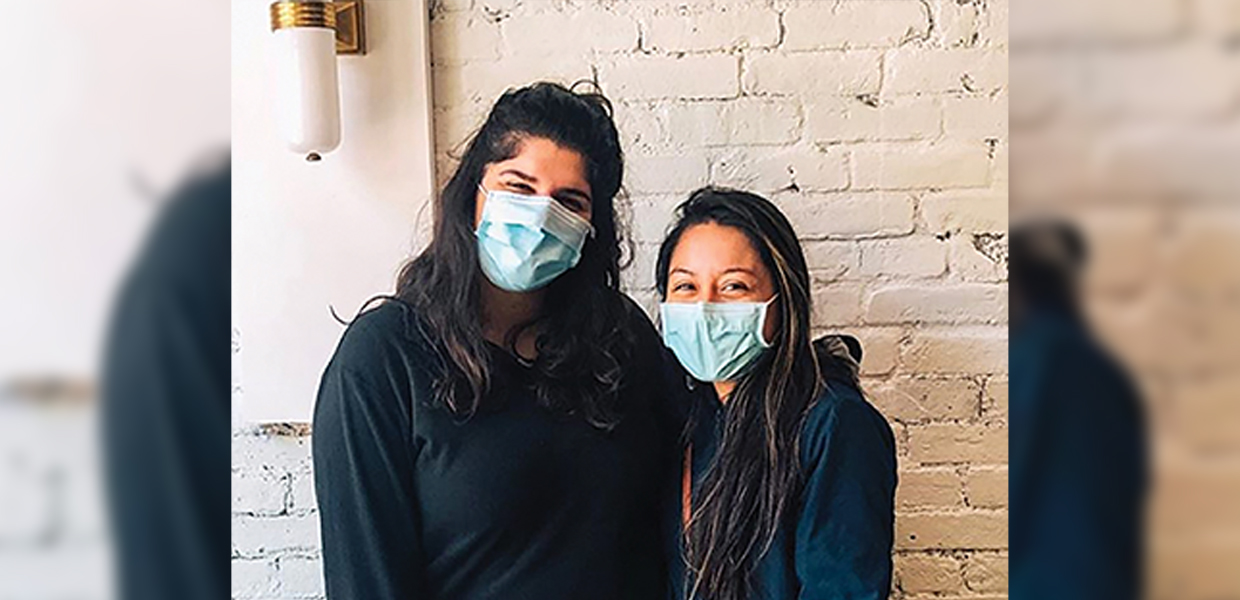 After first meeting on a Southern Adventist University mission trip, Katarina Day (left) and Jocelin Esparra reconnected as nurses fighting the COVID-19 pandemic in New York.
After countless attempted phone calls and much prayer, Yaniz (Seely) Rodriguez, '18, finally arranged to serve as a nurse on the front lines of the COVID-19 pandemic in New York City (NYC) this spring. Leaving the comfort of her home in Chattanooga, Tennessee, she took on the challenge. Yet, like many other nurses, she was not prepared for what she would witness.
Despite the efforts of medical professionals, patients of all ages succumbed to COVID-19 right before her eyes. Additionally, Rodriguez watched as her co-workers contracted the same disease that they were in New York to fight.
"Some days it felt like we were working in hospice, not a hospital," Rodriguez said. "I was scared to go to New York, but I felt very strongly that I was needed, and I still feel that way."
Even before her 21-day contract ended, she agreed to extend her time working in NYC, and she wasn't alone. Amid the regular heartaches and 15-hour days, Rodriguez found herself surrounded by fellow Southern Adventist University nursing alumni from across the country. Like Rodriguez, they left their daily routines at home to answer the call for help.
At the hospital in NYC, Rodriguez reconnected with Jocelin (Morales) Esparra, '17. They first met as students on campus and completed Southern's Soul-winning and Leadership Training (SALT) program together. After graduating, Esparra spent the next year as a missionary in India. When the pandemic began, Esparra had only been working as a nurse for 10 months. Although concerned that she did not have sufficient experience to help in this crisis, Esparra felt God calling her to serve.
Esparra was the only Spanish- speaking bi-lingual nurse in her unit, and many of her patients spoke very little English. She often served as both nurse and translator. Like Rodriguez, Esparra was not prepared for the heartbreak she encountered.
One of Esparra's patients, who only spoke Spanish, was sobbing inconsolably despite the nurses' best efforts to comfort him. He desperately wanted to communicate with his family, whom he had not seen or spoken to in days. Due to hospital policy, family members were not allowed in the building, and the patient's room in a temporary overflow location for COVID-19 patients did not have a telephone. Esparra knew she had to do something. Using her personal cell phone, she called the patient's family, and as peace and joy spread across his face, she felt God's presence in the room.
While attending Southern, Esparra had participated in a medical mission trip to Brazil in 2017. Serving in the Amazon, she worked alongside Southern attendee Katarina (Monteagudo) Day. Three years later, they were now certified nurses and unexpectedly reconnected in NYC, serving together again — albeit in a very different environment.
"Working here, you feel like you're back in the mission field," Day explained. "There's a lack of supplies, the equipment is older, and you really have to improvise."
Before the beginning of each new shift, her unit gathered together to pray for their patients' safety — as well as their own. Despite the setbacks, Day said her time in NYC strengthened her relationship with God, and she feels like she truly made a difference.
When Rodriguez, Esparra, and Day headed to New York, these Southern alumni had no idea they would reconnect in a city far from where they first met. The friendships they formed as students on campus provided a much- needed support system years later, bringing them closer to each other and to God during a dark time.
Southern Adventist University | September 2020