BY SHARON R. LEWIS, D.ED.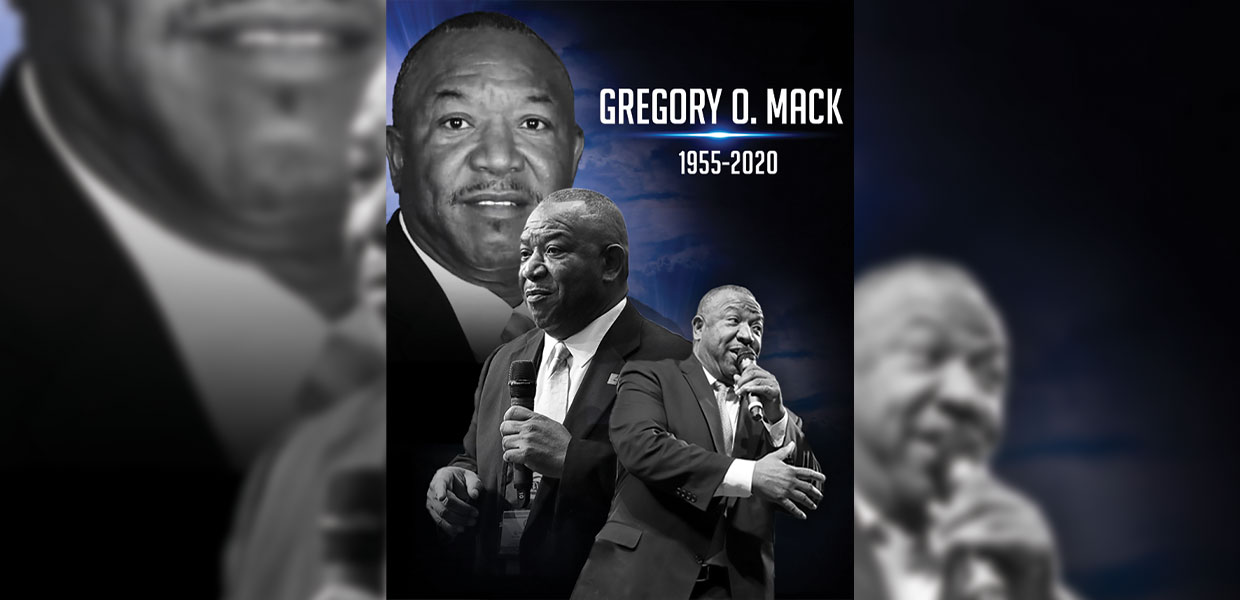 He had courage that could not be shaken, faith strong enough for the darkness, strength sufficient for the tasks, ambition to rise to any occasion, compassion for the weary soul, loyalty to his kingdom's goal, and an inner spirit that lifted souls unto God."
These inherent attributes describe Gregory Orville Mack, referred to by his peers as "Mack," born March 5, 1955, in Camden, South Carolina, to the late Carrie Bell Marx and John Henry Mack.
His Education

His early education began at Washington Shores Elementary School in Orlando, Florida, and continued in Miami, Florida, at Robert E. Lee Junior High and Miami Jackson Senior High School, where he graduated in 1973. At the age of 19, he received Bible lessons from Geneva Lewis, elder, accepted the Lord in his life, and joined the Miami Bethany Church.
His inner drive and aspiration motivated him to enroll at Oakwood College (now Oakwood University) in Huntsville, Alabama, where he earned a bachelor of arts degree in theology and an associate of arts degree in communications. He later matriculated at Andrews University where he earned his master of divinity.
His Love and Family
1n 1978, Mack married his sweetheart, the former Verel Jean Johnson. From this union they were blessed with two sons, Clint and Darren (Faith) Mack. Mack loved serving God and his family. He was a kind, compassionate man who always put others before himself.
His Life's Work and Career
In 1983, he began his service career with Southeastern Conference as an intern. He was ordained in 1992, and pastored more than a dozen churches. Mack successfully led efforts to build and renovate several churches and schools during his pastoral ministry. In 2008, he was elected to serve as the executive secretary of Southeastern Conference, during the presidency of Hubert Morel, D.Min.
On May 29, 2016, at the 11th Regular Session of the Southeastern Conference, Mack was elected to serve as the sixth president of Southeastern. As president, he fostered the collective ministry and mission of the churches.
During his leadership, the Conference experienced tremendous growth in tithing; baptisms; and departmental missions, such as when the Personal Ministries Department shipped seven cargo containers of food and supplies to the Bahamas in support of families devastated by recent hurricanes, and also managed a state-run disaster relief warehouse in Tallahassee, Florida, after Hurricane Michael.
The youth ministry programs experienced phenomenal growth as well. A new zip line, rock climbing wall, and skating rink were installed on the campgrounds for the youth, and a state-of-the-art multi-purpose gymnasium is being constructed. The youth took part in mission trips to Jamaica, Haiti, and the Bahamas. Adventist Campus Ministry and the Medical Cadets were also established.
There was also rapid growth in technology and media-broadcasting ministry. SECTV was launched during the novel coronavirus pandemic. Their broadcasting has been a blessing throughout the Conference. During the pandemic, many engaging and uplifting programs were broadcast across the country for the members who were homebound. Prayer ministries conducted a prayer line, and there were many interesting programs through the broadcasts. They also held their annual Prayer Breakfast and "Take It to The Streets" ministry.
The campground in Hawthorne, Florida, was Mack's favorite place. He wanted to ensure that members could attend and enjoy the beauty and comforts of cabin living for 10 days. Under his leadership, new refrigerators were installed in the cabins, new concrete walk paths, new outdoor furniture for relaxation, and the lake was restored.
Cherished Memories

Mack took his rest on Tuesday, November 10, 2020. He leaves to cherish his memories and rejoice in peace: his loving, devoted wife, Verel Jean Mack; two sons, Clint Mack and Darren (Faith) Mack of Atlanta, Georgia; one sister, Cynthia (William) Gravitt of Ft. Pierce, Florida; one brother, Larry Mack of Ocala, Florida; two aunts, Velma Myers Pearson of Orlando, Florida, and Juanita McQuiller of New York; one great-aunt, Mary Ann Robinson of Orlando; and a host of other relatives and friends.
Reflections of a Fallen Soldier

Be hopeful, my family and friends. Often darkness fills the pathway, and we cease from going forward, but the Lord who plans so wisely leads us both day and night. It is not how long I have lived, but the richness of my life. Trust the Great Composer, trust the Engineer Eternal; surely He knows best, and His works are right, although you might not understand. Trust in the Lord and be hopeful as we wait for the great getting-up morning. Remember my smiles and my songs!
Southeastern | January 2021