By R. Steven Norman III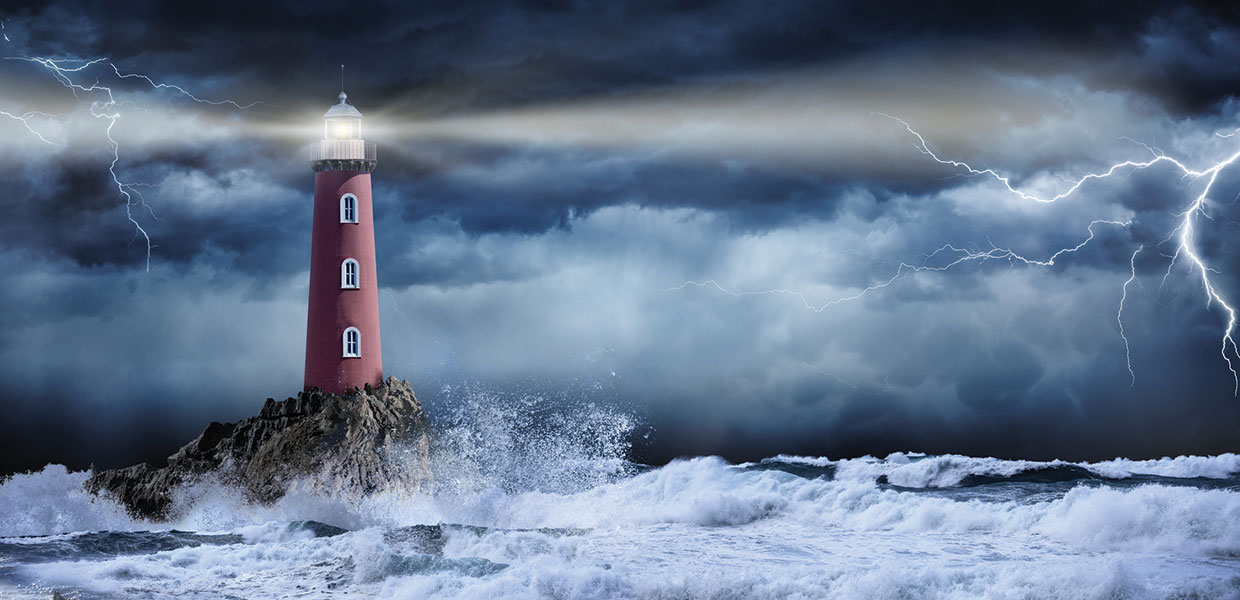 Lighthouses are built to shine during dark storms, and since we are to be the light of the world (Matthew 5:14), Jesus wants to shine through us during the COVID-19 pandemic.
The early Christians were beacons of light when famine and pestilence killed thousands. According to Eusebius, when pestilence occurred, "Then did the evidences of the universal zeal and piety of the Christians become manifest to all the heathen. For they alone in the midst of such ills showed their sympathy and humanity by their deeds." (The Church History. Eusebius)
In this tradition we encourage everyone in the Southern Union to commit to Sharing Hope and Wholeness during this crisis. The world needs it. Fear, greed, want, illness, and death surround us as the confirmed cases of Coronavirus illness and deaths rise daily.
What are some ways we can Share Hope and Wholeness?
Seek Hope and Guidance in the Word.
In the midst of crisis, Christ Who calmed Galilee's billows, healed the sick, fed the hungry, and saved the lost is the same yesterday, today, and forever. He changes not. (Malachi 3:6) Meditate and pray over Scriptures such as Psalm 91, 46:1; Isaiah 41:10; Jeremiah 17:14; and Lamentations 3:21-26.
Do not be overwhelmed by anxiety.
Paul says it well, "Don't fret or worry. Instead of worrying, pray. Let petitions and praises shape your worries into prayers, letting God know your concerns. Before you know it, a sense of God's wholeness, everything coming together for good, will come and settle you down. It's wonderful what happens when Christ displaces worry at the center of your life. (Philippians 4:6-7 MSG)
Speak Truth.
In the face of the many rumors and conspiracies floating around, speak truth. Before you share a text message that someone sends to you, verify it. In times of crisis, each of us must inspire trust by speaking truth.
Live Love.
Love is doing what is in the best interest of others. This includes making decisions to be healthy and safe for others.
Set Up an Online Prayer Meeting or Bible Study.
Within the last few hours I have received two invitations to attend online prayer meetings — one all the way from Dubai! The Dubai Central Church created an Instagram post to announce the time and date of their Prayer Meeting, with links to join them on YouTube, Facebook, livestream, and their website.
Share Digital Glow Tracts.
William Smith, Southern Union Publishing Director, says, "One of the leaders of the GLOW Tract Organization suggested that each church member can witness by sharing an Online GLOW Tract link. Here's how:
Go to the link: www.glowonline.org.
Tap on any GLOW Tract cover, and then tap the link icon.
After reading a GLOW Tract, share the link for the GLOW tract by email, Facebook, or Twitter.
"The Lord gave the Word; great was the company of those that published it," Psalm 68:11.
Don't Forget the Children and Teens.
Here are two suggestions for children and teens.
Invite neighbor children to watch an online story program.
Watch the International Pathfinder Camporee Nightly programs on Vimeo https://vimeo.com/adventistyouth/
Huntsville First Church Children's Ministries Department is live streaming children's programs each Sabbath morning.
Keep Bible Studies Going.
Ralph Ringer, Southern Union director of church growth, evangelism training, and Jewish ministries, shared the following tips:
Call members/neighbors/family/interests to encourage them, and let them know we care about them and love them.
Share a Bible promise and/or encouraging text, by phone, text, email, or social media.
Use Zoom, Skype, or social media to have Bible studies.
Share websites like: It Is Written, Voice of Prophecy, Faith for Today, Breath of Life, Shalom Adventure, and satellite channels like Hope Channel, 3ABN, and LLBN.

R. STEVEN NORMAN III, Southern Union Conference communication director and Southern Tidings editor.
Southern Union | March Special Issue 2020