Hakeem Brown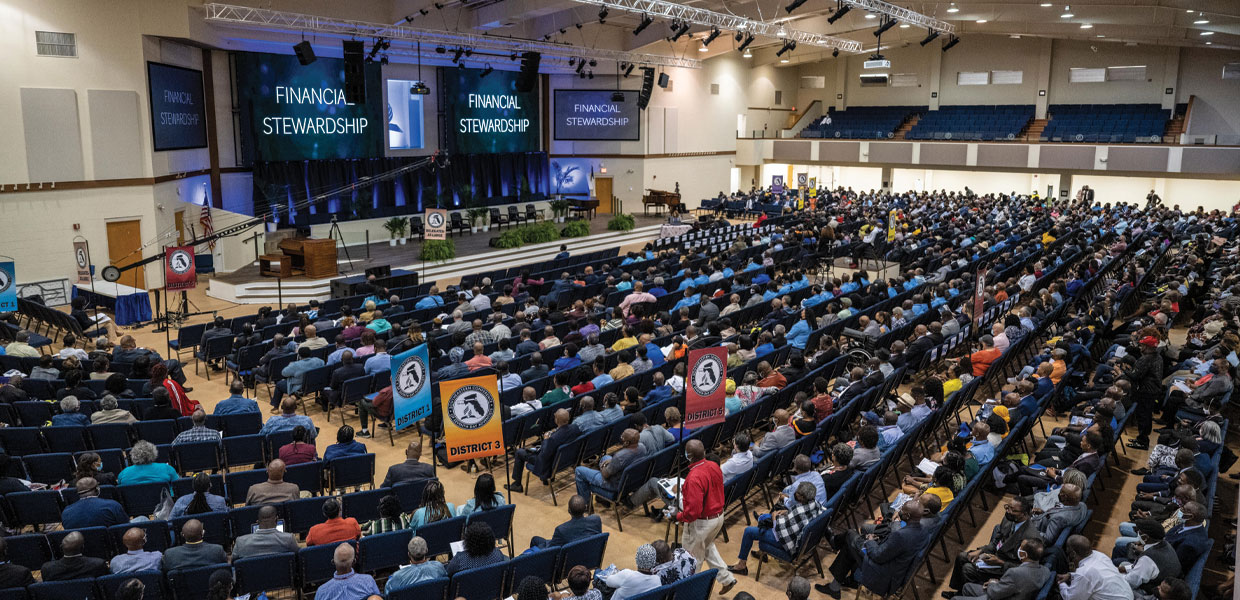 Delegates gathered at Southeastern Conference Campground in Hawthorne, Florida, on April 24, 2022, for the 12th Regular Constituency Session to elect their officers and ministries directors.
R. Steven Norman III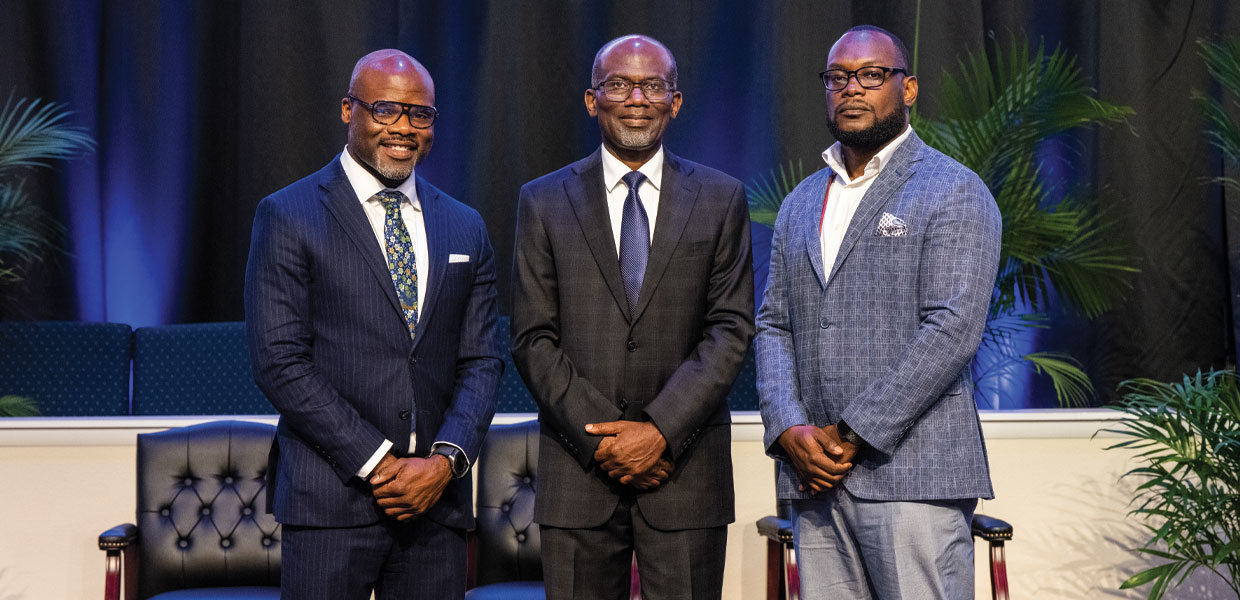 Pierre Francois (left), executive secretary; Michael K. Agyei Owusu, D.Min., president; and Emanuel Charles, chief financial officer
R. Steven Norman III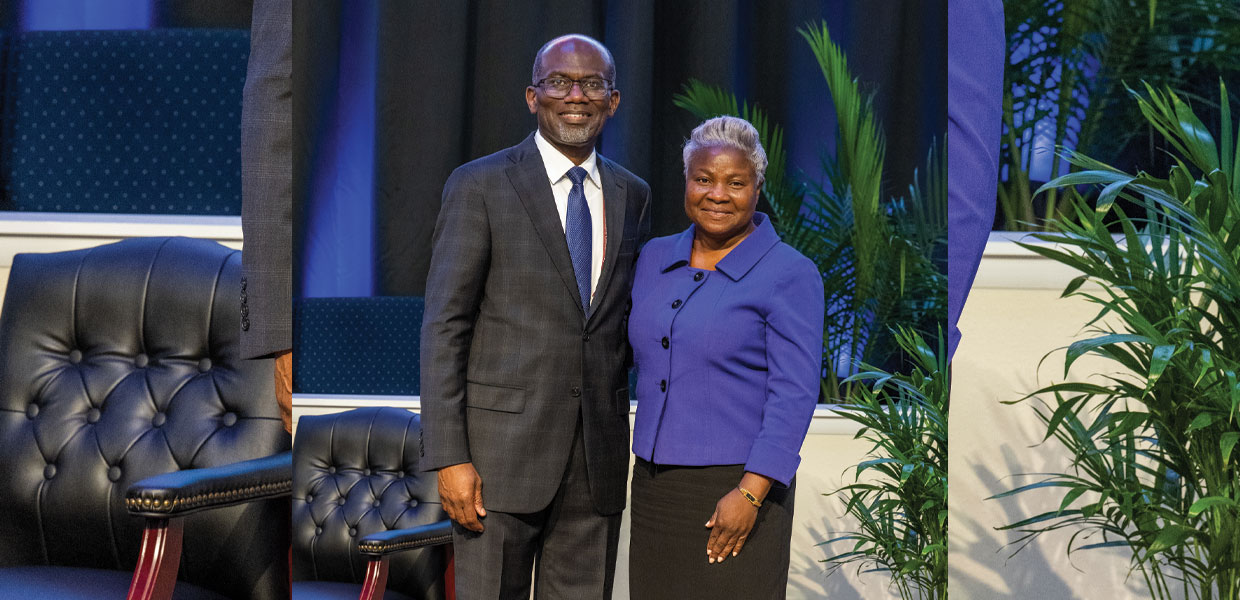 Michael and Brenda Owusu
R. Steven Norman III
The new administration and leadership for the 2022-2027 term was chosen at the 12th Regular Constituency Session on April 24, 2022. After a two-year delay due to COVID-19, 1,223 delegates of the Southeastern Conference constituency gathered at Southeastern Conference Campground in Hawthorne, Florida, to elect its leadership.
The delegates elected Michael K. Agyei Owusu, D.Min., to serve as president; Pierre Francois as executive secretary; and Emanuel Charles as chief financial officer.
Owusu has been with the Southeastern Conference for 27 years, pastoring churches in south Florida, southwest Florida, northwest Florida, and south Georgia. After serving the Conference as a pastor for 21 years, Owusu was elected to serve as executive secretary on May 29, 2016. After the sudden and untimely passing of Gregory Mack, president, Owusu served as interim president from November 2020 to April 2022.
As the president of the Southeastern Conference, Owusu believes that carrying out the mission God has entrusted to His Church as recorded in Matthew 28:18-20 and Revelation 14:6-12, should be the focus of the Conference. He says, "Mission is the heartbeat of the Church, the very essence of what it means to be the Church of God, and the purpose for which the Church exists." It is his desire to lead the members of the Conference into a deeper committed relationship with Christ, and to unite the Conference in fulfilling its mission to "reach communities within Southeastern Conference with the Christ-centered message of hope and wholeness."
Owusu's long-term vision is for the Southeastern Conference to be an organization where all members work in harmony to collaboratively accomplish God's mission for the Church. He envisions and prays for the day when members of the Conference "act in concert … for the accomplishment of one purpose" — the mission, as outlined in Matthew 28:18-20 and Revelation 14:6-12.
Owusu has devoted his life to leading people to Christ and serving his community. Born and raised in Ghana, West Africa, he attended and completed his secondary school education at the Seventh-day Adventist Secondary School in Bekwai, Ghana. He later completed his undergraduate education in theology, biblical languages, and history at Adventist Missionary College, now Valley View University in Ghana and West Indies College now Northern Caribbean University in Mandeville, Jamaica. Owusu also holds a master of divinity (1991) and a doctor of ministry with specialization in youth and young adult ministries (1999) from the Seventh-day Adventist Theological Seminary at Andrews University in Berrien Springs, Michigan. In total, Owusu has spent 33 years in pastoral ministries, and has had the privilege of working and preaching the Gospel in several countries, including Ghana, Liberia, Jamaica, the Bahamas, and the United States. He has also been privileged to plant three churches in Naples, Florida; Immokalee, Florida; and Port Charlotte, Florida. In addition to ministerial experience, Owusu has worked in both the private and public sectors, including four years in the library system and seven years in higher education.
Owusu is happily married for 30 years to his best friend, the former Brenda Minnis of Freeport, Bahamas. Brenda Owusu, D.N.P., is a university assistant professor, and a dual family and adult board-certified nurse practitioner. God has blessed their union with one adult son, Michael Kwaku Adom Owusu. Owusu loves traveling with his family, meeting people from different countries, and learning about other cultures.
Owusu encourages Christians during these difficult times of a prolonged pandemic, raging war, increasing violence, and economic crisis to find comfort and assurance in the promises of the Word of God and His many acts of deliverance, care, and protection in difficult times. He says, "Though these have been unprecedented times, we have also seen God move in unprecedented ways to take care of His Church. God is still in control of the affairs of this world, and as He has always done in the past, He will see us through these challenging times." He believes that the Church, more than ever before, is uniquely positioned to lead people to Jesus Christ — The Hope of the World! This is the time, says Owusu, for us to use our gifts, efforts, and every Spirit-ordained means to reach others for Jesus as we await His glorious return.
The delegates also elected the following ministries leadership:
Arnaldo Cruz, communications, technology and digital media, and evangelism director; Brent Waldon, ministerial director; Shae Crockett, youth ministries, Pathfinder, and Adventurer Club director; Esmeralda Guzman-Harris, women's ministries, prayer ministries, and assistant Hispanic ministries director; Hector Garcia, Hispanic ministries director; Juan Gonzalez, stewardship and trust services director; Lindsay Syeh, young adult, campus ministries/Adventist Christian Fellowship, and National Service Organization (NSO); Lucious Hall, publishing director; Mark Brown, family life, men's ministries, PARL, and singles director; Nicolas Louis, Haitian ministries director; Olinto Groce, Sabbath School, personal ministries, and children's ministries director; Sandra Fletcher, education superintendent; and Tony Taylor, community services, disaster relief, and disability ministries director.
Southeastern | July 2022