By CIARAH CLARK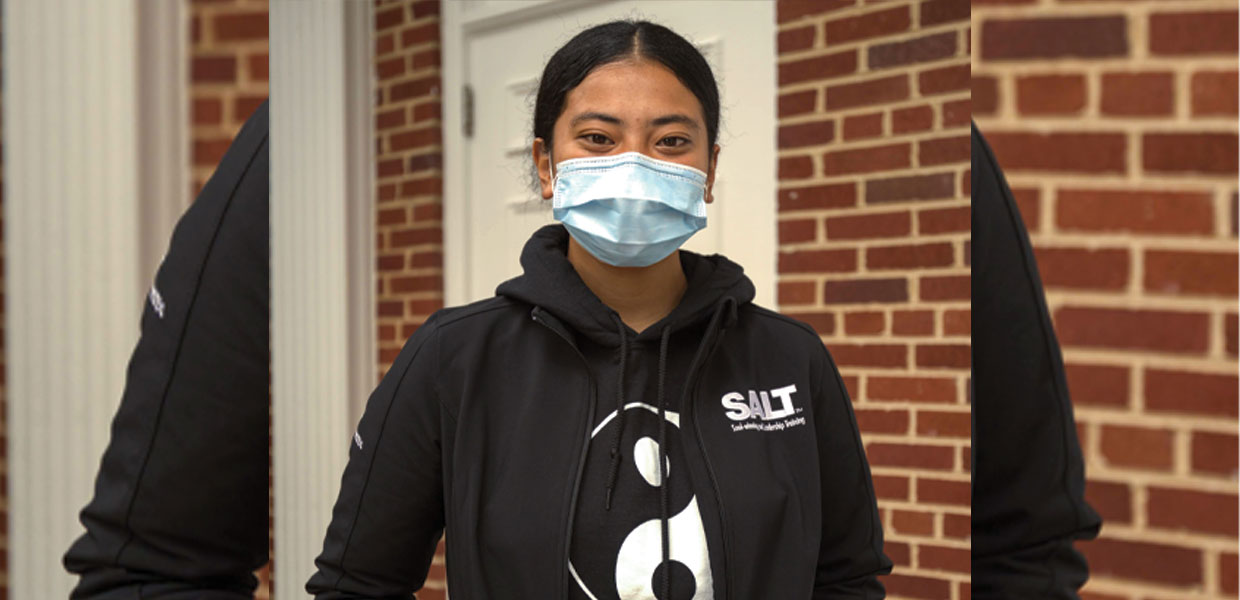 International student China Williams poses for her portrait at Southern Adventist University. Williams came from New Zealand to participate in SALT.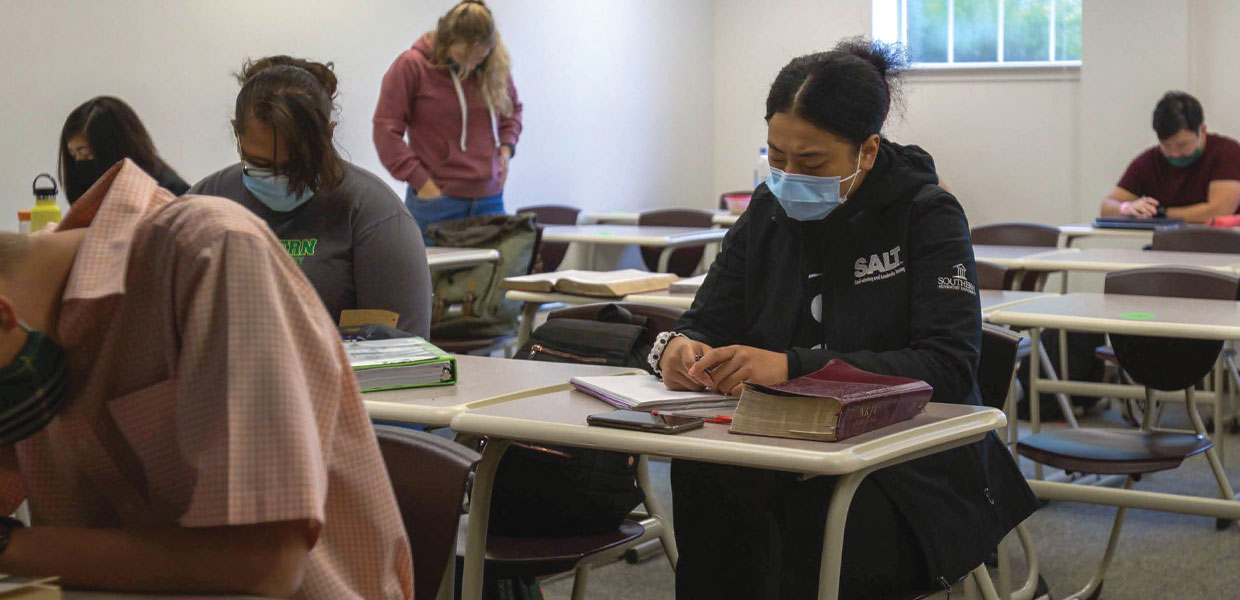 At Southern Adventist University, China Williams bows her head for prayer as class begins.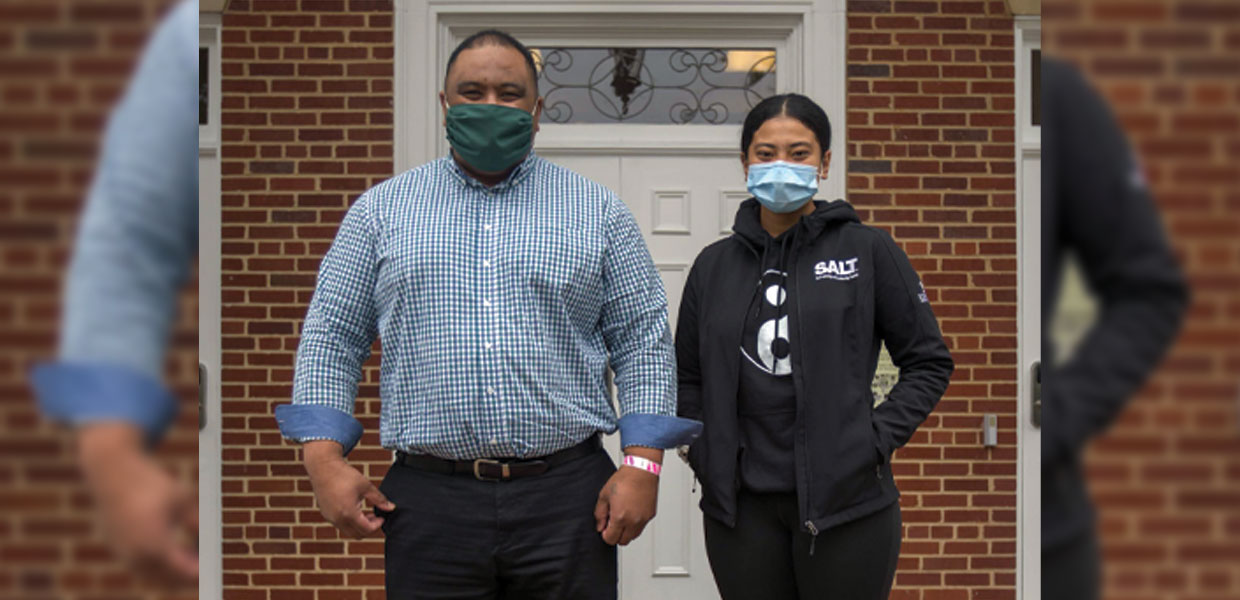 Douglas Na'a and China Williams pose for a picture after class. Na'a is the SALT director and one of Williams' teachers.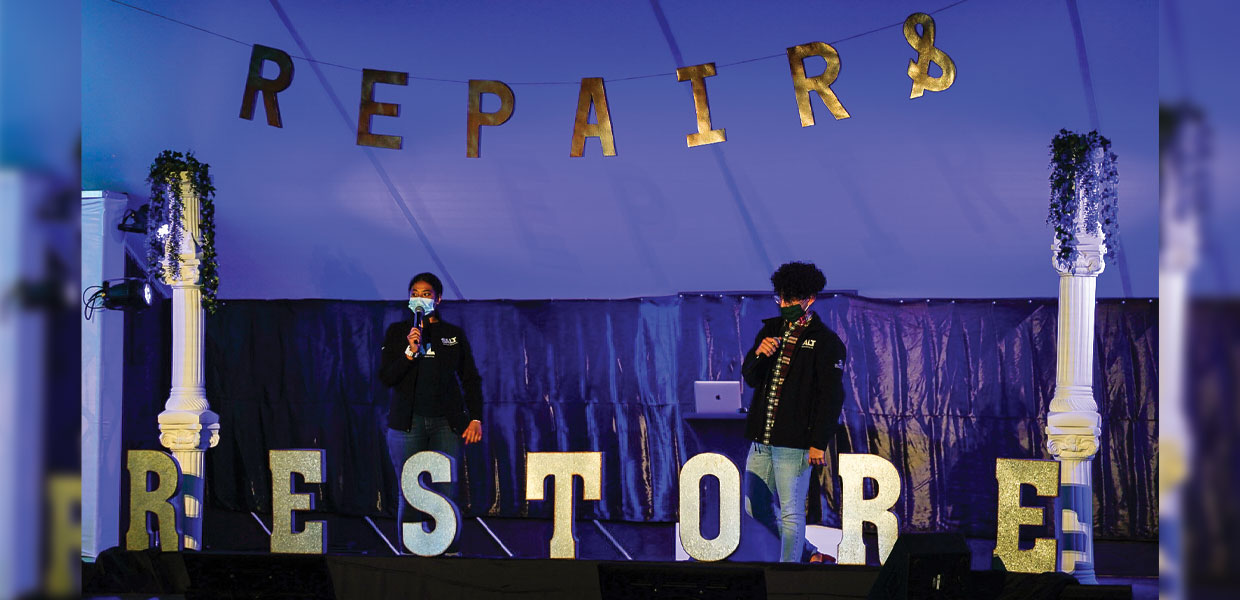 At an outside tent at Southern Adventist University, China Williams stands on stage for Week of Prayer. The theme of the event was "Repair and Restore."
When 20-year-old China Williams attended an evangelistic meeting in May of 2020, she had no idea she would end up leaving her home in Auckland, New Zealand, to live in the United States three months later. After a long day of work, sitting in a meeting was the last thing on Williams' mind, but her mother had convinced her to go.
"Once I got in [the meeting], I felt a presence," Williams said.
During the session, Williams heard about Southern Adventist University's Soul-
winning And Leadership Training (SALT) program from Douglas Na'a, SALT director, who is also from New Zealand.
"I told God, 'I want to be able to teach people,'" Williams said. "And then when I saw [Na'a] standing with Soul-winning And Leadership Training, I just thought, 'Okay, that's it. I'm coming.'"
After the meeting, Williams spoke with Na'a about joining SALT.
"My mind was blown," she said. "This [program] was what I was waiting for. I was not going to miss this opportunity."
Williams is one of three international students who traveled to the U.S. last August to be a part of the SALT program without enrolling at Southern. While SALT can be taken for college credit for students seeking a minor in evangelism, students can also register for SALT as non-credit participants, taking evangelistic classes at Southern without them counting toward a major or minor. Na'a reported that 21 students are a part of SALT for the fall 2020 semester, eight of whom registered as non-credit participants. Three of the non-credit participants are international. The other two students are Doh Htoo from Thailand and Aadesh Biswa from Nepal.
SALT is an outreach program organized by Southern in partnership with It Is Written. It teaches students how to share the Gospel, and has students go to homes throughout the Chattanooga, Tennessee, area to offer Bible studies. Na'a said international students have been joining SALT since it first began in 2011. And, while their participation is not widely known, it is not uncommon.
Na'a said SALT goes beyond teaching and door-knocking.
"Students experience transformation and community in their [lives]," he said. "Students find purpose and belonging."
He said international students bring a worldview of evangelism and leadership that is very unique to people in the U.S.
"Because of that, learning and exchanging of ideas occur," he said. "It becomes a collaborative experience for students, both overseas and local."
Williams' journey from New Zealand to the U.S. was not without its challenges. She experienced delays in obtaining her visa. She did not know how she would pay for her trip. In addition, she had to prepare herself for international travel in the midst of the COVID-19 pandemic.
"I thought, 'I'm going to do this. I'm not going to miss [this opportunity], because if I do miss it, [God] is going to use someone else,'" Williams said.
When the pastors at Williams' church heard about her trip, they began to spread the word about her financial need. Soon after, her trip was fully funded with the help of her church and conference.
"Once I got on the plane, everything that I went through was worth it," she said.
Williams has enjoyed SALT since her arrival, she said. And, she loves meeting new people, teaching them about God, and learning from her experiences in outreach.
"SALT is an amazing program that will test your limits," Williams said. "They take care of you, and they bring out something [in] you, and it's not them. It's God."
This article was originally published in Southern Adventist University's student newspaper, the Southern Accent.
Southern Adventist University | January 2021