of Adventist Health System
by christine stewart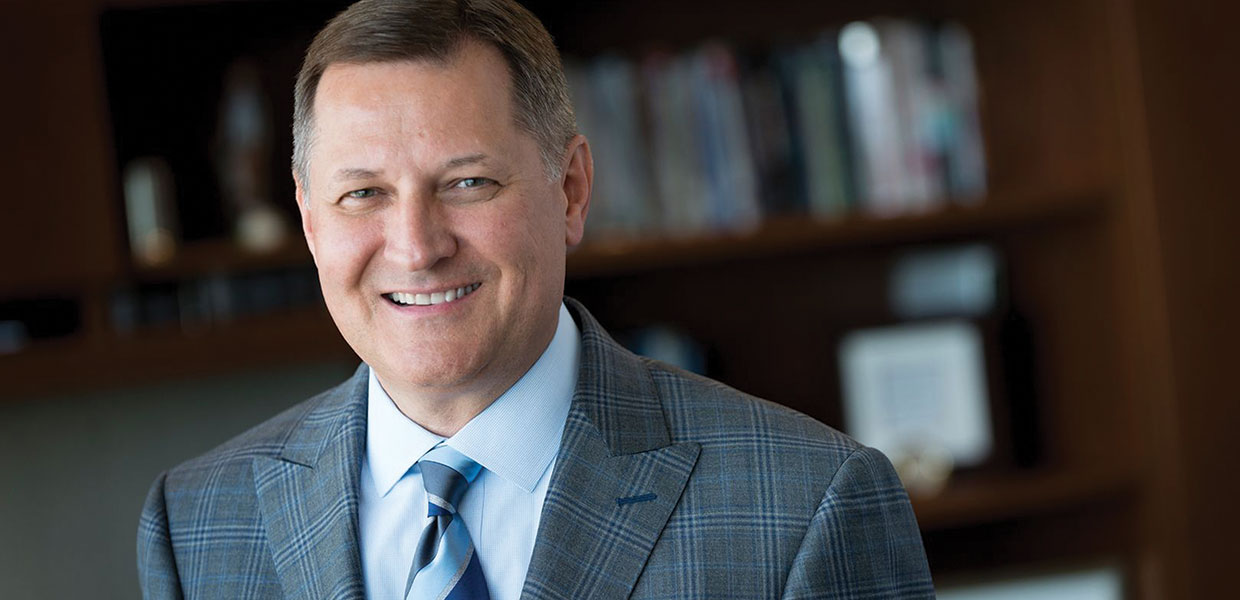 With more than 30 years of experience with the organization, Terry Shaw will assume responsibilities as president/CEO of Adventist Health System in Altamonte Springs, Florida, immediately.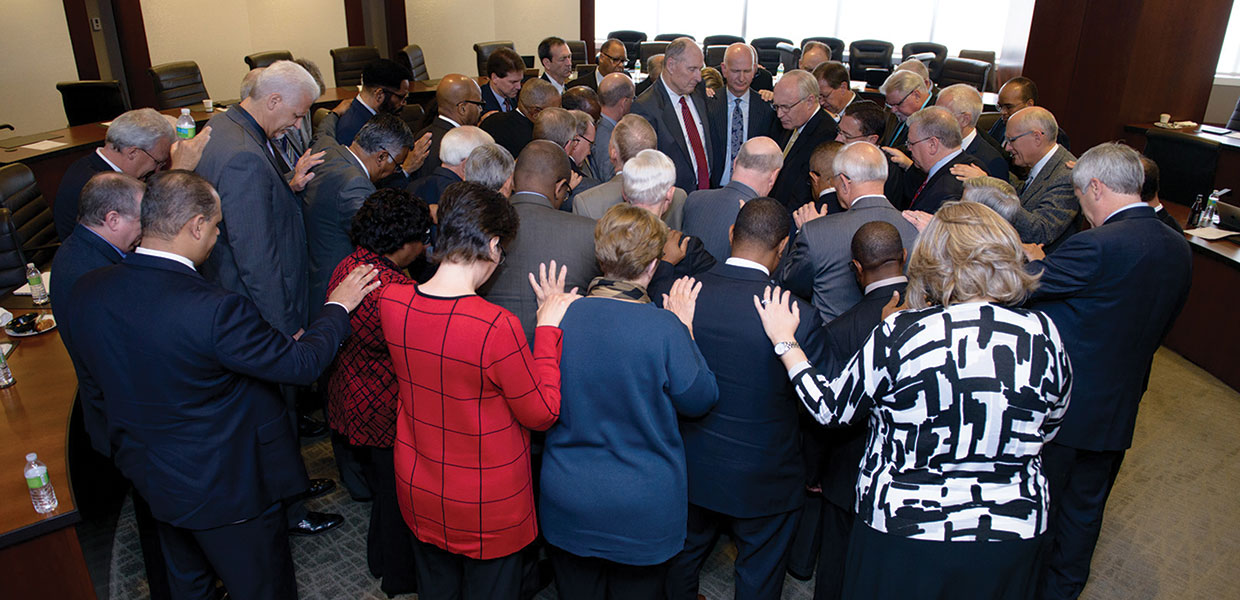 AHS leaders come together in a word of prayer asking for God's continued blessings during this change in leadership.
The Adventist Health System (AHS) board of directors has appointed Terry Shaw as the organization's new president/CEO. Shaw will immediately assume leadership responsibilities for the faith-based health care system, which includes 46 hospital campuses in 10 states, as well as a continuum of integrated care composed of urgent care centers, home health and hospice agencies, physician practices, and skilled nursing facilities.
"It is a tremendous honor and responsibility to be chosen to lead this organization," said Shaw. "I look forward to building on the successful foundation that has been laid, and working with our leaders and employees across the system as we continue our sacred mission of 'Extending the Healing Ministry of Christ.'"
Shaw's career with Adventist Health System spans more than 30 years. Immediately prior to being named president/CEO, he served as executive vice president, chief financial officer, and chief operations officer, where his broad understanding and knowledge of health care finance, information technology, and overall operations enabled him to play a pivotal role in defining the organization's vision and direction. Shaw began his career with AHS as a business intern in 1982. He was appointed director at Florida Hospital in 1985, assistant vice president in 1990, vice president in 1992, and senior vice president in 1996. In 2000, Shaw became senior vice president and chief financial officer for AHS, a role he held until 2010 when he gained COO responsibilities.
"Terry has proven to be a great leader through the years, and his keen business acumen has enabled us to become stronger financially. His deep knowledge and passion for our organization will ensure that AHS is well-positioned to honor our Seventh-day Adventist health care legacy and advance our mission," said Don Livesay, Adventist Health System Board chair.
Don Jernigan, Ph.D., who officially retired as Adventist Health System's president/CEO on December 8, 2016, after leading the organization for more than a decade, will transition to a faculty role at the Adventist Health System Leadership Institute.
"Terry's experience serving as CFO and COO, combined with his breadth of organizational understanding from financial, operations, and clinical improvement perspectives, will serve Adventist Health System well," said Jernigan. "The future is bright for our organization, and with God's guidance and blessings, AHS will be able to provide even more Christian health care in the communities we serve as a clinically effective, fully integrated health system."
Shaw received bachelor's degrees in accounting and computer science from Southern Adventist University, and a master's degree in administration from the University of Central Florida.
He currently serves as vice chair of the Premier, Inc. board of directors and is a member of the Hospital Financial Management Association, American College of Healthcare Executives, and State of Texas Board of Certified Accountants. As a silver level Leadership Society contributor to the United Way, Shaw supports and generously donates to the nonprofit organization, and is also active with several other professional and service organizations.
He and his wife, Paula, reside in Orlando, Florida, and have two adult sons.
Adventist Health System | February 2017