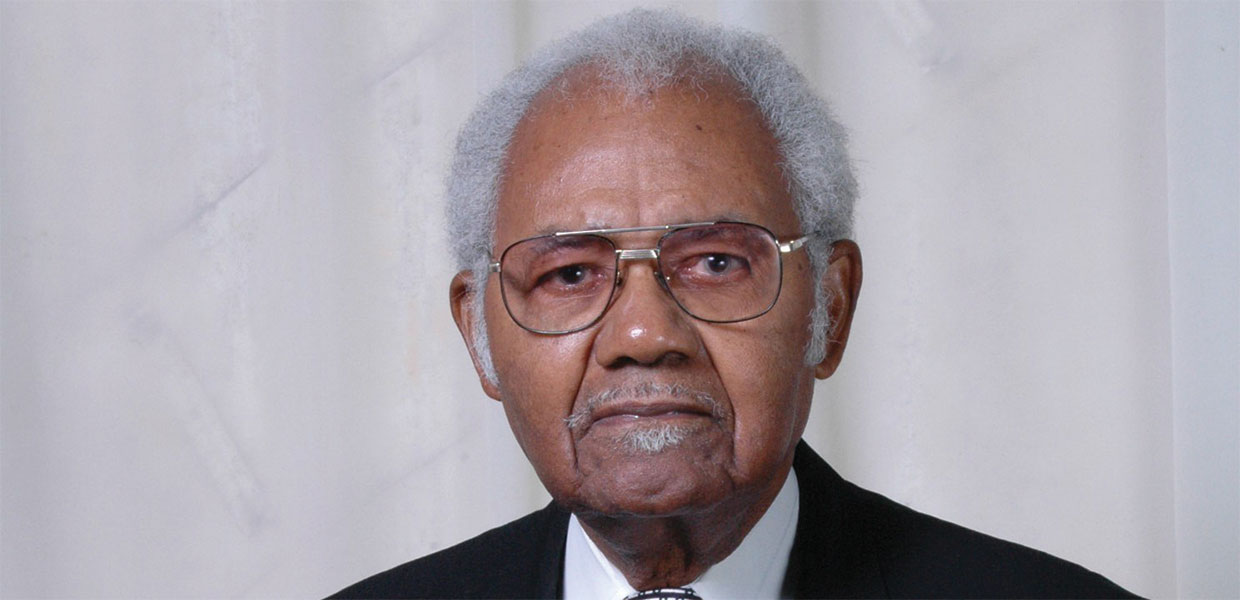 Robert L. Woodfork's beautiful, powerful life created quite a journey worth celebrating! On May 25, 1921, Thomas and Odell (Arnold) Woodfork welcomed into their lives their only child, a baby boy. He passed on May 4, 2019, 21 days shy of his 98th birthday.
Woodfork grew up in Corona, Alabama, for the first four years of his life. After the death of his father, he and his mother moved to Columbus, Georgia, to be near her parents. His mother knew that her son would need a strong male role model to help him develop characteristics and tools for life., and Woodfork's grandfather was a professional and godly man who served as first elder and interim pastor. This example planted the seeds of ministry. In his book My Journey in Ministry, he said, "As I listened to my grandfather preach, I was impressed to become a minister." It was also in Columbus that Woodfork entered into the Seventh-day Adventist Christian education and met his lifelong friend, Walter Starks. Together they experienced grade school, and became college roommates, Adventist ministers, and conference presidents.
Woodfork was blessed to have another example of manhood and success in his mother's brother, proprietor of the largest black-owned dry cleaning establishment in the South, and owner of a shoe repair shop and ice cream parlor. His uncle, having no children of his own, wanted his only nephew to take over his thriving company, which included seven locations. Woodfork found himself at a personal crossroad — riches and wealth for a season, or the divine leadings of God in another direction. He chose the leadings of God into pastoral ministry, and was blessed both in tangible and spiritual ways. Nevertheless, his mother, grandfather, and uncle left indelible impressions on his life, seen in his love for discipline, order, and organization, as well as his reputation for sharp haberdashery.
Woodfork attended Oakwood Academy, graduating as president of his class. He entered Oakwood Junior College in 1940, studying in the Ministerial Department where he was profoundly influenced by Calvin E. Mosely, chair of the Religion Department. In 1942 Woodfork was preparing to "depart to serve" following graduation from Oakwood Junior College, when he met Norma "Jean" Bedney. It was a brief meeting, but they became better acquainted in Birmingham when she visited relatives there.
Woodfork went on to Union College in Lincoln, Nebraska, graduating with a bachelor of arts degree in May 1944. During that time the couple courted for three years via the mail.
They were the first couple to be married in the Beacon Light Church in Kansas City, Missouri, on February 22, 1945, by A. E. Webb. Woodfork earned his master's degree at the Seventh-day Adventist Theological Seminary (then in Takoma Park, Maryland), and was ordained on January 11, 1946.
More than being a lover of learning, Woodfork was a lover of Norma Jean. They called each other "Sweetheart." That is all their children ever heard, never a first name, only "Sweetheart." Son Bobby told the story for many years that he thought that was their first names. Friends and neighbors would refer to them as "Elder and Mrs. Sweetheart."
As Woodfork entered full force into married life, he also did so in ministry and evangelism, hosting many tent meetings in New Orleans, Louisiana, and Miami, Florida. He used his creative genius to make Ingathering fun and effective, raising large sums of money in a short amount of time.He was also asked to be the youth leader in the very beginning of the "black work" that was taking place in the Adventist Church. Woodfork was involved in the changes that brought about regional conferences., which were organized during the time he was pastoring in St Joseph, Missouri.
During that time, they had their first child, Bobby. However, Woodfork was not present for the birth because, with no family in St. Joseph, he had sent Jean to stay with her parents in California for the birth. It would be three months before Woodfork saw his firstborn, when he drove to bring his family home. He also enjoyed meeting many of Jean's relatives for the first time, and it meant so much to him to gain three brothers because he always wanted siblings and a large family.
Soon Woodfork was called to pastor in Kansas City, Kansas, at Bethel Church. That is where he and his wife welcomed their second born, Kathleen Ann. Shortly after, he was called to Oakwood College as dean of men, professor in the Religion Department, and pastor of the Oakwood College Church. In December of 1955, Woodfork and his family moved to New Orleans to pastor the Ephesus Church, the largest church in the Southwest Region Conference. There he and his wife welcomed their third child, Ronnie. Woodfork reflects that Ronnie was born "after we had decided not to have any more children, since Bobby and Kathy were of school age and Sweetheart decided to go back to school and begin her working career. The congregation often let us know that no pastor has come to Ephesus without giving birth to at least one child. And so, their premise became a reality. We remained there for eight years, and this was the longest and perhaps my most successful pastorate."
Woodfork was a gentle giant and a strong family man, a man who cared for the well-being of black people during a time of racial unrest, and a man who cared for the work of God through the Adventist community. In 1963 he and his family moved from New Orleans to Miami to pastor Bethany Church, following the great leadership of Calvin Rock, Ph.D., who built the church. Woodfork exercised the spiritual and business sense he was taught growing up, and paid off the mortgage at Bethany. After Miami he went to Atlanta, Georgia, where for almost one year, July 1970 to April 26, 1971, he pastored at Berean Church. This pastorate was cut short when Warren S. Banfield was called to serve in the Southern Union, creating a vacancy in the presidency. Woodfork reflects, "I have discovered that whenever a person follows God's leading, God equips him for the task. The Lord has certainly done that for me and I give Him the praise."
With this mindset, he undertook the presidency of the South Atlantic Conference as the fourth president. In his nine years of service (1971-1980), he prioritized evangelism and church growth. One year, baptisms totaled 2,033. This is because "Evangelism was the watchword of the South Atlantic Conference." During the evangelism season, July to September, there could be as many as 19 evangelistic meetings being conducted. Woodfork was a president who was present and supportive for the pastors and churches. It was his practice to visit each meeting, usually putting many miles on the family car. Under his presidency, another priority was to redesign and reorganize the church assignments to reduce the number of churches that pastors served at one time. He created new positions, most notably changing the position secretary-treasurer to two separate positions. He executed the upgrading of living and dining facilities for campers and workers at the Hawthorne, Florida, Camp Meeting site, including a new pavilion for worship, the first of its kind in the regional conferences. He oversaw and supported the division of the South Atlantic Conference into two regions, creating the Southeastern Conference. Next, he then broke ground and completed the new Conference office complex and Adventist Book and Health Food Center, leading the way for one of the first and finest complexes among the African-American Adventist work during that time. Woodfork reflects, "In 1980, the South Atlantic Conference was enjoying perhaps one of its greatest years. It had become the largest conference in the Southern Union (membership wise), and it was financially sound." Woodfork was president nearly 10 years when he left South Atlantic after 18 years in this territory.
ln 1980, he began two terms in the General Conference as a general field secretary, which included serving as liaison to the regional conference presidents and the regional departments of the Pacific and North Pacific unions; vice chair of the Oakwood College board and chairman of the executive board; chair of the Breath of Life board, coordinating the regional scholarships for postgraduate studies; recording secretary for the union presidents; and much more. From 1985 to 1989, he served as an associate secretary of the General Conference.
Woodfork retired on February 1, 1989, and he and Jean moved back to Atlanta after serving almost 45 years. He left required work life, and entered retirement work life, serving as chaplain at Smyrna Adventist Hospital in Smyrna, Georgia; interim pastor at Bethany Church in Miami; interim pastor for the Dublin and Milledgeville, Georgia, district; and assistant pastor of the West End Church in Atlanta.
After 56 years of marriage, Norma Jean passed on June 28, 2001. Woodfork lived in Maryland until 2003, and then returned to the South Atlantic Conference to become the liaison for senior affairs, where he served until 2015. He then relocated back to Maryland to be with his children and grandchildren. While in the Maryland/District of Columbia metro area, he served as staff chaplain at Washington Adventist Hospital, as well as mentor and pillar of ministry at Emmanuel Brinklow and DuPont Park churches in Maryland and Washington, D.C.
He leaves to mourn his passing one daughter, Kathleen (David), and one son, Ronald (Tammy). Grandchildren and great-grandchildren include Robert George Woodfork and daughter, Jasmine; Tiffani Glover (Terrell) and children, Tristan James and Tori; Richard Woodfork (Katie) and daughter Charley; Lauren Woodfork; Jason Thompson; Jordan Thompson and son, Tristan Anthony; Kristin Yirenkyi (Daniel) and children, Renai, Daniel, Kahmyah, and Victoria; Kimberly Yirenkyi (Richard) and children, Allen, Alyssa, Anya, Ansah, Alden; Dustin and children, Jasmine and Kavonte. Additional family and friends are his sister-in-law, Gloria Bedney and children, Cheryll, Donna, Judith, Joan, Donald, Brian, and David, their spouses, and children; Cadena Bedney and children, Kesi and Leta; Michael and Dayna Bedney; the Adams Family; and a host of other relatives, friends, and ministry colleagues. In addition to his wife, Woodfork was preceded in death by his son, Robert Jr. (Delavern).
South Atlantic | August 2019