by Deniqua D. Joseph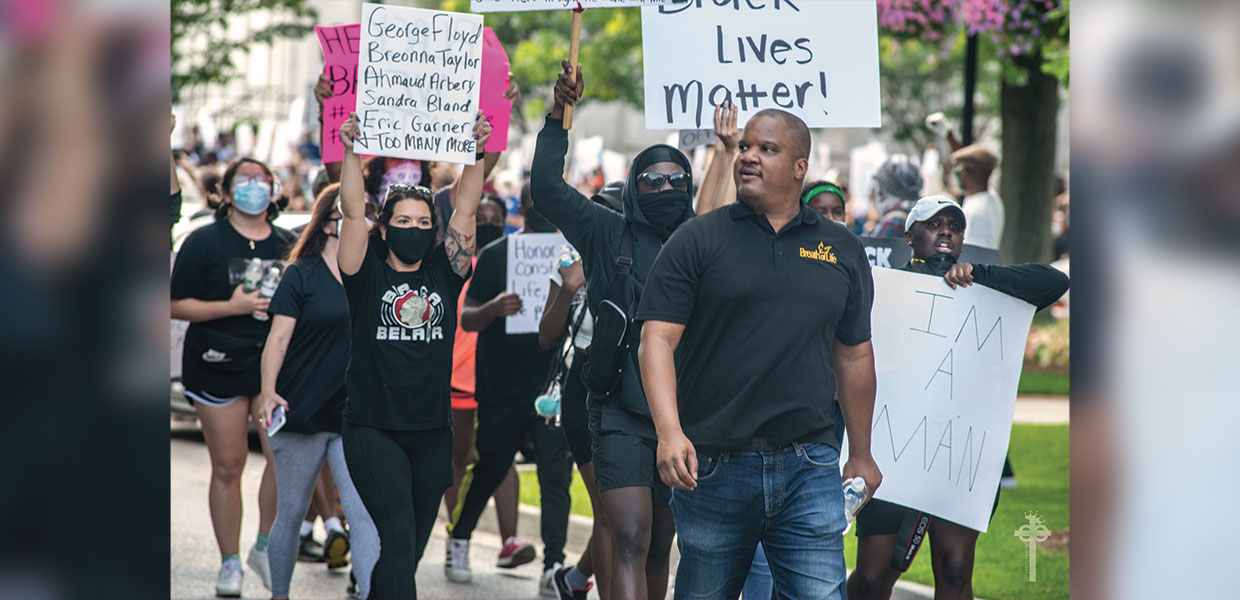 Carlton Byrd, D.Min., leads a group of peaceful protestors through the Huntsville, Alabama, community.
Deniqua D. Joseph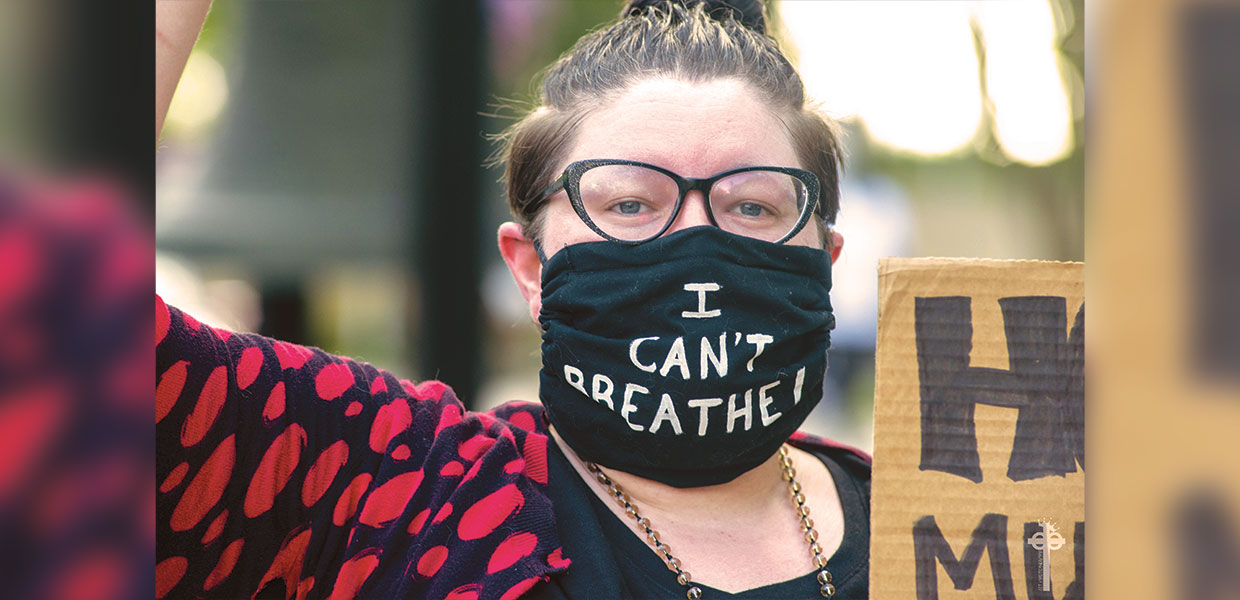 A protester expresses her views regarding the death of George Floyd.
Deniqua D. Joseph
Christopher McCorvey, Eric Reason, Michael Lorenzo Dean, Breonna Taylor, and George Floyd: These are just some of the Black people who have lost their lives to police brutality in 2020 alone.
For more than 400 years, Black people have been fighting for their lives; fighting for basic human rights; fighting against racism, prejudice, and police brutality in the United States.
Currently, numerous cities around the world are being bombarded with mass protests as a response to the senseless death of George Floyd by a police officer in Minneapolis, Minnesota. They have gathered in the streets to demand justice, not only for George Floyd, but for the many others who have lost their lives throughout the years to the unwarranted acts of police officers and renegade vigilantes.
Carlton Byrd, D.Min., Breath of Life speaker/director, was invited to deliver the keynote address on June 1, 2020, at a peaceful protest under the theme "Together We March," held in downtown Huntsville, Alabama. The peaceful protest was organized by Brendan Lewis, a student at Oakwood University. Lewis sought to let his voice be heard peacefully, along with many others, in the streets of Huntsville and around the world.
During his speech, Byrd called for Huntsville residents to protest peacefully. He also urged listeners who are privileged to take a stand and speak out against racism, injustice, and police brutality.
Marching around the downtown courthouse, Byrd, along with nearly 2,000 protesters, marched in solidarity chanting, "NO JUSTICE, NO PEACE!" "BLACK LIVES MATTER!" "I CAN'T BREATHE!" and "SAY HIS NAME!" (a reference to George Floyd). These and other phrases rallied the crowd to promote justice peacefully.
This demonstration displayed the diversity of Huntsville and the widespread commitment to equality. Organizers noted that the event drew people from a myriad of ethnicities, cultures, and walks of life.
Jessica Marcotte and Kerry Mari were among the protesters. When asked why they participated, they said they believe killing people because of their skin color is wrong.
"There are high, intense emotions right now, and even though I have white skin, I have godchildren, nieces, and nephews who don't match my skin tone, and it shouldn't be a differentiating factor," Mari said. "I'm angry that it is, so if I have a voice that people are going to listen to, I'm going to use it."
Marcotte also voiced that her family has not always been the people they should've been when it came to issues on racism, and she has chosen to distance herself from them for that reason. "I don't want to be family with someone who stands by their ancestors treating others incorrectly," she said.
They also made 50 black masks with words written in white, "I can't breathe," to donate to protestors who had no masks. These are the voices Byrd called for, the voices many individuals across the United States are calling for, privileged people, to stand up for what is right.
At the end of the protest, Byrd was not only impressed with the number of people who showed up to honor George Floyd, but was also thankful that the protest remained peaceful.
"I praise God for what transpired today. What took place was for all people — Black people, White people, Red people, and Yellow people — with one message: 'Black Lives Matter.' No justice, no peace," he said. "With this solidarity, I know that God heard us, but I'm also hoping that our municipal leaders heard us. It's important that our municipal leaders, the mayor, and the city council hear us, but not just our leaders here in Huntsville, but also across the nation — Atlanta, Washington, D.C., New York, Chicago, Los Angeles, Detroit, and Minneapolis."
John 13:34 states, "A new command I give you. Love one another. As I have loved you, so you must love one another." This diverse protest is a reminder that we are stronger together, and when we love each other, the power of love heals, unites, and restores.

Deniqua D. Joseph, is a communications intern for the Breath of Life Ministries in Huntsville, Alabama. She is a 2020 graduate of Oakwood University.
South Central | August 2020