How the AdventHealth Corporate Office Does Pastoral Care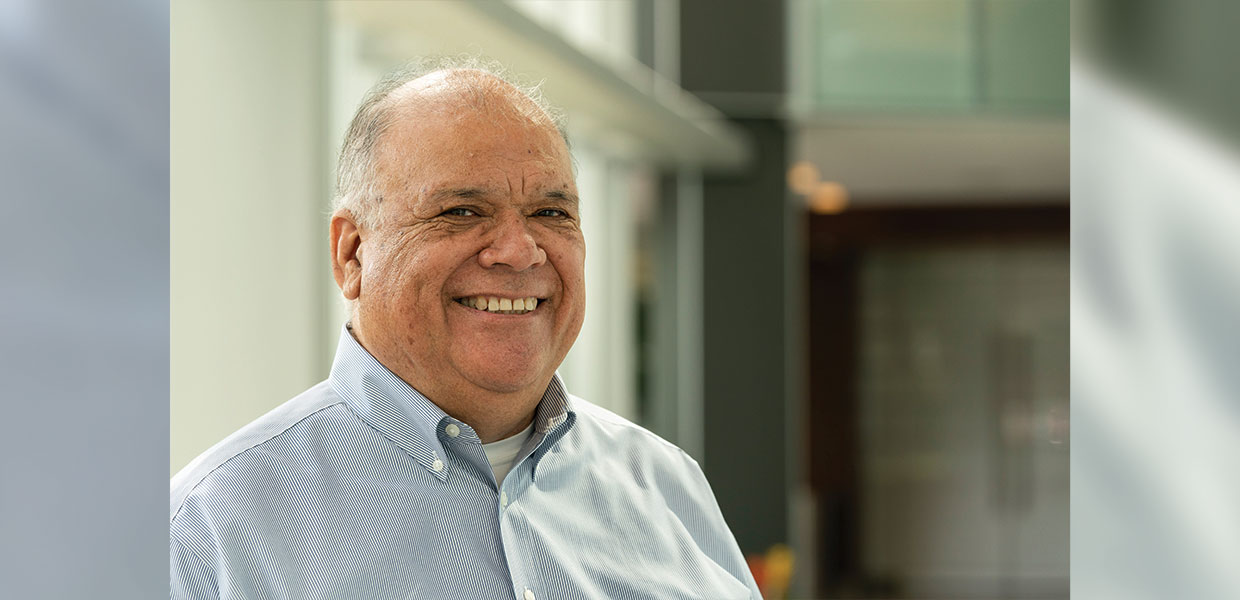 Sergio Torres is the pastor for corporate services at AdventHealth.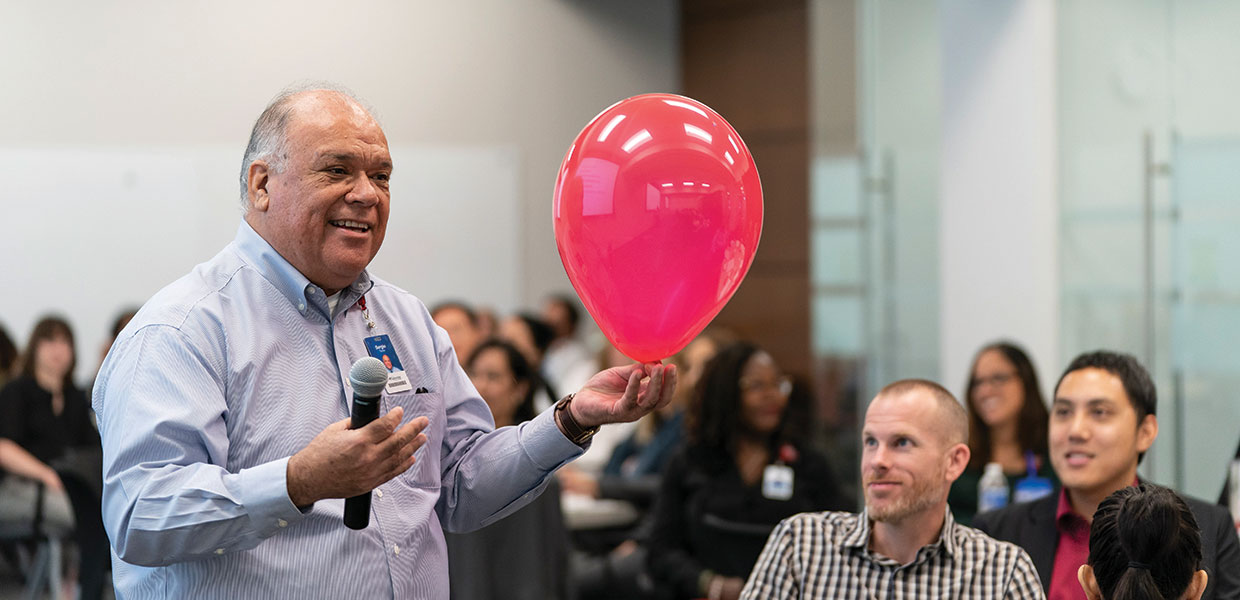 Sergio Torres educates new hires.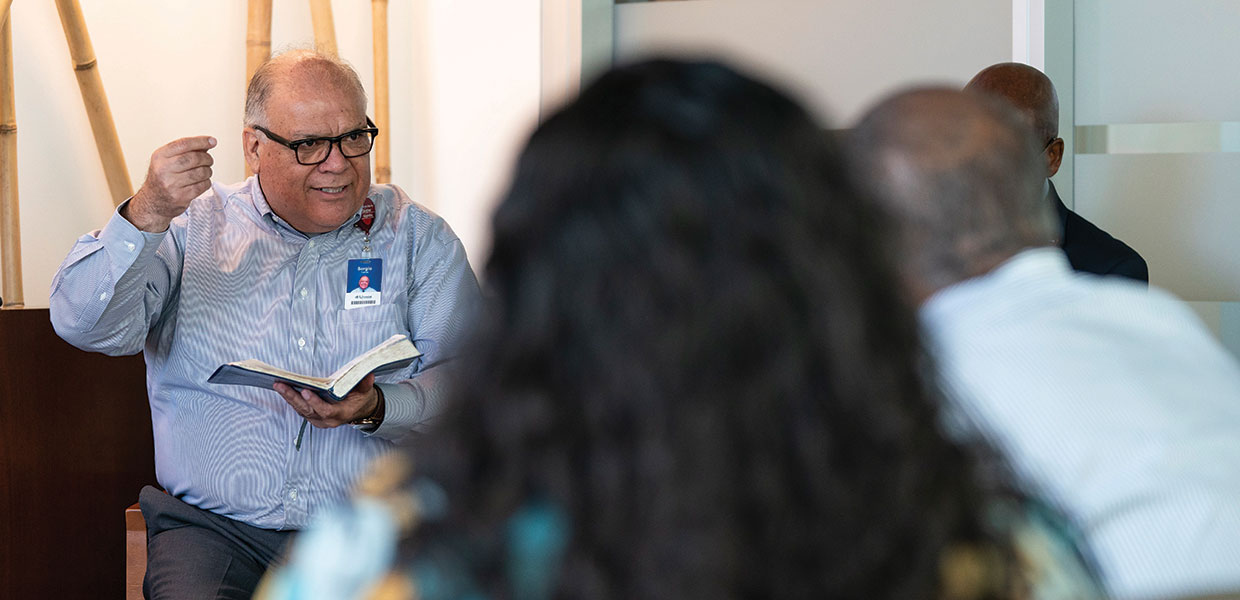 Sergio Torres meets with his corporate campus ministries committee.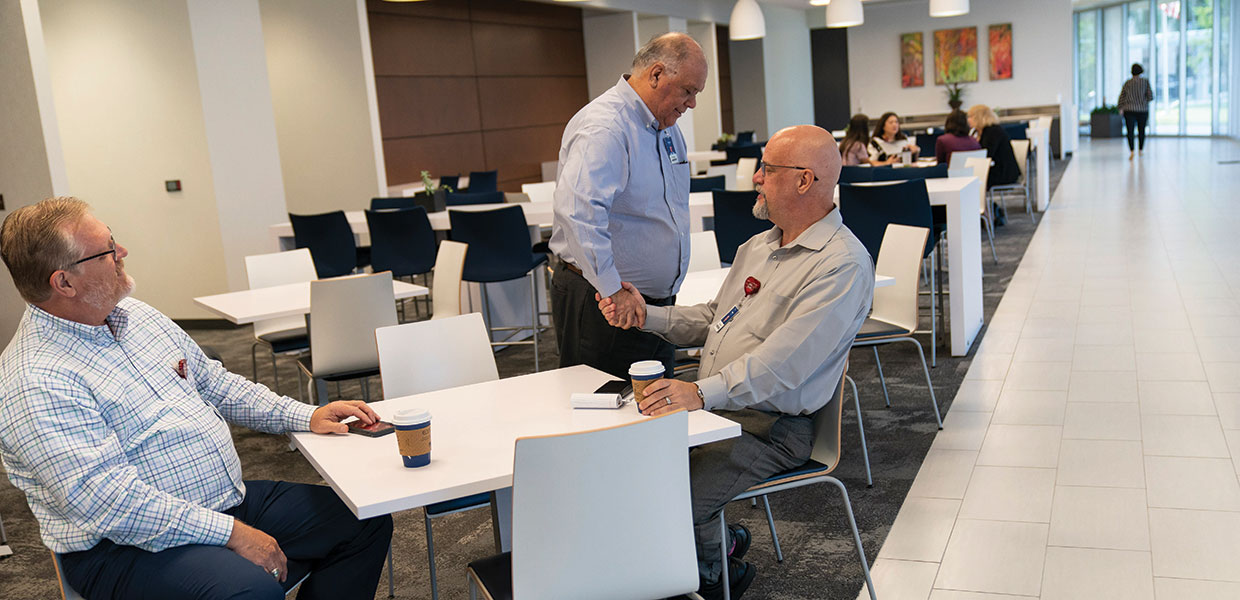 Sergio Torres prays with a team member.
Sergio Torres, pastor for corporate services at AdventHealth, sat down with Susan Bailey*, as he had with many others before her, but he wasn't there to offer her the perfect formula for overcoming grief. He was there to simply listen — an important element of pastoral care.
In the course of their conversation, he learned that her pain stemmed from both her mother's death and a disagreement she'd had with her brother over their mother's final wishes. She didn't want to address it, but the disagreement had made things worse.
"She told me she was not ready to talk to him about it," Torres said. "That's when I suggested journaling her feelings. It changed her completely. She had been carrying such a heavy burden, but through the process of writing things down she found a way to release it. You could see it in her face and sense it in her body language. She was starting to feel whole again."
Though Torres had been the one to make the suggestion for journaling, he wasn't the one who initially noticed something was bothering Bailey. It was actually Clayton Alves, a member of his ministry team, who connected the two when he sensed her need for greater spiritual support. It is those kinds of connections that make ministry work, even in a corporate setting.
"We were walking toward each other one day, and the Lord revealed to me that something was different about her," Alves said. "I stopped and asked her about it, and she shared the news of her mother's death. I did nothing more than listen to her, affirm her feelings, and share insights from my past experiences with loss. But, given her questions, I knew Sergio would be of great help."
Torres agrees with Alves. Having a campus pastor is an important piece of the puzzle, but it's still only one piece. When you have a team working together, you can better care for the whole person, and, at the macro level, the whole campus.
"Those of us who serve on the ministry team are in positions where we work in close proximity to our peers, and know what is happening in their lives," Alves continued. "Sergio is not able to be as close to every single person, but we also recognize he has more experience and a deeper understanding of spiritual and emotional needs, so that's why our partnership is so important."

A Different Kind of Congregation

Traditionally, pastoral care has meant a pastor's care for his or her congregation, which could be represented by a church, a school, or even a branch of the military or government. For AdventHealth, a national Seventh-day Adventist health system, in most instances the congregation is within a hospital campus or medical facility. In this instance, it's in the organization's corporate office.
AdventHealth's roughly 3,500-employee corporate team is larger than the churches Torres has pastored. With a ministerial career spanning 40 years, he's held various roles, including Florida Conference associate director of public evangelism and associate director of youth ministries, as well as church pastor. Before transitioning to the corporate campus, he worked at AdventHealth Altamonte Springs, partnering closely with the hospital senior chaplain and serving as a pastor for team members. It was his first experience building a relational ministry among coworkers.
"At Altamonte, I realized you don't have much time for programs in the work environment," he said. "There was no time for it there and there's not much time for it here at the corporate office, so I've learned that two minutes of simply connecting with a team member makes a greater impact. I'm never in a rush to leave when I'm talking to someone. My priority is to be present in that moment."
That's the same kind of advice he likes to give his leaders during their meetings. Each month Torres meets with his corporate campus ministries committee, a group of cross-functional employee volunteers. Some are trained as spiritual ambassadors — AdventHealth team members who initiate, organize, and promote a culture of spirituality — and some are not. Some lead teams in managerial roles, and some do not. Despite these differences, they are all equally empowered to play their part to enrich the lives of their colleagues.
"I like to say that together we make a 'corp' because, one, the word is used as an abbreviation for corporate, and, two, it's the Latin [abbreviation] for body, the body of Christ," Torres continued. "The Church is the body, and here we spiritually take care of each member of that body."
This concept is guided by one of the committee's theme Scriptures, Ephesians 4:15, 16, NIV, which states: "…speaking the truth in love, we will grow to become in every respect the mature body of Him who is the head, that is, Christ. From Him the whole body, joined and held together by every supporting ligament, grows and builds itself up in love, as each part does its work."
Orlando "Jay" Perez, vice president of mission and ministry for AdventHealth, emphasized this point. "We are the 'corp,' the spiritual body," he said. "Sergio brings certain skills, but we are a family that serves together."

A Shared Heart for Mission

Torres likes to call his team's work "We Ministry." While in a church setting ministry leaders may be in contact with their congregation for a couple hours each weekend, in the workplace campus ministries gets to interact and support theirs on a daily basis, five times a week, eight hours a day.
In order to foster a culture of spirituality and prayer, the corporate campus ministries committee coordinates domestic mission trips, Bible studies, intimate worship experiences, speaker-centered devotions, Christmas and Easter events, and programs that support the annual Week of Spiritual Renewal — a longstanding tradition at AdventHealth.
Yet, their efforts go beyond programs and activities, and deeper into the integration of mission within the operations of the organization. This intentional approach includes working closely with human resources to ensure mission education is embedded into the job candidate and new-hire experience, and ensuring there is a protocol in place for identifying crises at the individual and team levels.
"It's important to have clear pathways for intentional integration and cultivation," Perez said. "Unless you have mission embedded into your processes and structure, the chances of successfully advancing that mission become harder to achieve. At AdventHealth, everything we do is out of a heart for mission."
Having a heart for mission is exactly what keeps Torres going when he receives a call about a team member or team member's relative who's been hospitalized or has passed away. He visits them in the hospital, and is present during their funerals. He's even done home visits for team members experiencing hardships within their family life.
Because these difficult moments touch more than one person, and impact other members of the "corp," the body, Torres can also be found meeting with entire departments following a team member's hospitalization or death, to help the group collectively process and express their emotions. He likes to ask three questions when he's meeting with people:
What kind of support system do you have in your life?
What resources can you access to help you?
What is your relationship with God like, and how can it be a source of strength for you?
During his meeting with Susan Bailey, Torres asked those same three questions. When they got to the last question, Bailey opened up about her faith in God's strength, but her lack of faith in her own. It wasn't until her experience of journaling that she was able to muster the strength to let go and forgive her brother.
"The most amazing part of my job is that people like Susan trust me with their stories," Torres said. "The fact that people would have the courage to open up to me tells me that I am invited to be a part of their journey; that they don't have to go through it alone; that not only can I enrich them, but that they can enrich me."
That's worshipping, growing, and serving together. That's "We Ministry."
To learn more about pastoral care services at your local AdventHealth facility, visit AdventHealth.com/Find-A-Location.
*Name has been changed for privacy.
AdventHealth | August 2019