are Mine, Declares the Lord
by mariel lombardi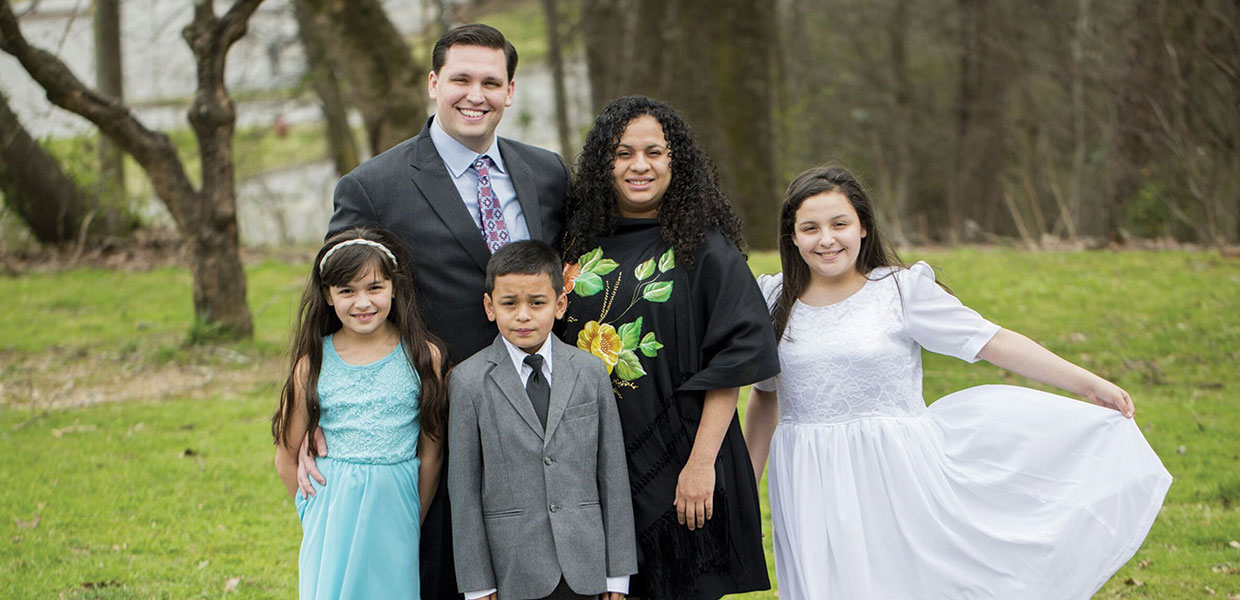 Anthony and Nayeli Nix with their three children, Denise, Anthony, and Areli.
Nayeli and Anthony Nix attend the Collegedale Hispanic-American Church on the campus of Southern Adventist University in Collegedale, Tennessee. This church has embarked on a project supported by the University. The number of Hispanic students have grown significantly in recent years, and Southern is the only University that has an Hispanic church on its campus. This allows the students to be active, serving in different ministries. This is the stage where there is a greater percentage of young people leaving the Adventist Church. Involving them in the leadership of the local church, and offering programs focused on spiritual growth, is part of the solution to this problem, as it affirms their sense of spiritual identity.
The attendance of young people in this church has grown remarkably. The temple is small. For this reason, they have launched a project that includes the construction of a building with a capacity for 700 people. It will have a media production center to facilitate the mission — to record and broadcast evangelism programs — of the members and students. Money is being collected via donations and the financial commitments acquired by the members.
They are praying a lot, because this is not an easy goal for a small congregation. However, since the project will take time, the members have decided not to wait until they have the new building to continue their mission. They are developing evangelistic campaigns on social networks, and these are recorded and distributed as material for evangelism. Many countries within the Hispanic world are reached this way. Nearly 60,000 people are following the campaigns, and the students and church members are enthusiastically collaborating. The story of Anthony Nix and his wife, Nayeli, took place in this context.
One Saturday morning, Nayeli was helping out in an activity of the Children's Department. Her husband sat alone during worship service. Joel Barrios, pastor of the Collegedale Hispanic-American Church, preached a sermon appealing to the brotherhood to collaborate in this endeavor. He expressed that this might require sacrifices. Anthony listened very carefully, and was not pressured by the sermon, but was filled with a huge desire to devote time and money into this cause.
Whenever they make a financial decision, the Nixes do not act until they are both in agreement. This time, with a bit of fear of deciding independently, Anthony promised God to give about 90 percent of his January 2017 salary. Not having consulted with his wife, he was a little tense. In his mind, he rehearsed over and over the way he would tell her about his decision.
Nayeli is a full-time student, and ahs and her husband have three small children. Anthony is studying theology part-time and working at the University's supermarket, where his salary is earned by answering the telephone, doing accounting work, and helping with the purchasing of merchandise. Giving the news to his wife would not be easy, he thought. As he did so, her response was, "WHAT?" Without disguising her astonishment. As if to soften the situation, Anthony proposed that they listen to the sermon the pastor had preached, and she did not object. After listening attentively, she said with certainty: "I am willing to make that sacrifice, and I am happy to help others know God." Anthony's happiness could not be described.
During that time the management of the supermarket changed. The new manager assessed Anthony's responsibilities, and realized that his salary did not cover them. Generally, the increases granted are three or four percent per year, which is equivalent to about $500 per year. To Anthony's surprise, the increase that was granted far exceeded what he had expected and what he had donated for the project.
God does not need our money. He gave Anthony more than he had donated to the church. He only wants our trust, because He knows that we need it to walk our way in peace with the security of His care.
"Blessed is the man who trusts in the Lord, and whose hope is the Lord. For he shall be like a tree planted by the waters, which spreads out its roots by the river, and will not fear when heat comes; but its leaf will be green, and will not be anxious in the year of drought, nor will cease from yielding fruit," Jeremiah 17:7, 8 NKJV.

Mariel Lombardi is the SURF customer service and accounts manager at the Southern Union in Norcross, Georgia.
Southern Union | December 2016