by ingrid hernandez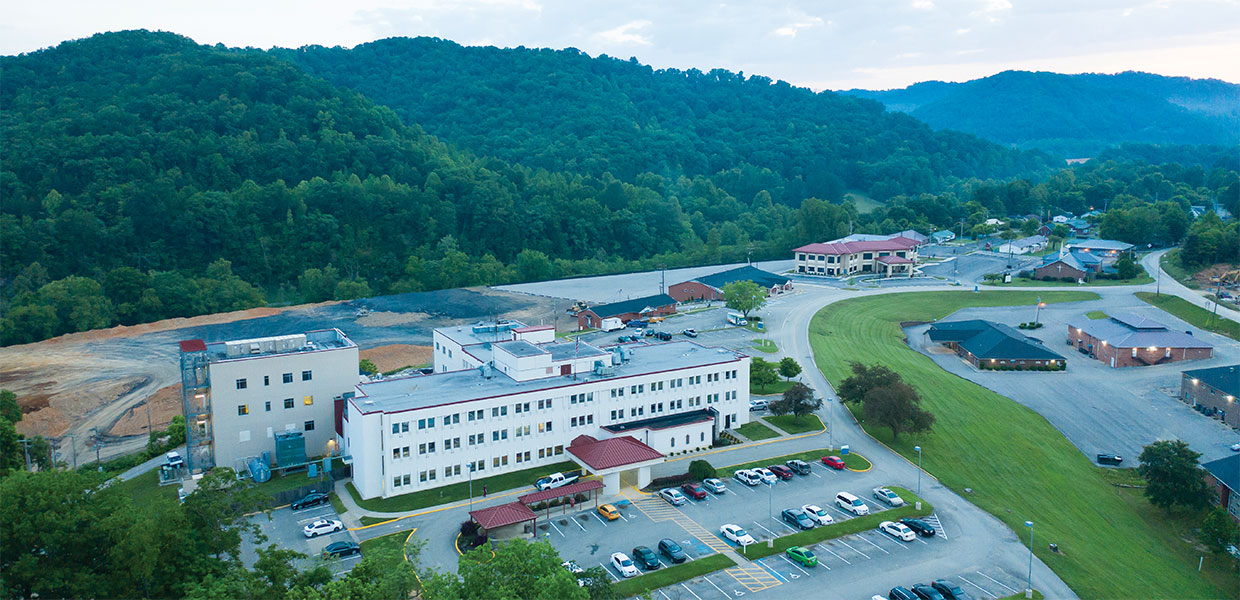 AdventHealth Manchester in Kentucky, one of AdventHealth's 15 facilities to receive a "Top Hospital" designation, extends its mission beyond hospital walls.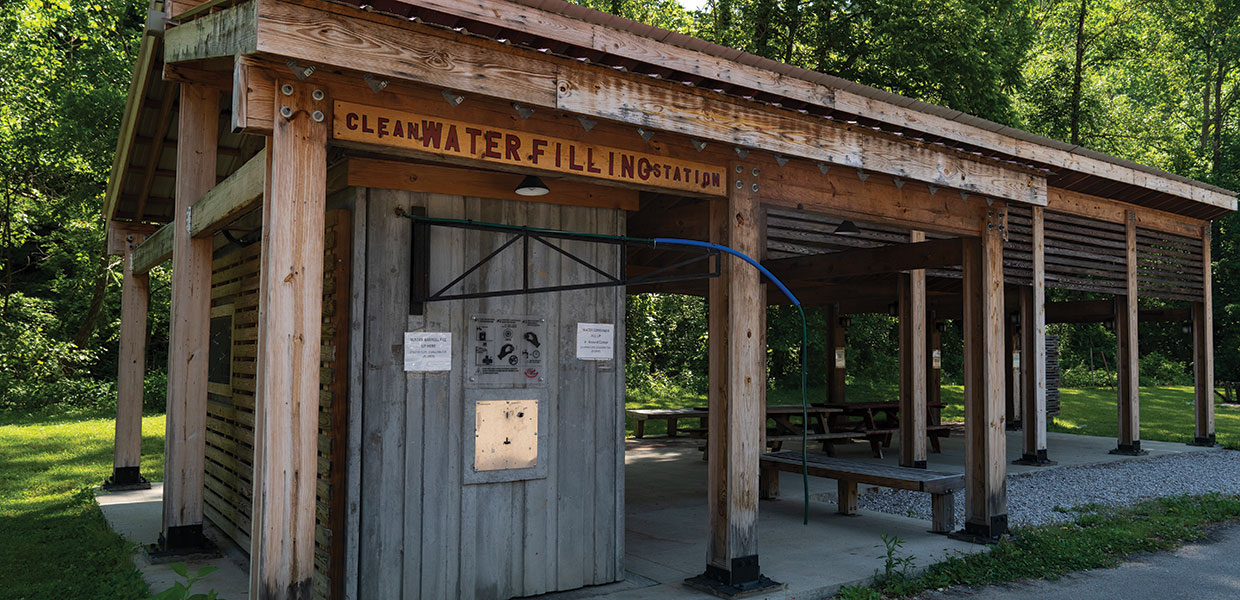 AdventHealth Manchester helped build two water kiosks to improve access to clean drinking water in the Manchester, Kentucky, community. The hospital is planning to partner with other organizations to build two more.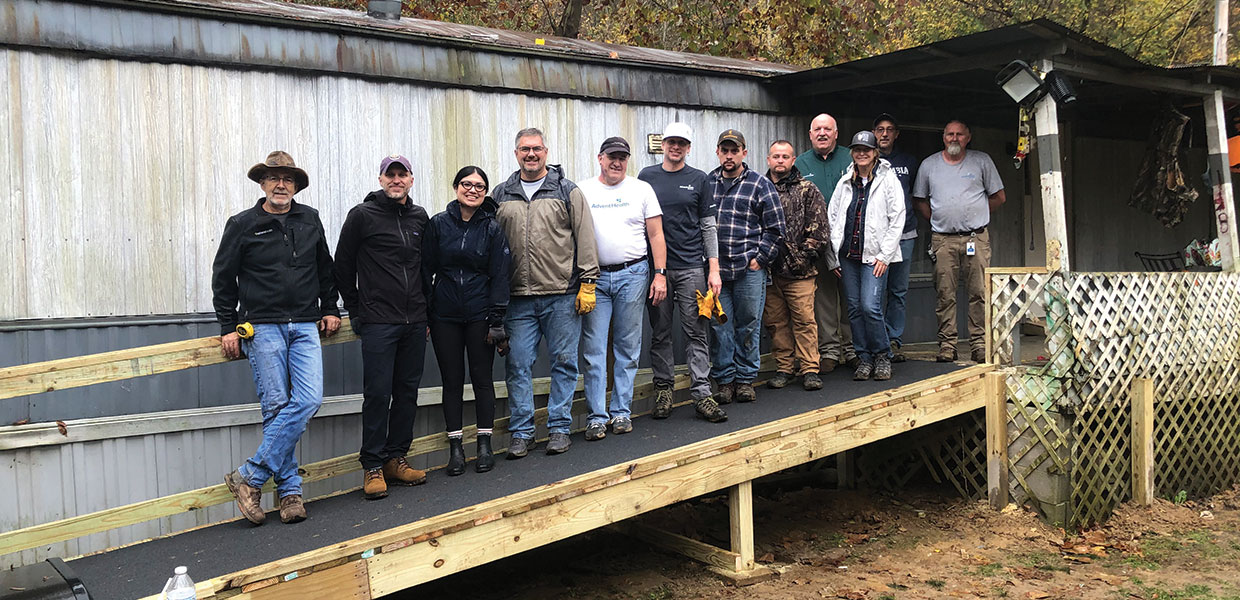 As part of the Healthy Homes project, a team from AdventHealth constructs a ramp to improve a resident's access into their home.
AdventHealth Manchester, named a Top Rural Hospital by the nonprofit health care ratings organization The Leapfrog Group, is recognized nationally for its quality and patient safety. But in Clay County, Kentucky, the community knows the hospital for so much more.
"Our team at AdventHealth Manchester is very familiar with the struggles of the people in this region," said James Couch, assistant vice president for administration at AdventHealth Manchester. "We're called to mission. It's more than a job for a lot of us, and that's why we move into the flow of people's lives. We're in the grocery store with them, we're in their home with them, we're improving their conditions."
Couch is referring to the facility's various community projects which take leaders and team members inside local homes, churches, and businesses to make a difference. AdventHealth Manchester is actively involved in several community projects: construction and repairs in the homes of patients living in unhealthy conditions, a proliferation of kiosks that provide clean water to residents, a Christian academy, a homeless shelter, and an outdoor youth organization.
"AdventHealth is probably our most active community member," said Daniel Finley, president of the Manchester – Clay County Chamber of Commerce and first vice president of the Clay County Historical Society. "They are really involved in community activities and groups. They donate to various worthy causes. They are interested in being a partner, and have a legitimate concern for their team members."
In a rural community hard-hit by high rates of unemployment, poverty, food insecurity, and substance abuse, this sort of active civic engagement is vital, especially as health and policy leaders continue to connect the conditions in the places where people live, work, and play — the social determinants of health — with health risks and outcomes.
AdventHealth Manchester finds various opportunities to combat social maladies and care for the underserved, many times with the help of other nonprofit organizations. For instance, the hospital supports Ken Bolin, pastor, and the Manchester Baptist Church with the Warm Souls for Worn Souls Homeless Shelter. To date, two water kiosks have been built to improve access to clean water, with the help of the University of Tennessee, Red Bird Mission, and the Oneida Baptist Institute. It's also partnering with the faith-based outdoor program development organization Impact Outdoors Adventures to convert a property dubbed "Miracle Mountain" to a home for youth sports and outdoor activities.
"We live in one of the unhealthiest places in the country in terms of diabetes and heart disease," said Joe Farmer, local insurance agent and Manchester activist who approached AdventHealth with the idea for Miracle Mountain. "This project fits well with my mission to do outreach and get kids outdoors and active, and AdventHealth's mission to extend Christ's healing ministry."
And, even when the challenges seem too great, the community does not lose faith.
"Whatever our community needs, God has the resources to provide it. We just have to knock and seek," Bolin said. "AdventHealth has been such a blessing with that."

Ingrid Hernandez is the stakeholder communications manager at AdventHealth.
AdventHealth | March 2020