by John Swafford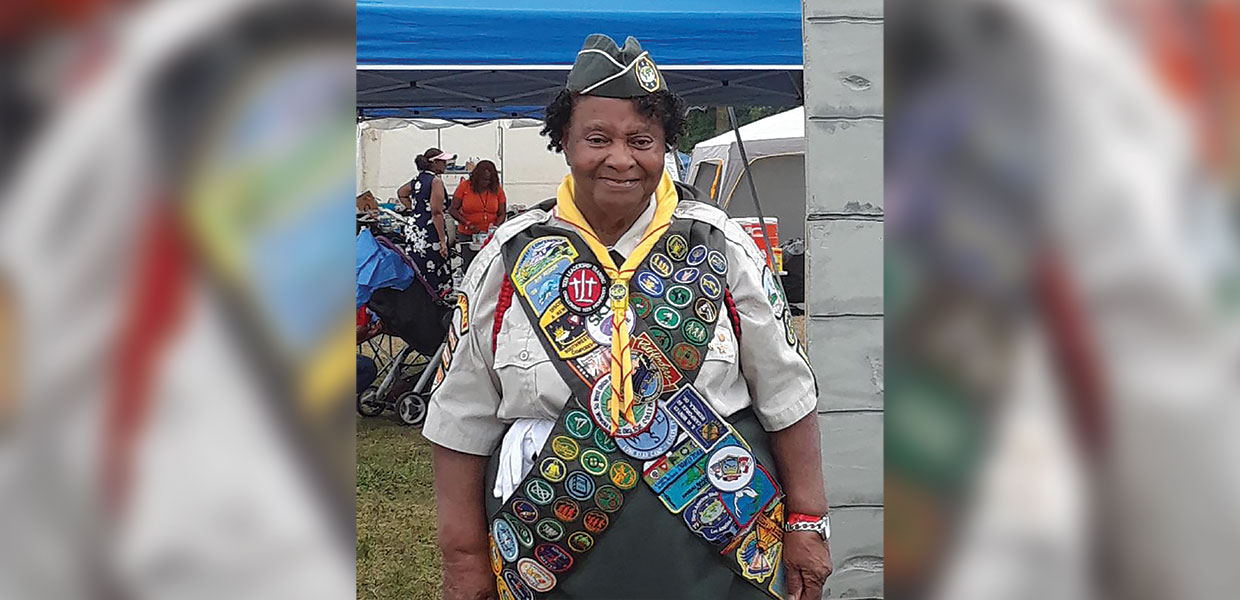 Geraldine Bernard is a 77-year-old Pathfinder counselor and volunteer from the South Central Conference. She has been in Pathfinder leadership for 60 years.
Joy Cavins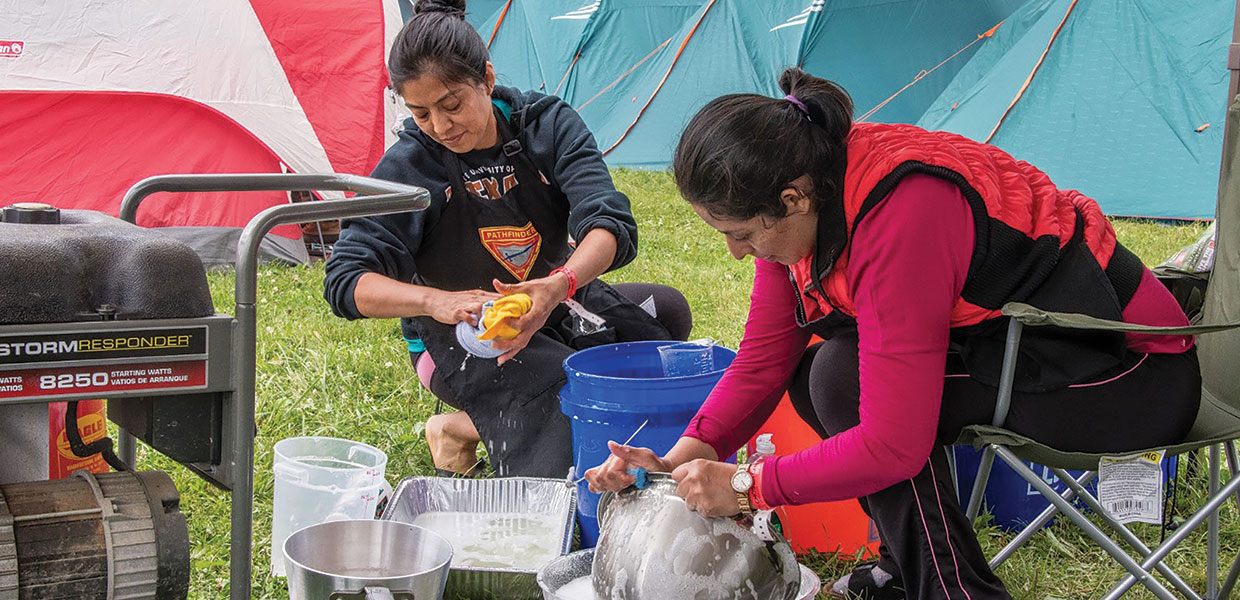 Areli Velazquez (left) and Elizabeth Ordaz wash breakfast dishes before preparing dinner for the Pioneros Pathfinder Club from Memphis, Tennessee.
R. Steven Norman III
R. Steven Norman III
R. Steven Norman III
Lyle Petry, a volunteer at Camporee, with his wife, Ann, who volunteered for more than two weeks, and drove the Southern Union's equipment to and from Camporee.
The 925 volunteers from the North American Division were an integral part of the 56,000 Pathfinders and staff who attended Chosen International Pathfinder Camporee from August 12-17, 2019, in Oshkosh, Wisconsin. This largest of Camporees takes place every five years.
Many volunteers plan ahead to prepare for their particular role at the Camporee. Some applied for vacation time or otherwise set aside this time to participate. They understand that Camporees give young people the opportunity to meet Pathfinders from 92 countries, to strengthen their relationship with God and realize their value to their Church.
Volunteers come from all over, traveling many miles. They come with experience from many walks of life to contribute their time, talent, and skills. A volunteer purchases a ticket; submits an application and background form; arranges for their transportation, lodging, and meals; and then prepares to serve five to eight hours daily in their role. Most volunteers must pay for all expenses incurred related to the Camporee.
Some must arrive a week or two weeks before the Camporee to prepare for their duties, and remain following the Camporee to close up. Volunteer opportunities include serving at registration, on- and off-site communications, assisting with medical and safety officials, and working closely with facilities and services coordinators. Others help coordinate and oversee on campus activities such as teaching honors, and off campus activities like visiting an active farm or coordinate off campus community service projects.
Volunteers make a huge impact on the Camporee, and are an example to youth and young adults to dedicate themselves to service. Without volunteers, many areas of service would not be possible, for the volunteers plan and operate certain parts of the Camporee.
Ken Rogers, youth director of the Southern Union, says, "Heartfelt appreciation to the wonderful team of volunteers who graciously serve our Pathfinders! Whether as a counselor, leader, cook and kitchen crew member, transportation driver, nurse, march and drill instructor, honor teacher, or other support staff roles, you are of utmost value to the Pathfinder organization. Quite simply, without your active participation and support, our young people would not enjoy the blessings of Pathfinder ministry. Your faithfulness is recognized and valued."

John Swafford is the retired Georgia-Cumberland Conference youth director.
Southern Union | October 2019