by lisa marie esser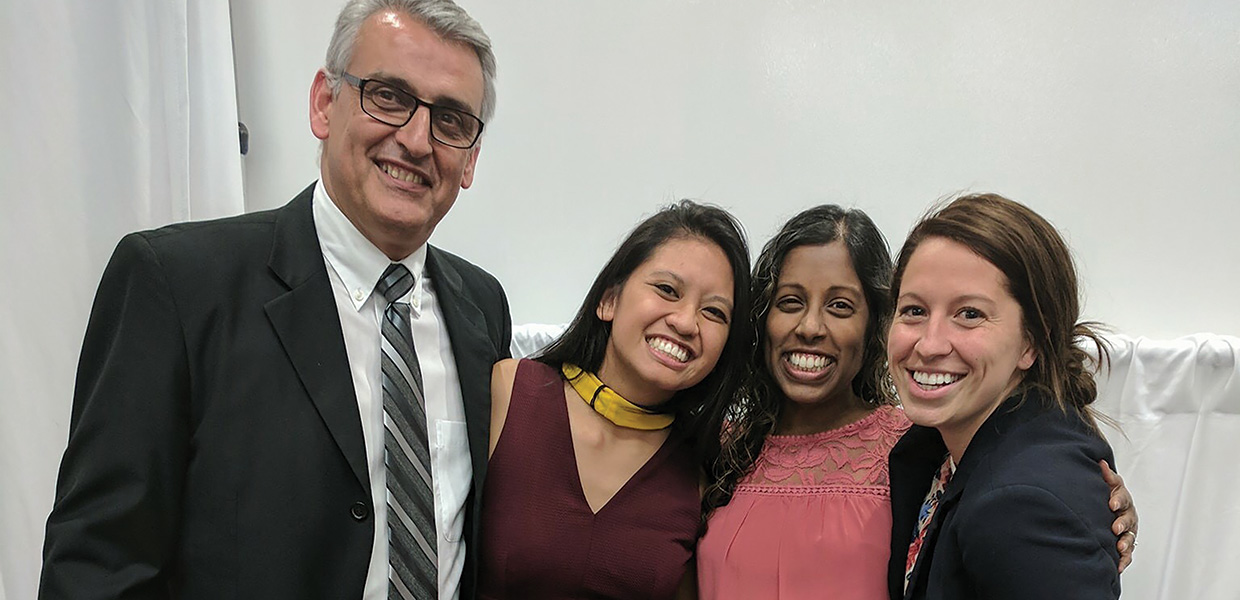 AHU Mission Department employees include Reynold Acosta (left), Karen Razon, Niesha Steinke, and Mollie Duper.
When Karen Razon, M.O.T., OTR/L, first came to AdventHealth University (AHU) for its Occupational Therapy Assistant (OTA) program in 2011, her plan was set. She was a focused student used to earning straight A's, managing extracurricular activities, and being in Honor's programs. She enjoyed helping people and soon began volunteering at AHU's Campus Ministries. Her duties grew from helping with social media and organizing gatherings to assisting with worship sessions and playing music.
Karen said it was a blessing to work with other students, particularly for those who were away from home. Campus Ministries gave them a place to belong. She talked about students who were struggling to afford food and how being able to give them meals was rewarding. Now, after graduating with her master's in occupational therapy in 2017, she has returned as a part-time chaplain.
Campus Ministries is a haven for many of AHU's students — a place for socializing, spiritual guidance, or even a quiet study spot. AHU chaplains are well-known, friendly faces around campus. They gather together with students for meals, prayer, mentoring, and fun.
Karen often meets with students who are scared and worried after failing an exam or about being accepted into their program of choice. She understands how they're feeling — lost and confused when their careful career plans are seemingly derailed. Not long ago, she was in the same position.
Karen described her school years as focused on academic performance. "In my head, I thought my worthiness was determined by getting straight A's and how I did in school activities." Having a strained relationship with her parents contributed to her desire to perform well in school. She graduated at the top of her class. She had earned her B.A. in health sciences and a master's in occupational therapy. Even before graduating, she had secured a job, pending the passing of the National Board for Certification in Occupational Therapy (NBCOT).
But, when she took the NBCOT, she failed her first attempt. Then, she failed her second. And, she lost the OT job she had been offered.
Karen had succeeded at being the best for so long, but now, at the biggest test of her life, she had failed. She began to pull away from Campus Ministries, her church, and even God. "I was mad. Why had He let me down? I was confused," she explained.
Both times she had missed a passing grade by just five to 10 points. After seven years of studying, training, and doing everything right, she was at a loss. "I was a mess — academically, spiritually, emotionally … questioning whether I could ever be an OT."
She decided to take a two-month break to figure out what to do next. But, unexpectedly, she said, during this time her relationship with her parents began to improve. "We got closer, started worshipping at home together regularly for the first time." She began to read the Bible again. She had worked in ministry with other students for years at AHU, but now was exploring the Bible "to seek Him on my own." She revisited the story of Joseph and of how God put him in pits to bring his family closer. His story resonated with her.
She thought, maybe this was the reason she had failed. For so long she had focused on her academic standing and becoming an OT as what she wanted more than anything, but even more than that, she realized she longed to strengthen her family ties. "He knows your heart's real desire. I think He was showing me that," she said.
She came back and tried again. This time she passed. She soon accepted a part-time OT job in the Outpatient Neuro Department with AdventHealth Orlando and Celebration, the same place she had job shadowed seven years prior, leading her to pursue an OT career. With her extra time, she returned to AHU to become a part-time chaplain after speaking with Niesha Steinke, an AHU chaplain who has been Karen's mentor.
"God's plan for me was greater than the plan I had for myself." Her experiences give her new perspective as a chaplain when she meets with students. She feels confident saying to them, "Even if you fail, or change your path, God is leading you the right way."
Karen never thought that ministry was in her future, but now she hopes that it will always be a part of her life. "It keeps me grounded and closer to God." She recalled how another chaplain, Reynold Acosta, told her that ministry might be her true calling. "I hope I can say that to someone. That 'maybe this is what God wants for you.'"

Lisa Marie Esser is the communications manager in the Marketing & Public Relations Department at AdventHealth University.
| February 2019