Angela Baerg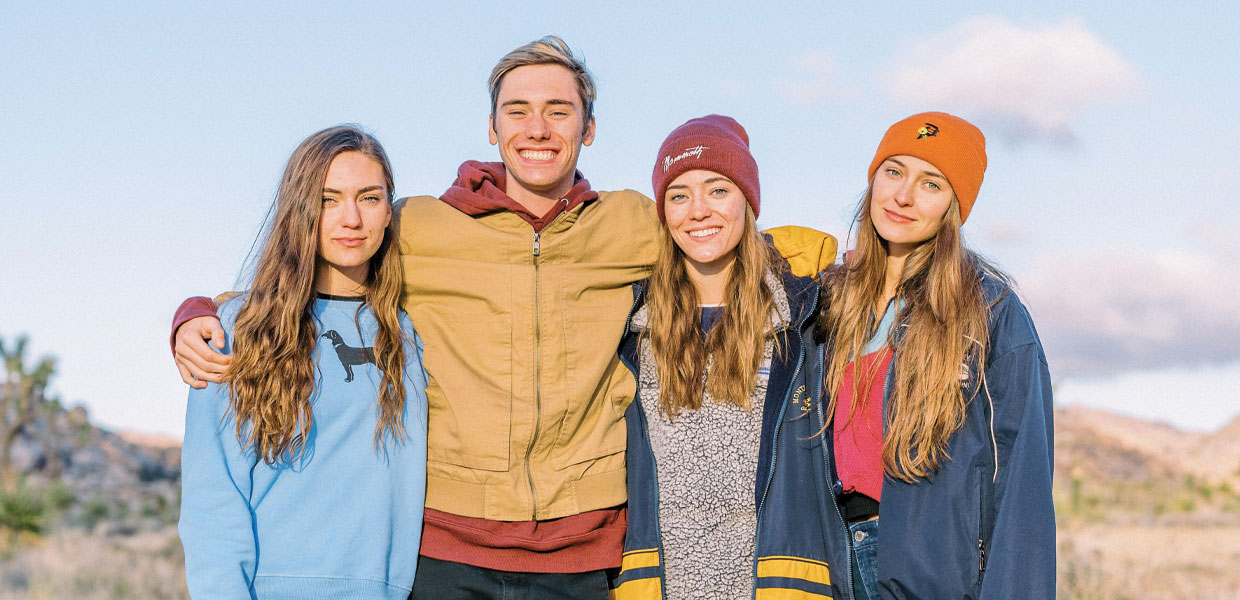 Quadruplets Sydney, Neal, Andie, and Nikki Nelson are thrilled to be attending Southern Adventist University together.
For as long as they can remember, the Nelson quadruplets have done everything together. They had swum, skied, hiked, painted, drew, and — up until their senior year of high school — taken every class together. When it came time for Andie, Nikki, Neal, and Sydney to decide where they would attend college, they made that decision together, too.
Originally from California, the decision to attend Southern Adventist University in Collegedale, Tennessee, was a big one for the quadruplets and for their parents. They had heard excellent things about the diverse academic opportunities, potential for outdoor adventures, and uplifting spiritual atmosphere at Southern. Although their parents were sad about the siblings going so far away, they were happy about their children's decision and supported them in their new adventure.
In the past, if one quadruplet was interested in something, the others would try it as well. Now, for the first time in their lives, they are pursuing different courses of study. Neal chose animation, Nikki is learning about nutrition and dietetics, and Sydney is studying elementary education.
Andie, inspired by several family members, decided to become a nurse. Rather than feeling daunted by the age of COVID-19, Andie has been inspired by the heroes that she's seen all around her.
"My aunt works at the ER," Andie said. "This year we haven't gotten to see her much. She's right in the thick of it all, and I know it's been really hard. Still, in spite of all the difficulties, she remains really passionate about helping others. I want to be like her."
Since weekdays are tricky with their conflicting course schedules, the quadruplets have made weekend time together a priority, exploring places such as nearby Raccoon Mountain and Southern's extensive trail system. Nikki enjoys the convenience of walking right from her dorm room to miles of wooded trails. After a hard week of classes, the siblings love going to vespers for a spiritual reset to remind them of what is truly important, and participating in Week of Prayer reenergized them.
"Honestly, we are just thrilled to have the opportunity to study in person* this year," Neal said. "It really helps us stay motivated. None of our friends in California are getting to go to class and have the true college experience that we're getting, so I'm very grateful."
Their favorite part of school is the social aspect. The welcoming spirit they have encountered from students and faculty at every turn has made them feel like they belong. Being around others who are spiritually oriented and focused in their studies has been another inspiration. As the quadruplets have explored different majors, guidance from professors and feedback from new friends has been pivotal.
"Everyone here has been so friendly and accepting," Andie said. "Both students and professors seem excited to accomplish their goals, but still make it a priority to have God in their lives. The more time I spend on campus, the more it confirms in my heart that this is the place God wanted us to be."
*To learn more about the safety measures Southern has put in place to hold in-person classes as safely as possible, visit southern.edu/coronavirus.
Angela Baerg is a Montessori preschool teacher who graduated in 2006 from Southern Adventist University in Collegedale, Tennessee.
Southern Adventist University | March 2021