by Winston Peart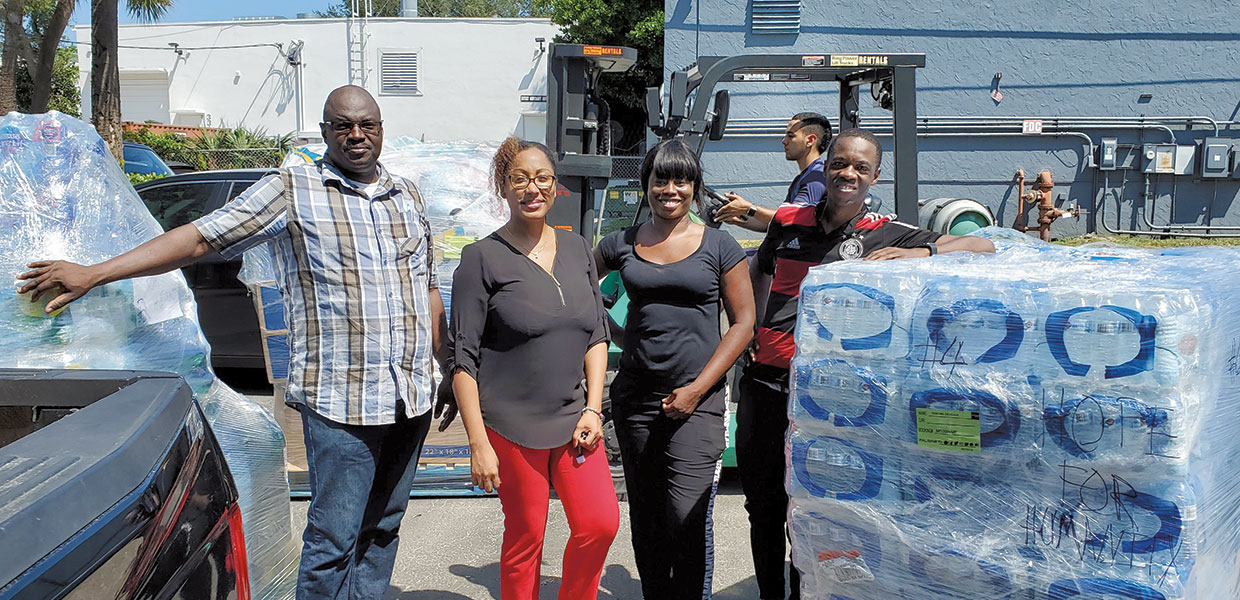 Loading supplies for Abaco Island are Winston Peart (left), chairman of Hope for Humanity Worldwide, Inc.; Rhonda Stephens, chief operations officer; Kadeen Thomas, executive secretary; and Pete Kennedy.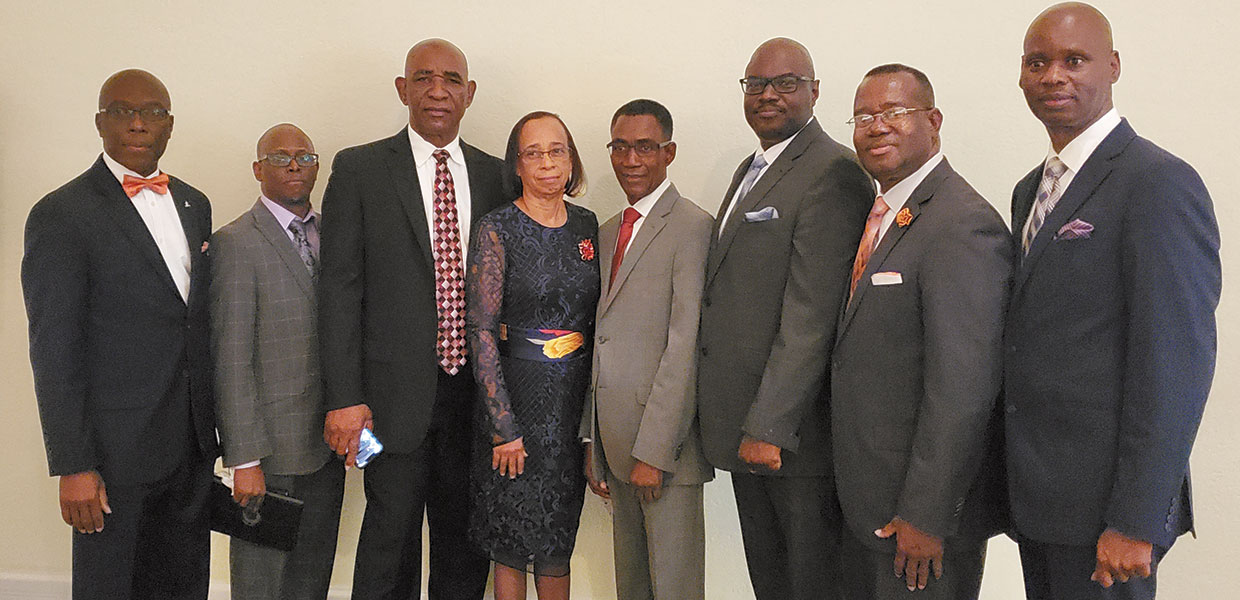 Elders involved in fundraising efforts from Broward County, Florida, were invited to the North Bahamas Convention 2020: Eric Clarke (left), president of North Bahamas Conference; Steven Gates, keynote speaker for Convention from Ephesus Church in West Palm Beach; Clinton Thompson, elder at Lighthouse Church; Jennifer and Peter Kerr, Ph.D., president of Atlantic Caribbean Union; Winston Peart, elder at Margate Church; Albert Daley, elder at Ambassador Church; and Andrew Burrows, secretary of North Bahamas Conference.
Hurricane Dorian became famous as the unwelcomed visitor that refused to go. It hovered above Abaco and Grand Bahama for several days while maintaining its strong category five on the Saffir-Simpson Hurricane Wind Scale.
The expected aftermath seemed ominous as reports from meteorologists and the radar maps on television gave little hope of human survival. Abaco was severely damaged. Peter Kerr, Ph.D., Atlantic Caribbean Union president, reported: "All Adventist churches were destroyed or damaged. Members are worshiping in one school, which is also in need of repairs."
Many churches across Florida sent monies, food, clothing, generators, and other needed items through ADRA (Adventist Development and Relief Agency) to the Bahamas. The local group, Hope for Humanity Worldwide, Inc., traveled to Freeport, Bahamas, one week after the Hurricane with six pallets of supplies, and to witness firsthand the scope of the relief as contributions were distributed to anyone and everyone in need.
After holding a benefit concert, church elders Winston Peart of Margate Church, Albert Daley of Ambassador Church, and Clinton Thompson of Lighthouse Church went to the Bahamas to deliver almost $20,000 raised from the concert and from donations. They returned from the island even more motivated to finish the work.
The sad truth is that Abaco remains severely damaged, with lots of work still needing to be done. Members remain emotionally scarred, parents are still hoping to see their children who were washed away during the storm, and children are failing to adjust to living without parents. There is nothing more empowering to the human spirit than to witness acts of kindness. These little acts are medicine for depression as they give hope.
The Bahamians have shown great appreciation for our assistance. Eric D. Clarke, president of North Bahamas Conference, has demonstrated divine love in his care for the people.
Help is still needed. Plumbers, carpenters, masons, laborers, and electricians are needed. Join with the Broward County churches on one of their trips to bring aid and compassion to Abaco. White, black, Bahamian, Haitian, Indian, Asian, Christian, or Muslim — we are all one human family.
Florida | May 2020