by Rachel Lassel
"I never thought trees could lose so many leaves," said Pathfinder Justin Wu.
K. Simons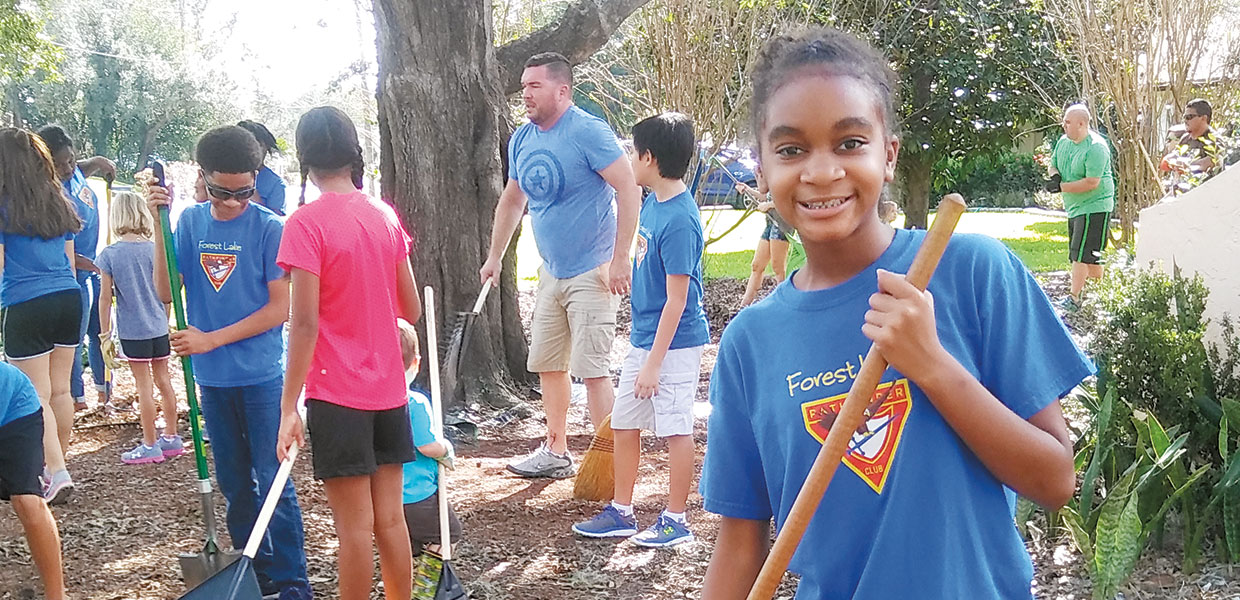 Catherine Alves was part of the Forest Lake Pathfinder Club that helped clean up 25 yards following Hurricane Irma.
K. Simons
Hurricane Irma came and went. We were told to prepare. We were told to prepare a lot, and often, for many days ahead of the storm! What equals prepared enough? What does it look like to be prepared? Can we stop the storm with our preparations? NO!
As preparations for the storm were made, Mark Reams, youth ministries pastor at Forest Lake Church in Apopka, Florida, planned beyond the storm on his radar. He wanted to offer an opportunity to serve after Irma made her exit.
Up went a post on the Sabbath School Facebook page. In addition, one blast text was sent to all youth with the option to RSVP and join in. Barbara McCoy, children and women's ministries pastor, offered to arrange lunch for the volunteers after the clean-up effort.
Last year after Hurricane Matthew, 25 people came out to help in response to a notice on Facebook. This year, 191 volunteers quickly committed. More than 30 Pathfinders were there in force and contributing as part of the total number of helpers. With the large turn out, it became a scramble to identify more homes needing help. Many groups worked additional hours after stopping time!
"My dad and I went to four houses where the storm had blown down trees and branches," said Pathfinder Blake Bergherm. "We helped break down branches and cleaned up the mess. Some of the people were older and could not have cleaned up on their own. It made me feel good that we could help."
More than 25 households were served by 191 ready and willing sets of hands. Some of these families had not yet cleared their own properties, but were showing up to help from homes still without power and water. People helped were a mix of church families, neighbors of volunteers, and those neighbors asking us to help other neighbors in Apopka, Pine Hills, Winter Springs, Mount Dora, Altamonte Springs, and Longwood.
We received hugs, some tearful thanks, a lunch that broke the budget, and lovingly earned blisters. All 191 participants were grateful to be able to serve. God receives the glory!
Florida | January 2018