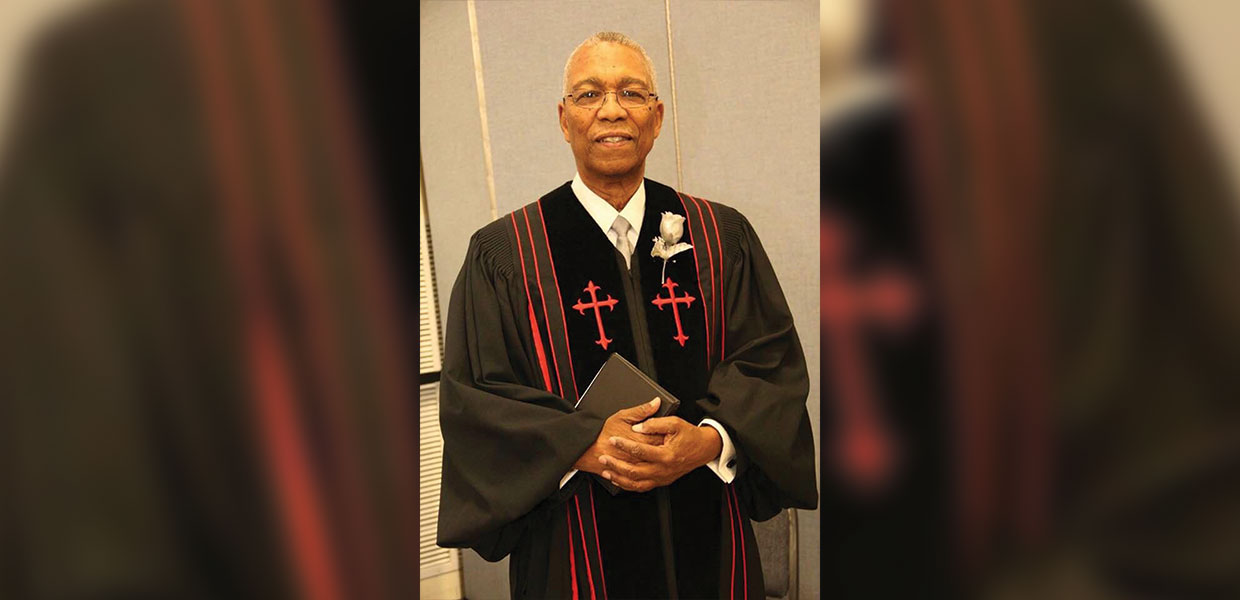 William C. Scales Jr.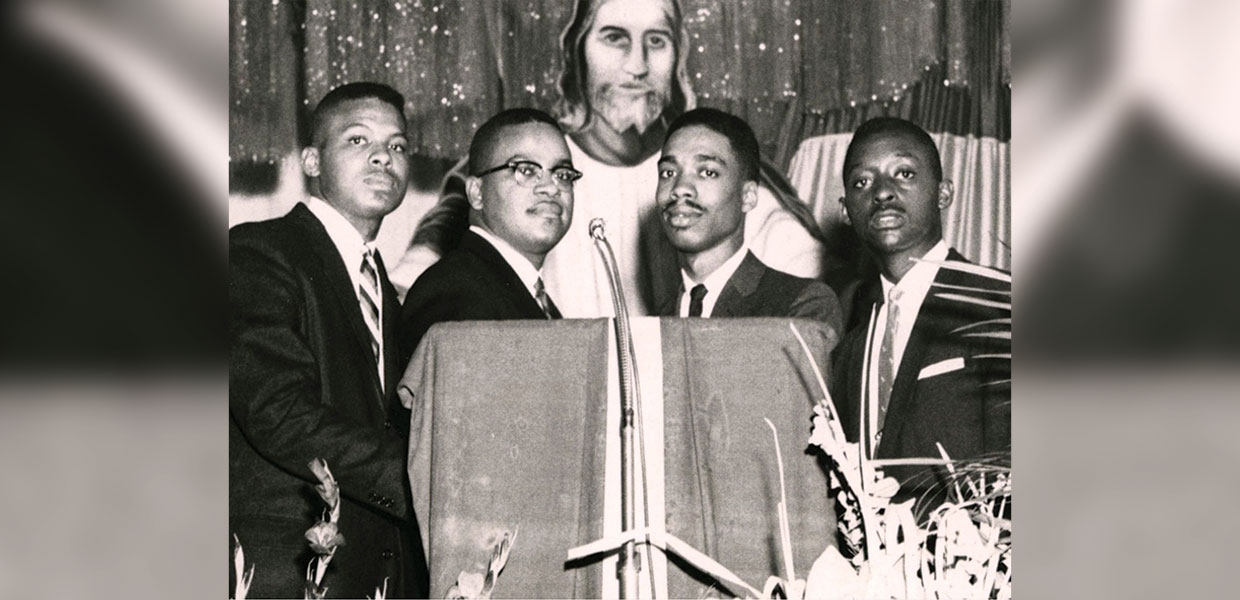 William Scales Jr. (third from left) was a member of the Cathedral Quartet.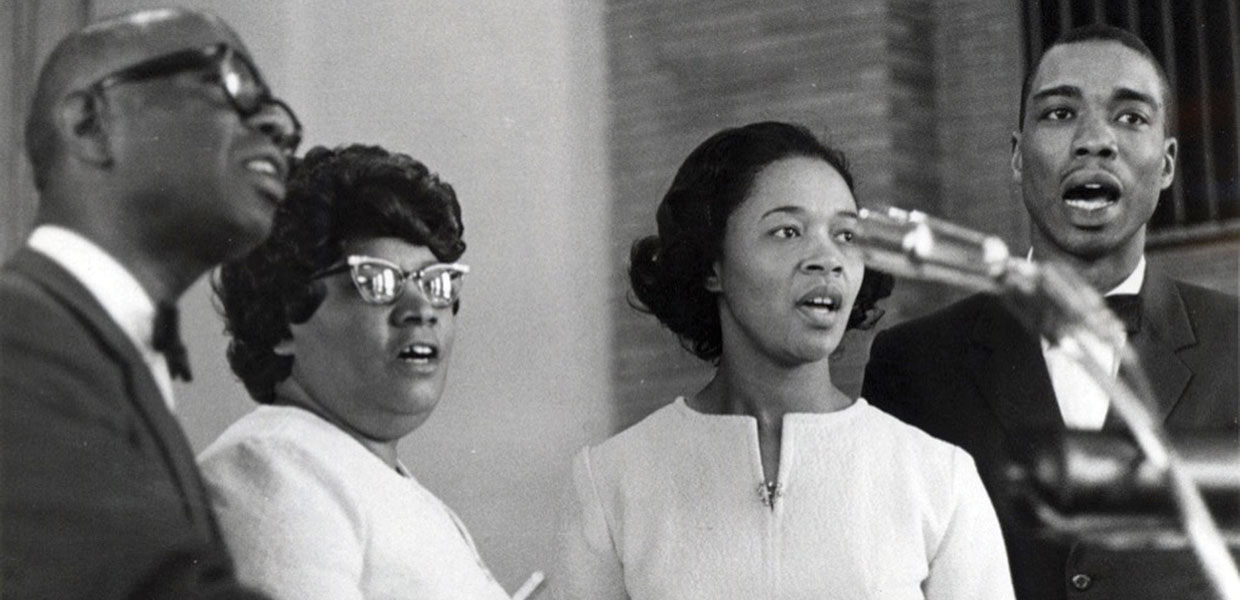 The singing Scales family included William Sr. (left), Myra, Lois, and William Jr.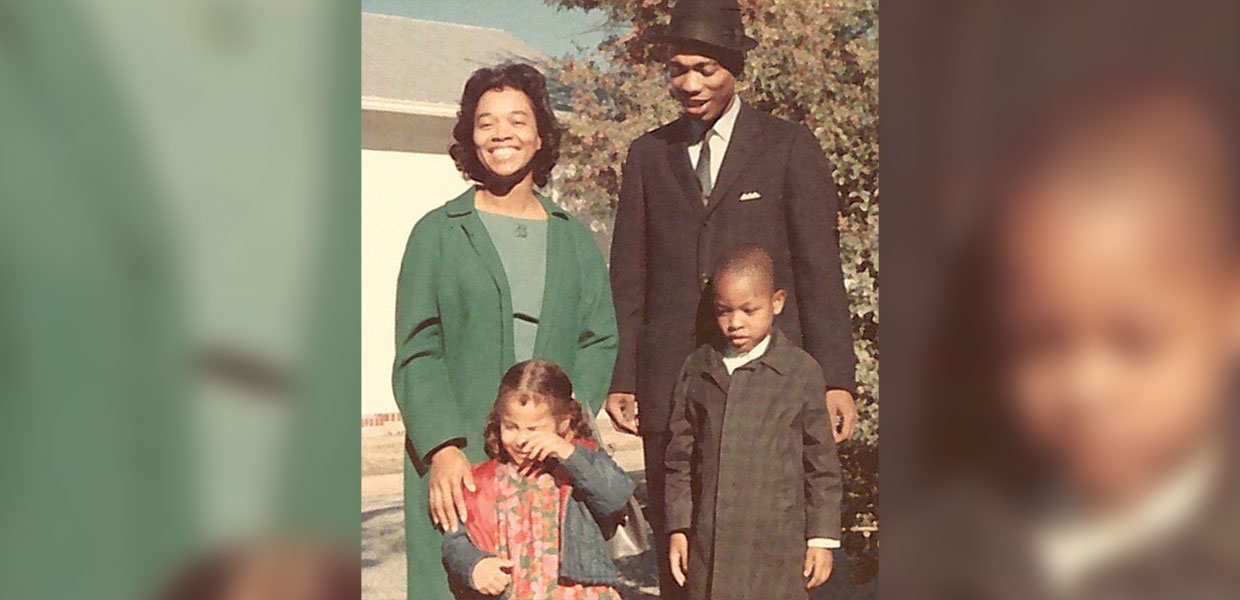 The William Scales Jr. family included his wife, Lois; daughter, Linda; and son, Larry.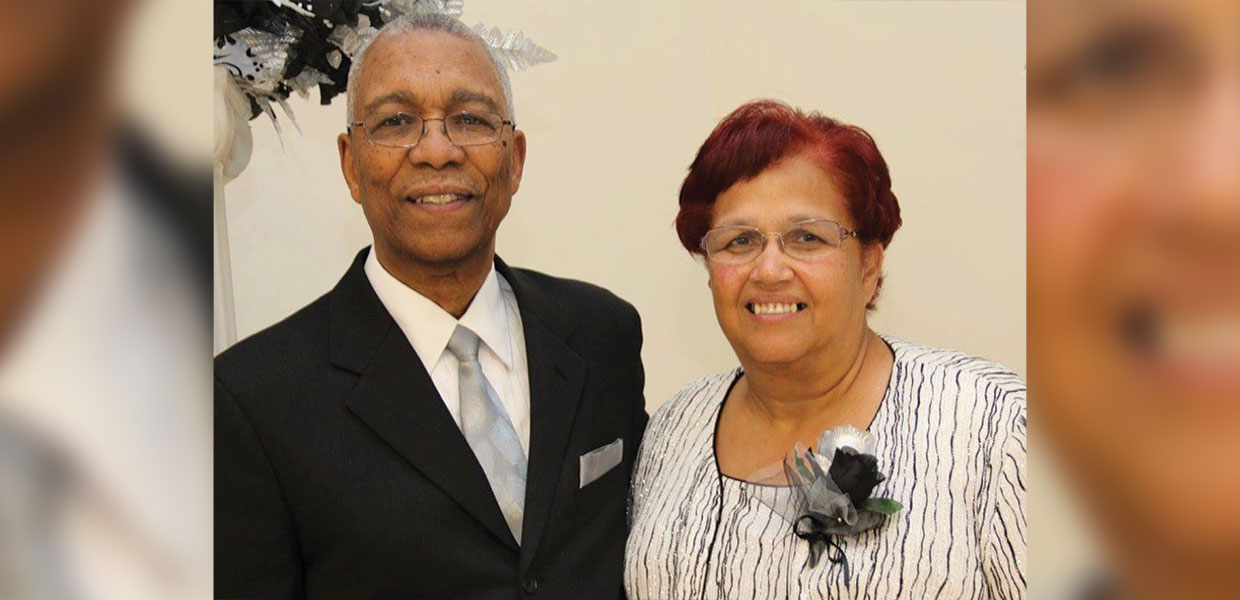 William Jr. and Pat Barnett Scales married in 1999.
William Clinton Scales Jr. was born March 18, 1935, in Charleston, West Virginia, to the late William C. Scales Sr. (1915-2010) and Myra Mills Scales (1919-2015). They adored their only child they nicknamed Junior, and from birth they taught him to love, trust, and obey God. When he was a toddler, the family moved to Cleveland, Ohio, where they became active members of the Seventh-day Adventist Church. Junior was a good child who understood his calling at a young age. At the age of eight, after his life was spared in an automobile accident, he decided to become a preacher — and he never changed his mind. Junior's parents, who were strong believers in Christian education, sent him to Ramah Academy.
After elementary school, he packed his bags and headed south to Huntsville, Alabama, where he would spend the next eight years at Oakwood Academy and Oakwood College (now Oakwood University). As he matured and outgrew the name Junior, he became known and loved as Billy, a distinguished young man with a silky smooth voice, an easy smile, and a strong love for God. While in college, Scales sang with the Cathedral Quartet, who traveled extensively, and did evangelistic work during the summers with his mentor, Earl E. Cleveland. Scales learned much from Cleveland, and adopted many of his evangelism techniques. In 1956, he graduated with a B.A. degree in religion and theology, and a minor in vocal music. After marrying Lois Yates, a fellow Oakwoodite from Chattanooga, Tennessee, Scales continued his education at Andrews University, majoring in Bible and systematic theology, and minoring in counseling, earning his master's degree in 1958. Both Oakwood and Andrews universities have honored him as Alumnus of the Year.
Scales began his pastoral ministry in the Central States Conference, and was ordained to the Gospel ministry in 1962. While honing his pastoral skills, he assumed the role of father after he and Lois adopted two children, Larry and Linda. His ministry path led him to the Allegheny Conference, and then to the Allegheny East Conference where he served as Conference evangelist from 1965-1971, while also pastoring several churches in Virginia. In 1966, Scales and the Cathedral Quartet joined Cleveland for a groundbreaking crusade in Trinidad that resulted in 812 individuals being baptized in one summer. Another highlight of that trip was the recording, Trinidad Triumph, featuring sermons by Cleveland and the music of the Cathedral Quartet.
In 1971, the Scales family moved to Maryland to pastor Berea Temple, which was then the largest Adventist church in Baltimore. He and his father both believed that they were "born to win souls," and together they wrote a series of easy-to-understand Bible study lessons they called the "Real Truth."
One lesson series turned into two, and then grew into an entire evangelism program that was modeled after Cleveland's methods, and strongly influenced by the book Evangelism by Ellen White. The Real Truth program is a wholistic approach to evangelism that includes the presentation of the Gospel, health principles, family enrichment, youth outreach, the ministry of music, literature, and personal evangelism, with a strong emphasis on lay member involvement.
Through the years, Scales was blessed to have his parents as part of his ministry team serving as Bible instructors and as part of the Singing Scales Family. Later, children Larry and Linda would replace their grandparents, maintaining the family's tradition of music.
In 1978, Scales was called to the Seventh-day Adventist World Headquarters to serve as the associate secretary of the Ministerial Association Department. In 1986, he became ministerial director of the North American Division, where he was instrumental in the development of Ebony Evangelism, a project specifically designed for African-American evangelism and church growth. In additional to his departmental duties, he worked tirelessly to raise funds to hold evangelistic meetings, not only in North America, but also in many countries around the world. Before retiring from the Division in 1997, Scales was inducted into the Martin Luther King Jr. Collegium of Preachers and Scholars at Morehouse College in Atlanta, Georgia, and was honored as a world class preacher and evangelist. After the death of Lois Scales (1934-1998), he met Madeline (Pat) Barnett, a retired elementary school teacher from Ohio, whom he married in 1999. In 2003 the couple moved, along with Scales' parents, to Birmingham, Alabama, where they would begin a new ministry. Scales served as the general coordinator of Real Truth Ministries, an evangelistic outreach ministry started in 1999, and led by Timothy Lewis, evangelist. Using the methodology designed by the Scales father/son team, Real Truth Ministries' evangelistic projects have led to more than 16,000 baptisms worldwide, and the establishment of 28 new Seventh-day Adventist churches. In 2012, Scales was called out of retirement by the South Central Conference to pastor three churches in the Birmingham area. Never putting aside the mantle of evangelism, not even during his illness, this great man of faith spent his last days planning a crusade for summer 2017. At the time of his death, he was serving as the pastor of the Bessemer First and Brent Adventist churches.
Nearly every summer for most of his life, Scales was involved in an evangelistic crusade that resulted in thousands of souls being baptized, and new churches being raised around the world. At the close of each service, he would leave the audience with these words: "Have faith in God. Your sins He'll wash away, your night He'll turn to day. Have faith, my friends, in God."
Scales went to sleep in Jesus on Sabbath evening, May 27, 2017. He is survived by his wife, Pat; two children, Larry Scales and Linda Scales McLaughlin; three stepchildren, Pandra Taylor, Chesca (Tarus) Ottison, and James (Jada) Barnett II; nine grandchildren, Charles (Geneva) Pargo III, Jessica (Dajon) Chapman, Karl Mercer II, Timothy Pope Jr., Jamiri Bennett, James Barnett III, Chelynn Pargo, Jaslyn Barnett, and Ciara Pargo; five great-grandchildren, Charles Pargo IV, Cheyenne Pargo, Chauncey Pargo, Chance Pargo, and Jalia Rose Chapman; four first cousins, Sheree Lambert, Shannon Rogers, Karen Coleman, and Alex Coleman; Anthony Wims, whom he loved like a son, and his family; a host of extended family members; and many close friends, who can look forward to that glorious day when death and sorrow will be no more.
"May God grant us spiritual vision to see the invisible, strong faith to believe the incredible, and divine power to achieve the impossible so that the work can soon be finished and we can all go home," W.C. Scales Jr., Ministry magazine, June 1989.
South Central | August 2017