by Andrew AND Nicole Loiten
A virtual praise and worship team led music for youth revival at Plantation Church in Florida.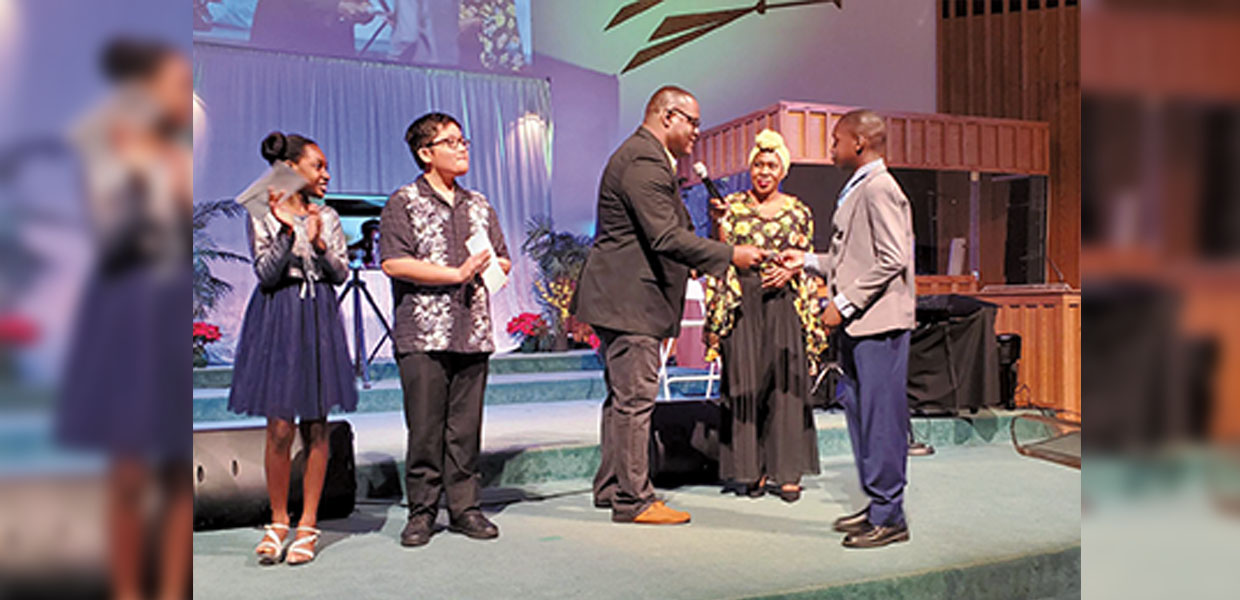 Speaking participants for the revival Teshawna Tomlinson (left), Lorenzo Hernandez, Kaivon Miller, and Shaqueena Danvers (not pictured) who spoke by video from the Cayman Islands, received thank-you gifts from children's ministries leaders Andrew and Nicole Loiten.
Close your eyes for a moment and imagine 1,000 people from all over the world gathered together over a video conferencing platform to hear about the love of Jesus and the message of salvation. This was the case in June when the Children's Ministries Department of the Plantation, Florida, Church, in collaboration with Florida Conference, hosted their first virtual revival, themed "Jesus Is Coming Again."
Enthusiasm filled the air each night as children and adults from as far away as Africa logged onto their devices in anticipation of worship and to enjoy the powerful and captivating sermons preached by children. Viewers were also blessed with children presenting angelic worship music, uplifting testimonies, well-choreographed presentations, and fervent prayers.
The three-night revival culminated with an anointed, Holy Spirit-led Sabbath service in which 10 individuals were saved. "We praise God for the souls that were won and the hundreds of lives transformed as a result of this revival," said Andrew and Nicole Loiten, children's ministry leaders.
Every night was abuzz with excitement for the giveaway segment. Some prizes were based on answers to questions from the previous night's worship service. "I'm so happy; this is amazing," said Teshawna Tomlinson after winning a laptop for inviting the most visitors. More than 100 of her invitees were in attendance, some all the way from Jamaica and Canada.
Joseph Salajan, senior pastor, along with other pastors and elders, provided support to ensure the event was carried out successfully. "For many years, we have been praying for more children to come to our church. Now look what the Lord has done," exclaimed Joanna Reider, children's ministry elder. "It is such an awesome program. I love it," said Judy Smith, Florida Conference children's ministry director, as she expressed satisfaction with the outcome of the event.
As the theme stated, Jesus is indeed coming again, and the signs of the times are everywhere. While we continue to live on this Earth, the mandate of Matthew 28:19 will forever be etched in our hearts: "Go therefore and make disciples of all the nations, baptizing them in the name of the Father and of the Son and of the Holy Spirit."
Florida | September 2020