Alysa Darmody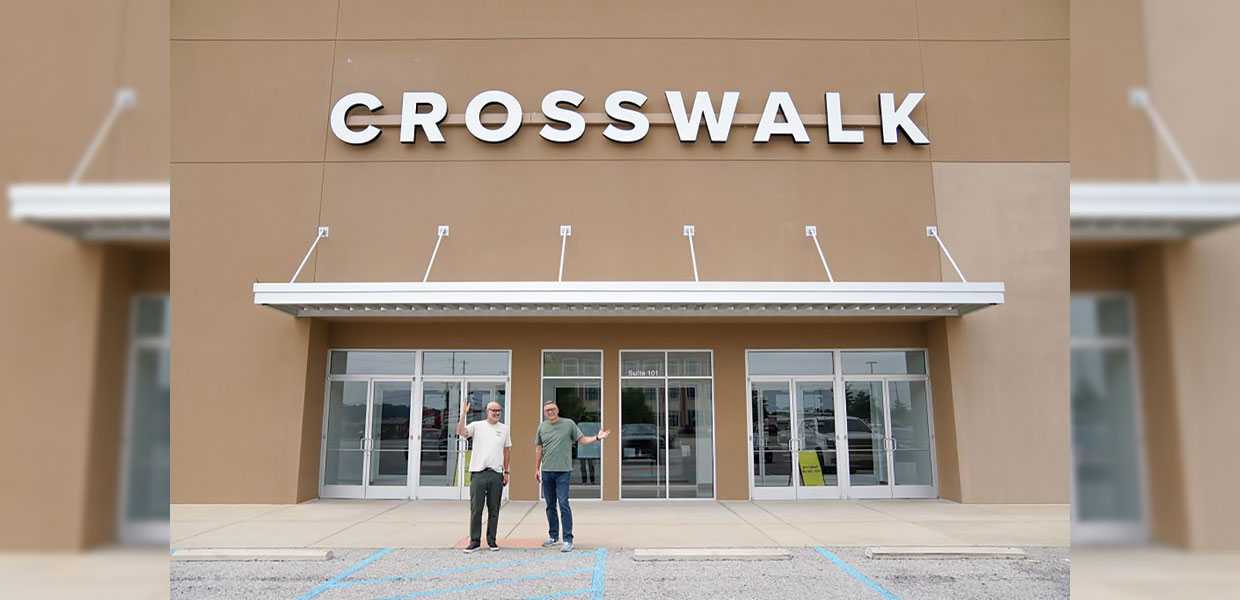 Tim Gillespie (left), lead teaching pastor for Crosswalk Global, along with Dave Ferguson, lead pastor for Crosswalk Chattanooga, stand outside Crosswalk Chattanooga's new building. The church raised $2 million in just 15 days to be able to purchase the building that went into foreclosure two weeks after signing a lease agreement for the space.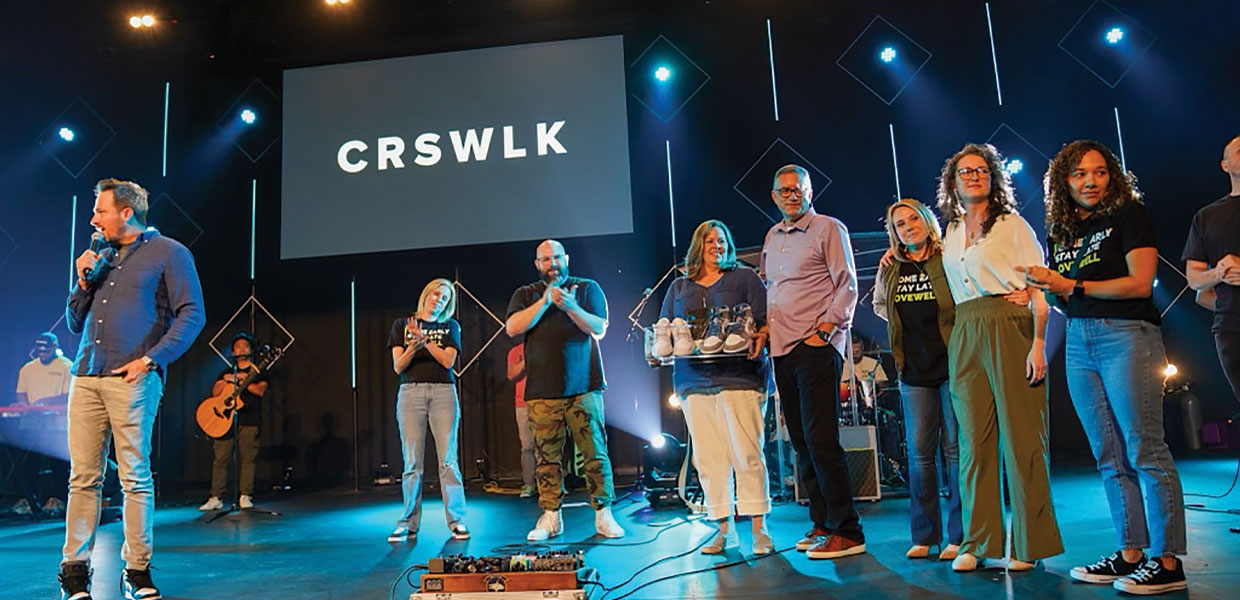 Dave Ferguson, pastor, and Caryl Lynn are welcomed by the leadership team on their first weekend serving at Crosswalk Chattanooga. Ferguson began his new role on May 14, 2023.
So, the feedback we got is that people haven't seen it done before. What's our next move?"
When Crosswalk Chattanooga signed their new building's lease agreement, their leadership team knew they'd need to be ready for anything. But, they weren't expecting the space to fall into foreclosure two weeks after they signed.
"We were in a seemingly impossible position," said Justin Wampler, church administrator. "We could panic or get to work and trust that God had a better plan for us than we could ever imagine." After weeks of legal discussions and prayer, the owners came back to Crosswalk, asking if they had an offer. Chattanooga's local campus of Crosswalk Global Network of Churches satellite church model had rented multiple buildings in four years. The new location, off of Lee Highway and Highway 153 in Chattanooga, Tennessee, was centrally located, move-in ready, and hard to pass up. Church members voted to step out in faith, raise the funds, and put down an offer, as long as the Georgia-Cumberland Conference could help finance the quick purchase.
The challenge? Raise $2 million in 15 days.
A fundraising committee quickly worked with the leadership team to meet with as many donors as possible, and social media pushes ran non-stop. Stories about Crosswalk's culture of belonging and momentum swirled. And members showed up, with more than 85% in donations, including college students, parents and grandparents of members, and even sister Crosswalk campus members. "In two weeks, we saw miracle after miracle, and not just from the local Crosswalk community, but engagement from around the world," said Tim Gillespie, lead teaching pastor for Crosswalk Global. "It was an affirmation of all the incredible Kingdom-focused work the leadership team and church has done over the last four years."
Fifteen days later, the celebrations started, and they haven't stopped. Since then, Crosswalk Chattanooga also welcomed their first lead pastor, David K. Ferguson. Ferguson had been an invitee to the church's leadership team since launching in 2018. "Since our inception, Dave has been invited to guide, consult, share wisdom, and participate in the vision of Crosswalk Chattanooga," said Gillespie. "While we looked at other names, Dave just kept coming back to the surface as the God-given choice for this community." Ferguson and his wife, Caryl Lynn, began their time on campus during their "Weekend of Gratitude," celebrating both the pastoral team and closing on the new building. "God has been clearly leading here, and I couldn't be more excited," said Ferguson. "I love the people of Crosswalk. My heart is naturally drawn to what they are doing and, while it was captivating to watch the miraculous numbers raised, it really speaks to passionate people. There's a hunger for belonging and the unique mission of this church."
Georgia-Cumberland | August 2023