by joel barrios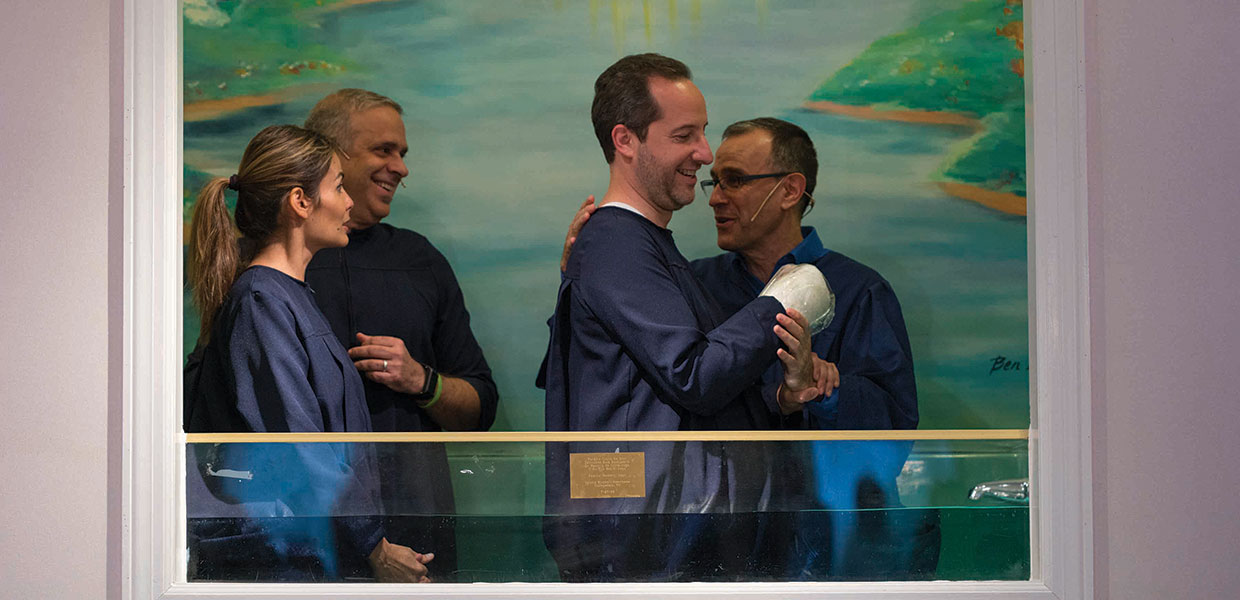 Alejandra Chiesa and her husband, Giorgio Chiesa, are now baptized members of the Spanish-American Church in Collegedale, Tennessee. They found Jesus online while living in another country.
Submitted by: Joel Barrios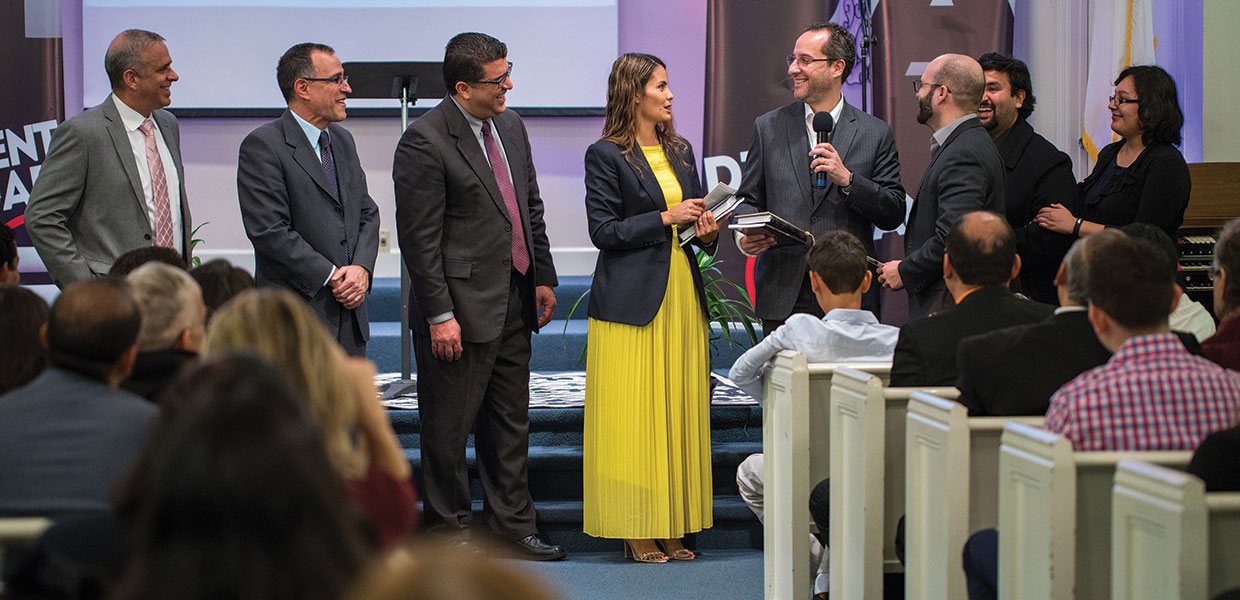 Joel Barrios, pastor, welcomes Giorgio and Alejandra Chiesa to the Spanish-American Church in Collegedale, Tennessee.
Submitted by: Joel Barrios
Giorgio Chiesa is the son of an influential family in Italy. He was baptized in St. Paul's Cathedral (in the Vatican), in an ecumenical ceremony, by Pope Paulus VI, and a Muslim man. As a child, he remembers several times Karol Wojtyla (John Paul II) visiting his mother at her house.
When Giorgio was 12, he attended a Catholic school. On his first day in religion class he asked the priest, "How can you demonstrate that God exists?" He was immediately asked to leave class, with the teacher saying, "You do not question! You have to believe by faith!"
When the principal told Giorgio's father about his son's unbelief and questioning, he answered, "If my son cannot ask questions in your religion class, then he will not attend." Giorgio became agnostic. He grew up going to the best schools and universities in Europe, studying law and international business, and thinking that religion was a human invention and God was not real.
In 1999, while on a round-the-world trip between jobs in London, he met his future wife in Spain. Alejandra was born into an Adventist family in Colombia, but left the church in her late teens due to a family crisis. She then moved to Spain to live with her brother. After dating for some time, Giorgio and Alejandra got married and moved to London where she started attending the local Adventist church. While Giorgio took his wife to church, but he did not participate, as "Church was not for me." After eight years and two children living in England, they moved to Switzerland. There Alejandra met an Argentinean Adventist woman, and they became very good friends.
Four years later they moved to Buenos Aires, Argentina. While there, Giorgio's dearest sister passed away from an aggressive cancer. Giorgio and Alejandra were devastated. While in grief, Alejandra's Argentinean friend recommended they watch the video of an Adventist pastor at the Spanish-American Church in Collegedale, Tennessee. Religion started to make sense to Giorgio.
Three years later the family relocated for work reasons to the Bahamas. They began to watch the Collegedale Spanish-American worship service online almost every Sabbath for several years. One day they called Joel Barrios, pastor of the Spanish-American Church, to invite him to come to the Bahamas. He stayed at their home, where he gave them four or five Bible studies that he has previously given to agnostic and atheists. It was a miraculous experience. When Barrios left the Bahamas, the family was not only happy, they were spiritually united.
In December they skyped with Barrios to continue studying the Bible. They then went to Colombia for the holidays, with plans to go skiing in Canada in February. While their ski equipment was being sent from Colombia to the Bahamas via courier, it was stolen. Giorgio told the family that they would buy new equipment and go to Canada anyway. While returning from Colombia, Giorgio fell at the airport and broke his right arm, preventing them from going skiing. The family was saddened, as they loved skiing.
A few days later, Barrios called Giorgio to invite the family to an evangelistic meeting in Tennessee. By a miracle of God, the dates for the meeting coincided with those of the skiing trip, and the family agreed to travel to Tennessee.
The family, and Giorgio in particular, were impressed with the practical topics of Roger Hernandez, speaker for the evangelistic crusade and Southern Union ministerial director. He was amazed that his 12-year-old son, who is always complaining about attending church with his mom, was excited with his new church friends. During the week, Giorgio made the decision to get baptized, and on that Friday, Alejandra decided to be rebaptized.
Giorgio and Alejandra will be the first online members at the Spanish-American Church, requesting to be members in Tennessee.
It is pretty amazing how God works with planting seeds with friends and disappearing ski equipment. Giorgio and his family are excited about their newfound faith in God, and their new online church family.

Joel Barrios is the pastor of the Collegedale Spanish American Church.
Georgia-Cumberland | April 2018