BY Angela Baerg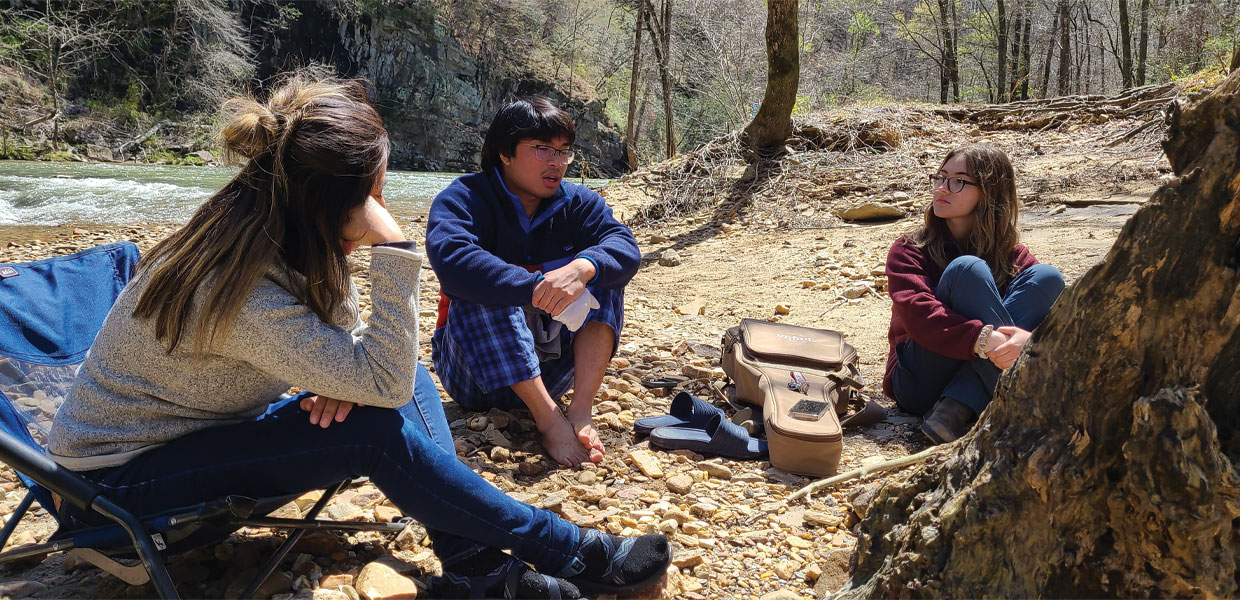 Allyson Boyce (right), an outdoor leadership major at Southern Adventist University, talks with friends Alé Vye and Harty Sullano. Boyce desires to help young adults find healing and peace in the beauty God created.
Crumbling drywall, moldy carpet, and warped cabinets were all that remained of once-welcoming homes after severe flooding swept mercilessly through Hazard, Kentucky. This past July, Allyson Boyce, a junior at Southern Adventist University, helped muck out a home filled with five feet of water and a church filled with mud. She, her father, and their team did their best to provide compassion and encouragement to the people whose town had been destroyed.
"I love being able to give back," says Boyce. "As much as we touch their lives, they touch mine, too."
Boyce first developed a passion for disaster relief at Heritage Academy. All students there receive Community Emergency Response Team (CERT) training, and often drop everything to respond when there is a nearby natural disaster, most often a hurricane in Florida. After graduation, Boyce enrolled in Southern Adventist University. She had always loved hearing her father speak warmly about his time there as a student, such as how he had won the All-Night Softball tournament.
Like him, Boyce found her own ways to plug into the community, such as teaching CERT trainings for other students. She joined a LifeGroup that meets on Friday nights after Vespers to fellowship, discuss that evening's message, and lift each other up. She also became a member of Engage Worship, a student-led worship team that travels across the South, leading out in anything from hymns to contemporary Christian music. Being a part of Engage has helped her learn to be less worried about giving a good performance, and more focused on truly immersing herself and others in praise.
"It has really helped me grow a heart for worship," she says. "Music connects people in a way that nothing else can."
Boyce's major is in outdoor leadership with an emphasis in adventure therapy. She hopes to use her future career to help young adults find healing and peace in the beauty that God created. She loves exploring the great outdoors and has one particularly special memory from her camping class at Southern. On the first day of their trip in the Roane Mountains, it began to mist. They came to a spot where they were supposed to be able to see a striking panorama, but the fog was so thick that they could barely see at all. They went to the viewpoint anyway, and all of a sudden a huge gust of wind vanquished the fog and revealed the breathtaking mountain range that surrounded them. Around the fire that night, they talked about the parallels between that experience and their walks with Christ.
"Sometimes we walk up tall, tiring mountains and have trials in life, and are unable to see why we are being led that way," says Boyce. "Then, all in His own timing, Jesus blows the fog of life away to reveal the reason He brought us through that trying time. I hope to share this message with others through outreach and my future career."
Angela Baerg is a Montessori preschool teacher who graduated in 2006 from Southern Adventist University in Collegedale, Tennessee.
Georgia-Cumberland | December 2022