BY CAROLINA BONILLA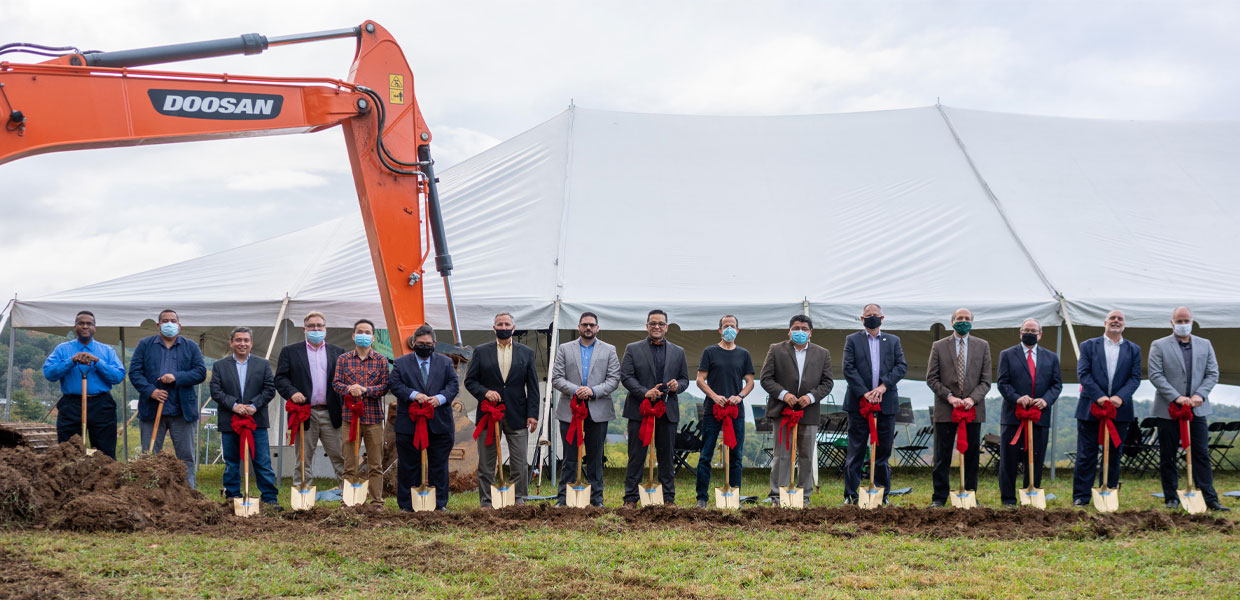 Sixteen golden shovels held by church officials are primed and ready to dig at the SuCasa, or Collegedale Spanish-American, Church groundbreaking ceremony on Sunday, October 12, 2020. The new church will be located at College Drive in Collegedale, Tennessee, next door to Collegedale Academy.
The Collegedale Spanish-American Church (SuCasa Church) held its groundbreaking ceremony for a new church building, right on the land where the future church will stand, on Sunday, October 12, 2020. "Today is a very special day. We finally get to see what we had been planning for over 10 years. Our dream is now a reality," said Jonathan Liriano, project construction assistant.
David Smith, president of Southern Adventist University, shared that for the 20 percent of Hispanic students enrolled at Southern, "this will continue to be a home away from home for these young students who have been received as members of a loving family."
SuCasa Church has been working with Southern Adventist University providing ministry opportunities for students to get involved in the community, as well as caring for them through a "student adoption program," with local families involved in students' lives and caring for them during their time at Southern.
"I have been a member of the Spanish-American Seventh-day Adventist Church since I moved to Tennessee in 1979," said Omaira Marulanda, the oldest church attendee at the SuCasa Church groundbreaking. She remembers when there were few area Hispanics and those present would meet in the girls' kitchen. "For many years we jumped from building to building to meet on Sabbaths," she said, adding that the Hispanic students' group was so small everyone fit at a single lunch table.
Once the 120-seat church was built, they never imagined it wouldn't be enough space. "It's exciting to see the growth throughout the years," added Marulanda.
The Collegedale Spanish-American Church is mother church of eight other Hispanic church plants, including some in Georgia. It has always maintained the vision of preparing future students as ministers to preach the Gospel around the world. High Point Chinese Church, led by Dennis Li, pastor, is one of the latest church plants located on Camp Road in Collegedale. This is one of the first Chinese congregations in the entire Southern Union. Every week they reach out to thousands of people through their online ministry.
"Now that construction has officially started, the plan is to complete the new SuCasa Church building by the end of 2021," said Danny Garcia, construction supervisor. The new facility will house a 450-seat synagogue, a 350-seat fellowship hall to serve as a second church where members can train and create more church plants, and a daycare as an outreach and service to their community. "It will also include a soccer field for students from Collegedale Academy to use," said Garcia. The church will also have a recording studio allowing the current online ministry to expand. Since many members have been unable to attend services due to the COVID-19 pandemic, the online streams of the Sabbath School and worship services have greatly benefitted local and online followers by providing encouragement and spiritual support.
It is a brand new day for SuCasa. They give glory to God for what He is doing and for allowing them to be part of His dream. This is the beginning of a new mission, both locally and globally. Please keep this project in your prayers. For more information, visit sucasachurchproject.org.
Georgia Cumberland | December 2020