BY Brittny Desvarieux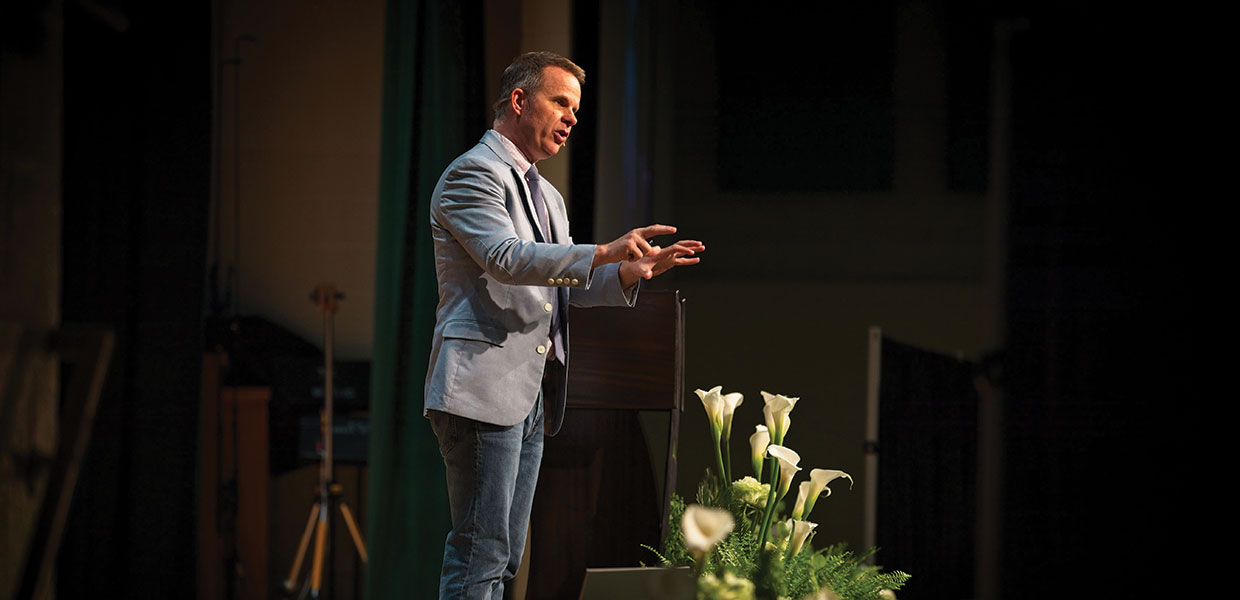 Ty Gibson, co-director of Light Bearers and pastor of the Eugene, Oregon, Church, was the featured speaker for the Georgia-Cumberland Conference Camp Meeting. He shared creative new ideas that all Adventists should hear.
Jeremy Arnall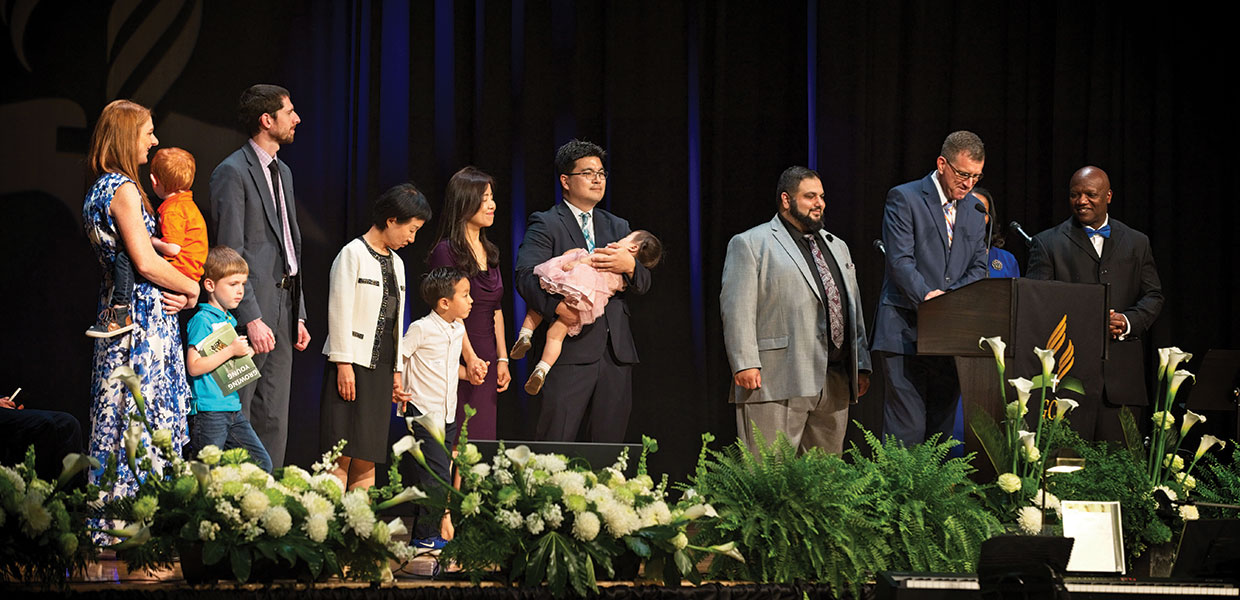 The ordination candidates and their families were presented on Sabbath during Camp Meeting. Each candidate is typically ordained at their home church.
Jeremy Arnall
Growing old comes naturally to many. As days turn to months and then to years, many find themselves in an inevitable path that guides their feet further and further from their youth. But, is it possible to grow young?
An exciting long weekend filled with spiritual growth, captivating adventures, heart-felt worship, and authentic fellowship exemplified the annual Georgia-Cumberland Camp Meeting in Collegedale, Tennessee, which began May 29, 2019. Thousands of people of all ages gathered to participate in a weekend of extended worship with guest speaker Ty Gibson, co- director of Light Bearers and pastor of Storyline Church in Eugene, Oregon. Gibson spoke on the themed topic of the weekend, "Growing Young: How Discipling Youth and Christian Education Will Transform Our Church."
"As I've listened to Ty's presentations," said Kristy Davis, Camp Meeting attendee, "I realized for the first time in my life what Camp Meeting is for. It's about refocusing and centering a larger body of believers on what really maters — God's unfailing love!"
In addition to Gibson's appearance, the four-day Camp Meeting (May 29-June 1) consisted of a variety of seminars, outdoor activities, book and food sales, and a Ministry Expo that gave attendees a chance to win prizes.
"Ministry Expo gave me the opportunity to just encourage people, and to develop a ministry in their church or community, but I also enjoyed the presenters that we had for family ministries. I felt that was a significant contribution to Camp Meeting," said Jo Dubs, director of women's and family ministries. This year there were multiple seminars on a range of topics, which included relationships, gardening, physical and emotional health, and spirituality. A popular seminar among them was the seminar on domestic violence.
Ruben Murieute, outreach coordinator and domestic violence seminar speaker, said, "If we are uncomfortable talking about domestic violence, then the perpetrators are comfortable doing it."
For children through earliteen and youth, there were exciting activities, including a day trip to Cohutta Springs, a Sabbath afternoon hike, and educational science experiments with Ben Roy.
The post-collegiate group was a new addition to Camp Meeting. Members of the group enjoyed a weekend of fellowship and worship, and Gibson's live-streamed evening sermons. They were also given the opportunity to have a special Q&A lunch with Gibson, where the floor was open for anyone to ask any questions for which they wanted advice or clarity.
Moses Maier, member of the post- collegiate leadership team, said, "[Camp Meeting] was different, not only because I helped with the planning, but because the post-collegiate group became a reality. In the past, I would show up in the main gym for the divine service, say hello to a few people, and go home. This year, there was a space to meet many people my age and spend time with them, hear their stories, and worship with them throughout the week."
According to Gary Rustad, vice president for administration, whose department oversees Camp Meeting, "This is probably one of the best Camp Meetings we've had."
Gibson's Camp Meeting sermons are available on the Georgia-Cumberland Conference website for free, or for purchase on DVD and Blue Ray.

Brittny Desvarieux is the Georgia-Cumberland Conference Communication Department summer intern.
Georgia-Cumberland | August 2019