by Shane Hochstetler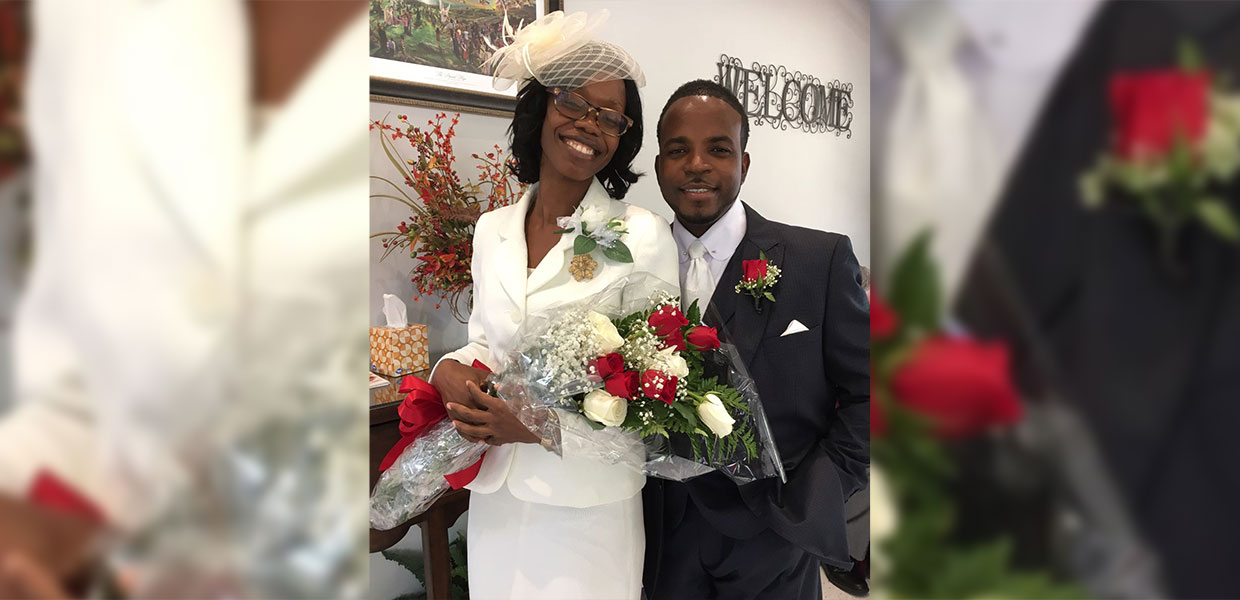 Claudine and Christopher Atkinson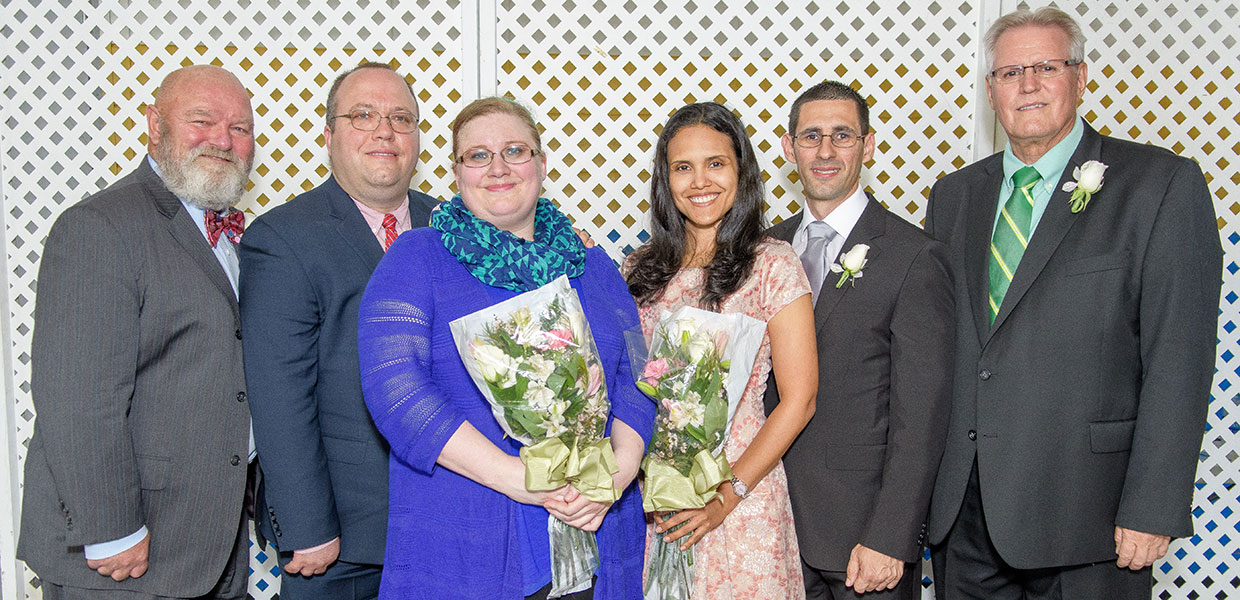 Peter Trzinski (left), Gulf States ministerial director; Ethan and Laura Muse; Elida and Robert Meneses; and David Livermore, Gulf States president
R. Steven Norman III
Christopher Atkinson was ordained to the Gospel ministry on Sabbath, October 14, 2017, at the Phenix City, Alabama, Church. Atkinson and his wife, Claudine, were born on the island of Jamaica. Atkinson was saved from a life of gang violence at the age of 16. Atkinson became infected with the bug of evangel-living, and developed a particular burden for ministry to inner city gangs.
These experiences urged him as he ministered as a street preacher, an itinerant evangelist, and an acapella singer for the succeeding seven years. He accepted the Holy Spirit's call and received training in pastoral ministry at Northern Caribbean University in Mandeville, Jamaica. While at the University he continued to serve as an evangelist and Bible missionary, locally and internationally. God's passionate call on his heart also led him to serve as campus ministry coordinator, high school teacher, colporteur, youth director, radio and television talk show host for the University, and Collegiate Quarterly contributor.
Christopher and Claudine Atkinson were married in 2006. God led them to accept a missionary call to the Upper Columbia Conference in 2011, when she received her doctorate of philosophy Fulbright scholarship to Washington State University. There he served as a missionary Bible coordinator and assistant pastor in the Moscow church district. Since 2013, the Atkinsons have ministered as the pastoral couple for the St. Elmo district, and presently for the Phenix City Church district in the Gulf States Conference.
Earlier in the year, at the 2017 Gulf States Camp Meeting, Robert Meneses and Ethan Muse were also ordained to the Gospel ministry.
Meneses was born in Lisbon, Portugal, but spent the majority of his time growing up in Tampa, Florida, with his parents, Joel and Lucia, and two sisters, Ruth and Eunice. He earned his B.A. in biomedical science, and was looking to be a physical therapist when he answered the call from God to be a minister of the Gospel. He received his B.A. in theology from Southern Adventist University in December 2011.
In January of 2012, he joined the Gulf States team working as the pastor at the Summit, Brookhaven, and Vicksburg district in Mississippi. Presently, he is serving as the pastor for the Cullman and Decatur district in Alabama. He is also pursuing a master's degree in pastoral ministry from Andrews University.
He has a passion for connecting people with Christ, to get others to understand the Word of God, the Seventh-day Adventist movement, and Bible prophecy. He is convicted that preaching and living the three angels messages, centered in Christ and His love, is the message the world needs to get ready for the soon coming of Jesus. He currently lives in Alabama with his wife, Elida, whom he married on July 24, 2011, and their son, Robert Jr.
Born in Jackson, Mississippi, Ethan Muse began his ministry as a literature evangelist while still a student at Great Lakes Adventist Academy in Cedar Lake, Michigan. Following eight years of literature evangelism (1992-2000), Muse accepted a call to serve the Arkansas-Louisiana Conference as a bi-vocational pastor. He pastored the small church in Vivian, Lousiana, from 2000 to 2003, where he was the first pastor to bring new members into the Church through baptism in years.
In January 2006, Muse enrolled at Southwestern Adventist University, where he graduated with a double major in history and theology. While at Southwestern, Muse was employed by the Texas Conference to pastor the Cross Timbers Church in Eastland, Texas. He later moved to pastor in the Arizona Conference before returning to Gulf States in February 2016. During his time in Gulf States, he graduated with a master in biblical and theological studies from Knox Theological Seminary in Fort Lauderdale, Florida.
In 2015, Muse befriended Laura Brus, a hospital chaplain from Iowa with an M.Div. from the seminary at Andrews University in Berrien Springs, Michigan. During the next several months, their friendship blossomed into something more, and they eventually married on February 23, 2017. They have since moved to minister in Kansas.

Shane Hochstetler is the communication director at the Gulf States Conference.
Gulf States | December 2017