by tyler roberts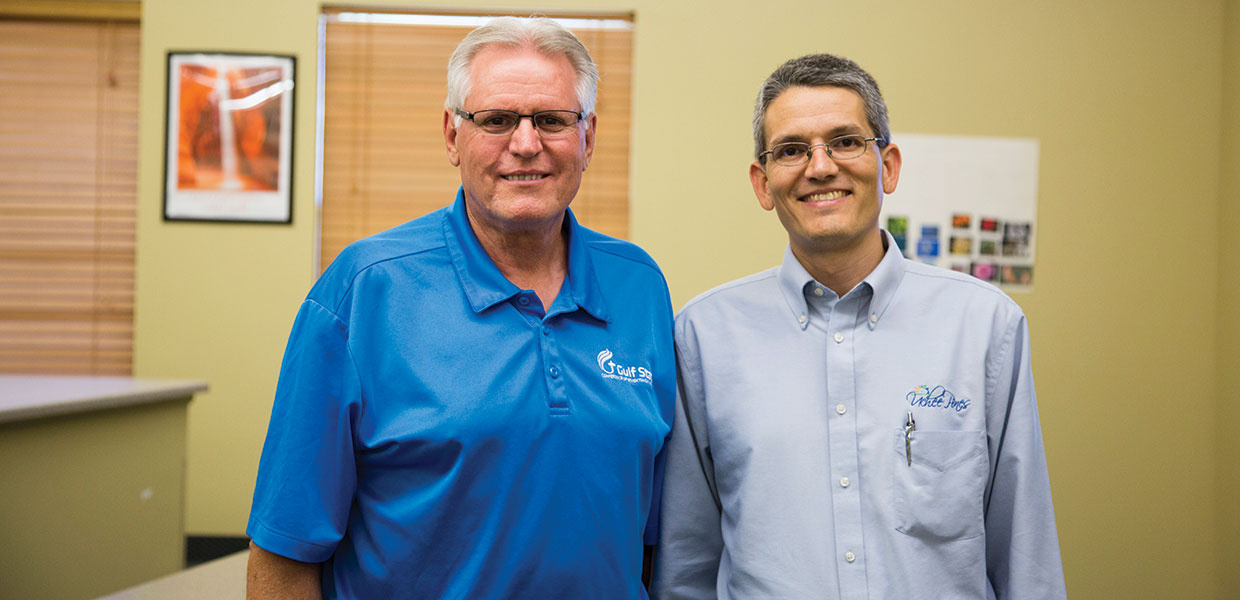 Dave Livermore (left), president of the Gulf States Conference, stands with Mark Sandoval, M.D., president of Uchee Pines Wellness Center in Seale, Alabama.
Tyler Roberts
Dave Livermore, president of the Gulf States Conference, could barely walk into his house in early January this year. He had a problem with his health. "My job is very busy … I didn't watch what I ate. I'd just run through drive-through, drink coffee; I was out of control." His wife, Teresa, sensed something wasn't right, and she was very concerned. He said, "I'm always okay, I'm just that type of guy. I was having pains in my heart, but I thought, 'I'm just an old guy; that's just the way life is.'"
When a trip to Uchee Pines was suggested by Brian Danese, Conference treasurer, Livermore was reluctant. "I wasn't interested in the lifestyle. I just thought, 'Why are we going to Uchee Pines?'" Livermore and his administrative team arrived at Uchee Pines on January 8, 2017, for five days of tests and procedures. At the end of their stay, Livermore met with Mark Sandoval, M.D. The diagnosis was clear: heart trouble, diabetes, bad kidneys, and a susceptibility to dementia were all staring him in the face. Something had to be done. Livermore drove all the way home in silence. "I just shut my phone off … I was praying and thinking, how could this happen … I know better. I went home to my wife; she had never seen me this scared." Determined not to let his prognosis get the best of him, Dave and Teresa dedicated themselves to a plant-based diet. "I will never call it a diet; it is definitely a lifestyle." Smaller portions, fewer meals, daily walks, no dairy or cheese are just a few of the major changes that Livermore had to adjust to. The transition was not easy. "The first probably three weeks you feel like you're going to die. I was starving. Letting go of snacks and sweets and eggs and cheese was tough." Having the constant support of his wife is one of the ways he was able to make it through. "My wife went on this with me … I'm not sure I could have done this alone. She's helped me so much."
Although the road hasn't been easy, both have already seen the results of sticking to a plant-based diet. At the writing of this article, Livermore has lost more than 50 pounds. This puts him in spitting distance of his overall goal of 200 pounds. Teresa has lost more than 30 pounds as well. "My daughters are doing it, my neighbors are doing it. I've seen a significant difference in everything. I'm not perfect, I still struggle, but I'm not going back," said Dave Livermore.
Gulf States | August 2017