by Shane Hochstetler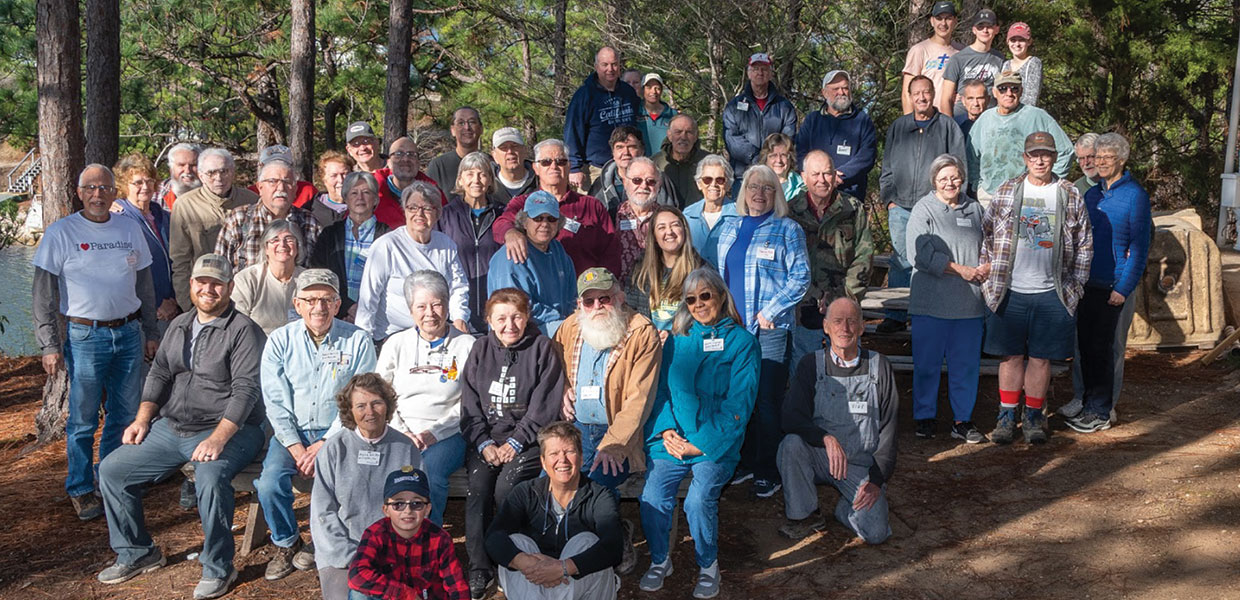 Maranatha Volunteers International members worked at Camp Alamisco in Dadeville, Alabama.
Edward Jensen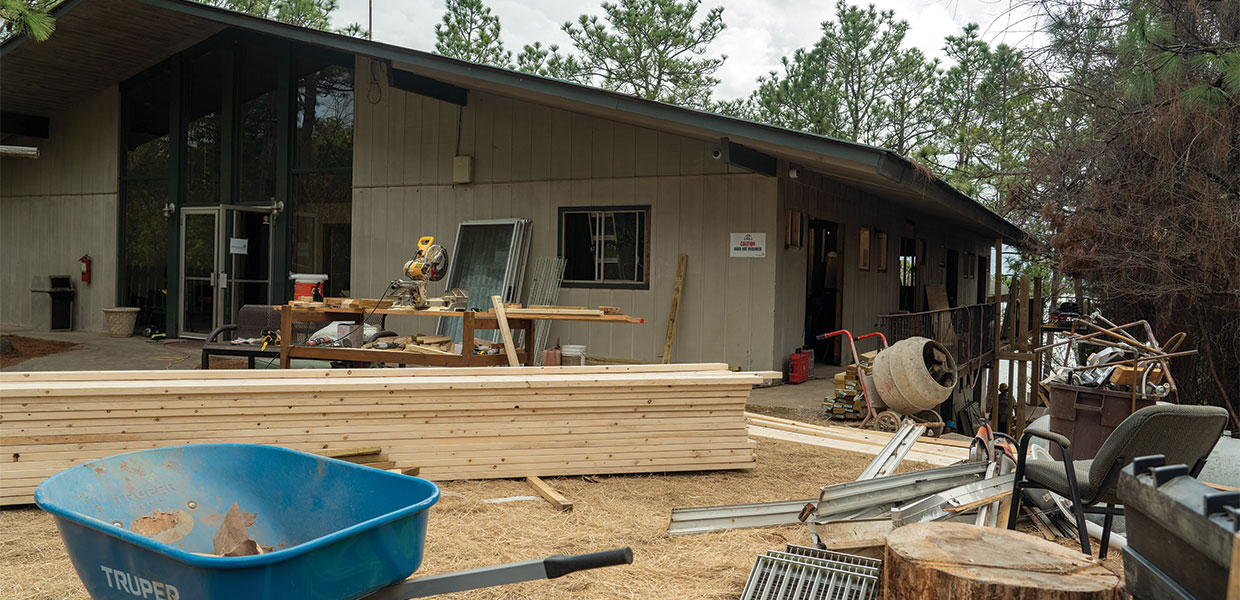 The lodge at Camp Alamisco receives much needed remodeling across two stories on its west side.
Shane Hochstetler
Fifty-three volunteers from 17 different states of the United States and one volunteer from Brazil descended upon Camp Alamisco in Dadeville, Alabama, February 3-21, 2020. The volunteers were part of a Maranatha Volunteers International mission group that was organized to assist in remodeling the main lodge of the camp, a project that consisted of demolishing and rebuilding the living quarters on two stories on the west side of the building.
The volunteers were eager to work, and during 18 days they were able to complete 562 days worth of labor. Working alongside camp staff and some hired contractors, the workers demolished the living spaces, and even replaced the studs and rearranged the plumbing. Part of the overall plan for the project involved removing the internal door access to the rooms and eliminating the hallway. The new layout allows for more space inside the room, with access to each room coming from an external door under a covered walkway. Each room is outfitted with a custom-tile shower, which is more spacious and more comfortable to use than the former prefabricated units. Among other improvements, including a robust overhaul of the electrical system in that area, each room now also features a mini-split A/C and heating unit. These units are much more efficient than the former window-style setups, and are capable of being linked to a single condenser to support multiple rooms.
The onsite volunteers possessed a variety of skills for the project, and many were willing to share their skills with others as they each contributed to finishing the job. The newly learned skills are something each volunteer takes home with them. "One volunteer built her own shed at home after gaining the necessary skills from Marantha projects," said Evelyn Close, project manager. "God always brings the right people for the project." While sitting at lunch, a conversation about needing skilled concrete labor was met with "I know how to do that" from another volunteer seated at the table. The scenarios of personal experience being directly applicable to a project need are a common occurrence on these missions.
While Maranatha is known best as an overseas-focused ministry, they also have domestic projects every year. "There are just as many needs here in the States as there are overseas," says Ernie Riles, construction supervisor. "This was a pretty big project, eight rooms to make liveable in a short time." However, both Close and Riles referred to the volunteer group as a family, a hard-working family who trusts God and completes projects. Maranatha worked closely with the camp staff and the Gulf States Conference to make this mission a success.
This project is just one of several that have been taken on by Todd and Shelley Ward, camp rangers, and their staff over the last several years. Camp Alamisco is springing with new life and a brand new era of high-quality construction in a beautiful natural setting. Renovation of the central lodge area, among many more exciting improvements, is scheduled for later this year. See a short video clip of the volunteers in action at www.gscsda.org/gsc-today/maranatha

Shane Hochstetler is the communication director at Gulf States Conference.
Gulf States | April 2020