by Shane Hochstetler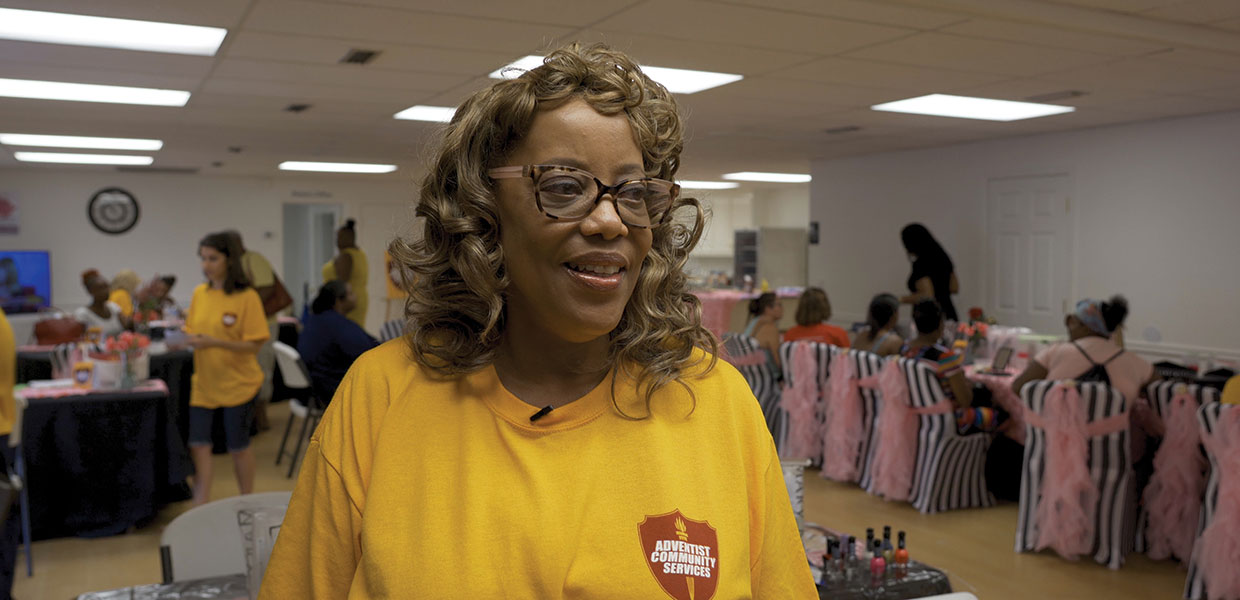 Rosalind James, member of the Dothan, Alabama, First Church, prepares for a video interview.
Shane Hochstetler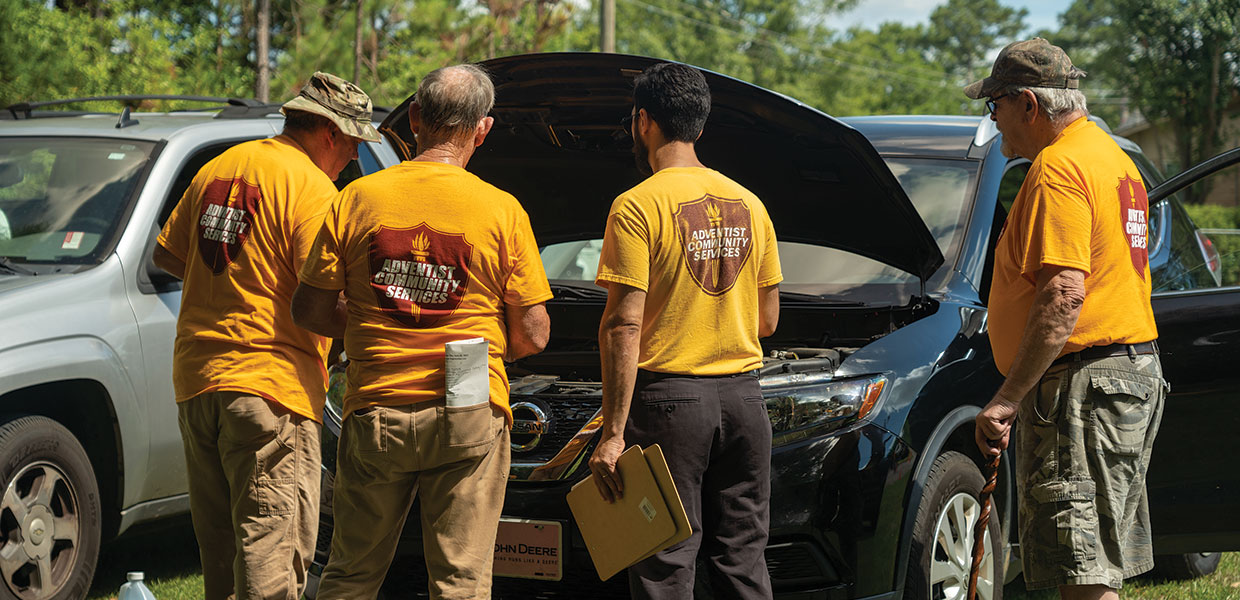 Elton DeSousa (second from right), pastor of Dothan First Church, speaks with volunteers at the inspection station.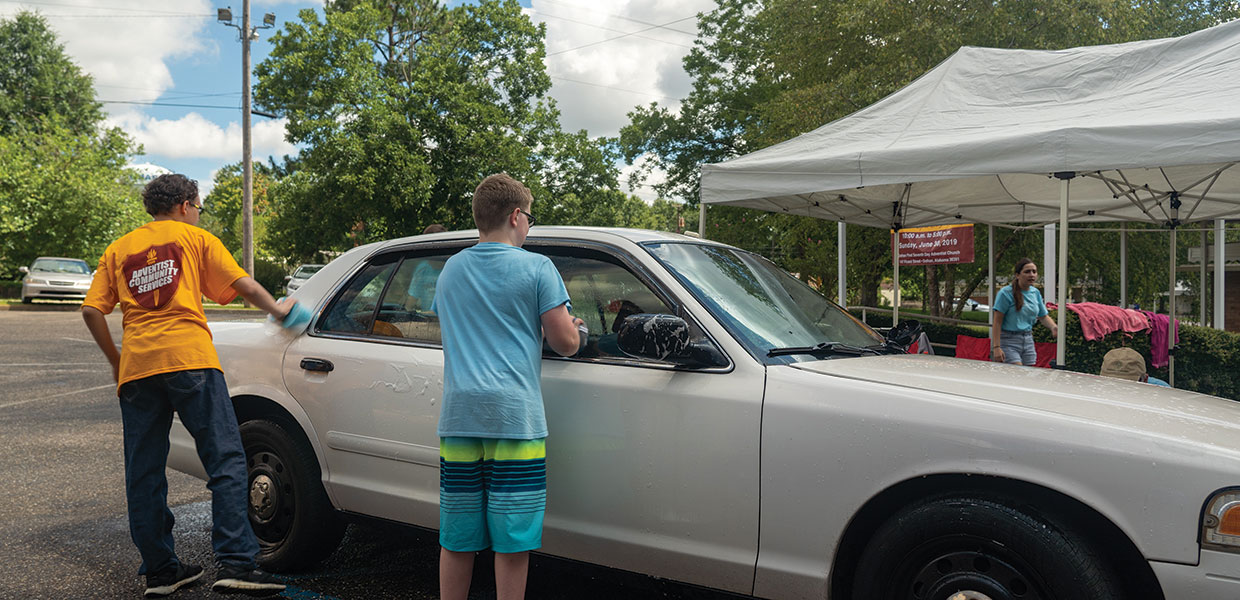 Pathfinders participate in the event by washing cars.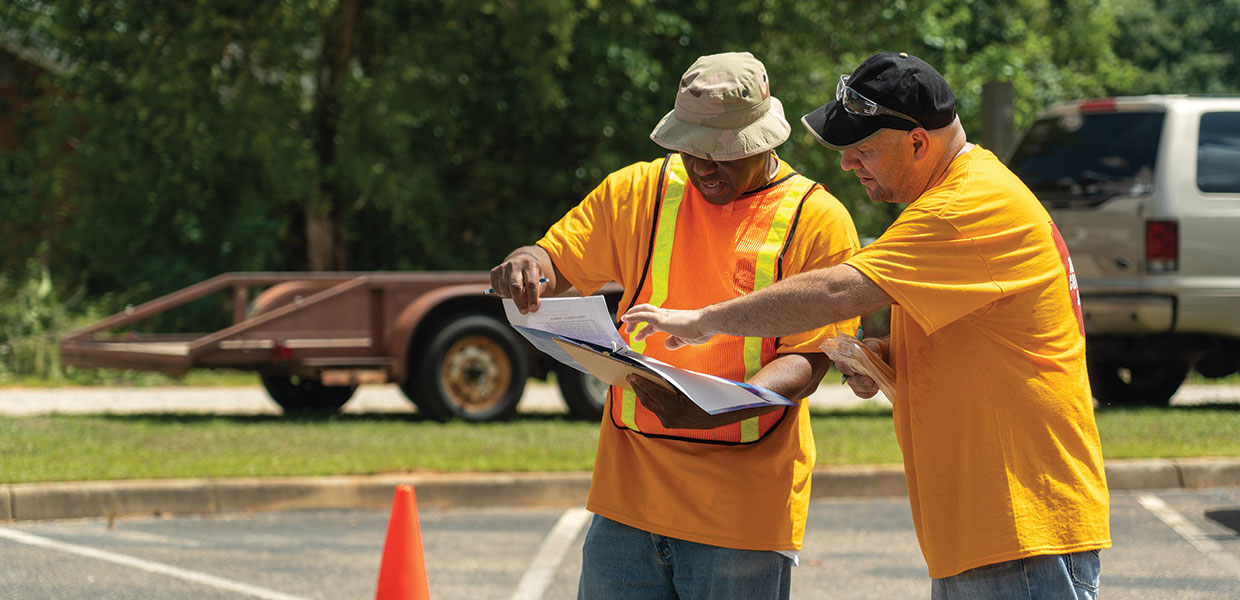 Volunteers prepare for attendees at the parking lot entrance.
When Rosalind James, member of the Dothan First Church in Dothan, Alabama, recently retired from the workforce, she struggled to find what her purpose would become. Having worked for the Alabama Cooperative Extension System as an urban regional extension agent, James had 15 years of experience with community development. James assisted in the advancement of events and fundraising for a variety of programs that, when implemented, improved the community by educating young people with practical skills. She applied for and acquired numerous grants that aided these endeavors. James also spent some time organizing events for Conference youth federations, many of them with more than 3,000 participants. However, even with this background and skill set, James found it a challenge to implement these skills through regular ministry in her local church.
James began praying and asking God for direction in ministering for Him. Without too much of a wait, that prayer was answered, at least in part, when Elton DeSousa, pastor of the Dothan First Church, entered the district. DeSousa offered to train the church about Adventist Community Services (ACS), convinced that the practical features of ACS are some of the most useful resource vehicles for ministry in the Adventist Church. The local church obliged and participated in the training, which included a survey of the available skills and interests of the local members. As a result, numerous projects were initiated, including a military veterans alliance which will provide a Christian support program for veterans and their spouses, and a homeschool coalition that will offer a host site for area homeschool students to occasionally come and learn together.
James was ecstatic about the training and future possibilities by implementing ACS in their church. She began utilizing her former work connections and skills, and was immediately able to positively impact their most recent event, free oil changes for women in need. Vehicles began to pull into the church parking lot on Sunday, June 30, 2019, where drivers met friendly volunteers who took their name and confirmed their appointment for the day. Another volunteer drove the cars over to the temporary service area that the church set up, ready to work on up to five vehicles at once in separate stations. Each car went through a multi-point inspection, and then proceeded with the oil change if needed. After the service was completed, the car was moved to the car wash station where local Pathfinders provided a thorough hand wash. However, this free vehicle service was only part of the event.
While the women waited for their vehicles to be serviced, they were treated to a spa day in the church Wellness Center. Nicely decorated tables, free snacks, drinks, a makeover, manicure, massage, and childcare awaited the participants in the welcoming air-conditioning. The women also participated in a health survey which will lead to an upcoming health and wellness event, specifically addressing the needs indicated in the survey. One-on-one prayer was also offered to anyone in need. The event was a major success, and many of the participants asked what other events the church hosts so they could make plans to attend them as well.
James was excited to see the event come across so positively. Leading up to the event, she went on the local television station's noon news program, and was interviewed about the event. Immediately following the airing of the program, James received numerous calls to pre-register, and was on the phone for four hours returning voicemails. Due to the overwhelming response, the event was full before it even started, and a waiting list was generated. In total, the church served 64 vehicles in a single day. The local news liked the idea of the event so much, they sent a reporter the day of the event to cover the action.
James and DeSousa worked with their skilled elders, deacons, deaconesses, and church members to create partnerships for the event. Because of this effort, all of the oil, oil filters, and car wash supplies were provided by their local O'Reilly and AutoZone Auto Parts. Also, Walmart, Sam's Club, and other businesses and community members provided financial support to make the event a reality.
"I'm so excited. I'm just waiting to see what God is going to do [next]," said James. In response to how other churches can start something similar in their area, James says, "Believe, work together, and follow God's guidance."
Watch a video report of this event at www.gscsda.org/gsc-today/acsdothan.
Gulf States | August 2019