by Shane Hochstetler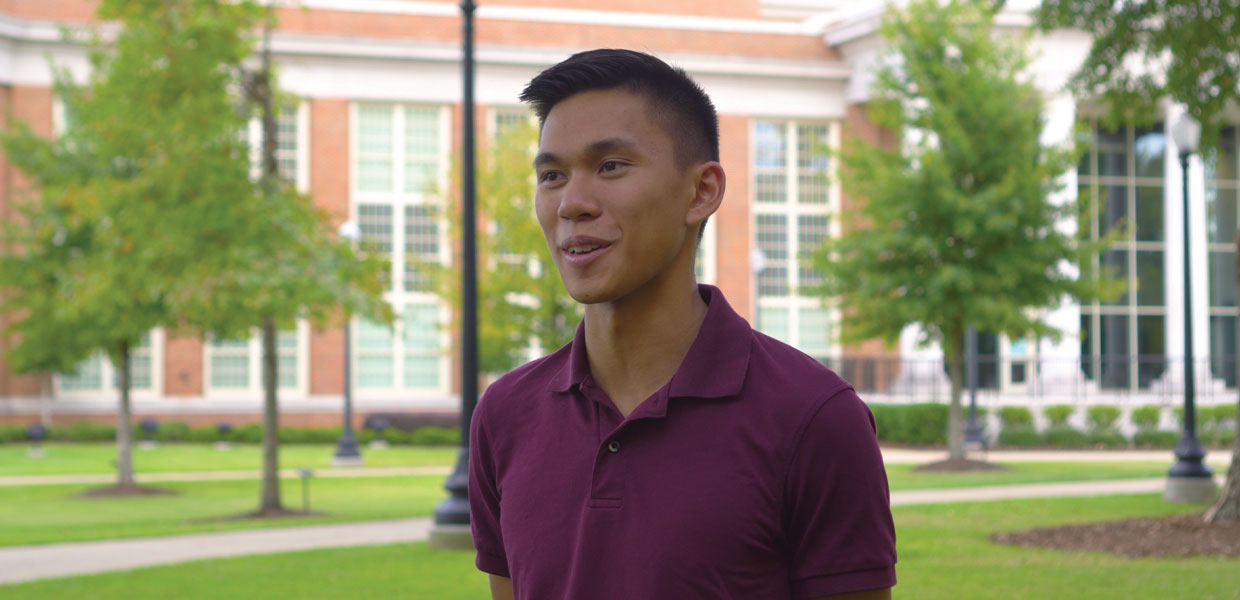 The University of Alabama is home to more than 35,000 students, the majority of which come from outside of the state.
Andrew Otanes recently moved to Tuscaloosa, Alabama, from Orlando, Florida, to attend the University of Alabama. What made him choose to leave his hometown and local university options? Because God told him that "there's work that needs to be done up there," says Otanes.
Otanes is a political science and management double major, and a member of the university's ROTC program. His goal is to become a judge advocate in the United States Army. But, what drives him most as an Adventist at a secular university is to make genuine connections with people on behalf of the Church. "I see what other churches are doing [on secular campuses] to bring people in and make them feel accepted, and make people feel loved, and I'm dissatisfied with the amount that the Seventh-day Adventist Church does to accomplish the same." Otanes' natural response to his dissatisfaction is to do something about it and make it better.
At the beginning of October 2020, Otanes teamed up with Marcus Harden,
pastor of the Tuscaloosa Skyland Church, and Josue Sanchez, youth director of Gulf States, to start an Adventist Christian Fellowship (ACF) chapter at the university and host their first event at the church. Twenty people showed up. Otanes believes that marketing is key to success, and his strategy was word of mouth, meeting people face-to-face, and leveraging his personal connections.
Other Adventist students from an area community college came to the event, but many who were not Adventists and even non-Christians attended too. "We played games, we talked about surviving the struggles of being a college student and the difficulties that come with it," said Otanes. They also offered free food to attendees: "That was a big thing, saying there's free food." But more than free stuff, Otanes offered a genuine invitation. "An honest man has nothing to fear," he said. "I'm not trying to throw any gimmicks… I was just honest. I said, 'I care about you, guys. I want to see you through, and I think you're going to enjoy this.'" Several people from Otanes's ROTC group came to the event and new people outside of his regular acquaintances. "We met a guy at the park," Otanes explains, "and we were just playing football. And he's like, 'Can I play with you?' And the first thing I said was, 'yeah, of course, man.' And then, like 30 minutes later, I was like, 'by the way, there's an ACF event coming up this Friday at the Tuscaloosa Skyland Church …' I sent him all the information, and he showed up." Just being friendly and willing to make new personal connections goes a long way.
Otanes believes that part of keeping a solid connection with God while attending a secular university is to get involved in a local church. While there aren't many Adventist churches in the Tuscaloosa area and young people's attendance is slim, Otanes is determined not to be discouraged and participates wherever he is able. It was shortly after he arrived that he met Harden and shared his previous experience with ACF. In response, Harden offered him an opportunity to preach, and connected him to the Gulf States Conference Youth Department.
Sanchez offered to sponsor some ACF events, and brought Otanes onto his video podcast on Facebook to announce the new ministry initiative. Combining the willingness of Otanes with opportunities from the local church and resources from the Conference is proving to be a winning combination.
When asked what advice may help Adventists at other secular universities, Otanes suggests, "Find a really good church group …. And if there isn't an Adventist group around you, find Christian friends, good influences …. Try to remain in good places; don't expose yourself to temptation …. And keep yourself busy, find things that make you happy, and be passionate about those things.
"The best part about coming to a secular university as an Adventist is just the fact that there is a mission field. I remember when I first came up here, I spoke at the church and said something like this, 'We should have as great a faith as Joshua did, and understand that there is a Jericho in front of us. All we need to do to take that thing down is just call upon the Lord's name, and that city will be delivered unto us.' So my thing is this, I think that the University of Alabama itself is a Jericho where there's a lot of people who need to be reached.
"Let's just call — collectively as an ACF and as an Adventist community — upon the Lord's name. There's nothing that will stop us from getting to the kids here at the university, and making meaningful, impactful, long term, sustainable change for the better."
Watch the video interview at www.gscsda.org/acfalabama.
Gulf States | December 2020