By Kimberly Roth is the advance- ment director at Highland Acade- my in Portland, Tennessee.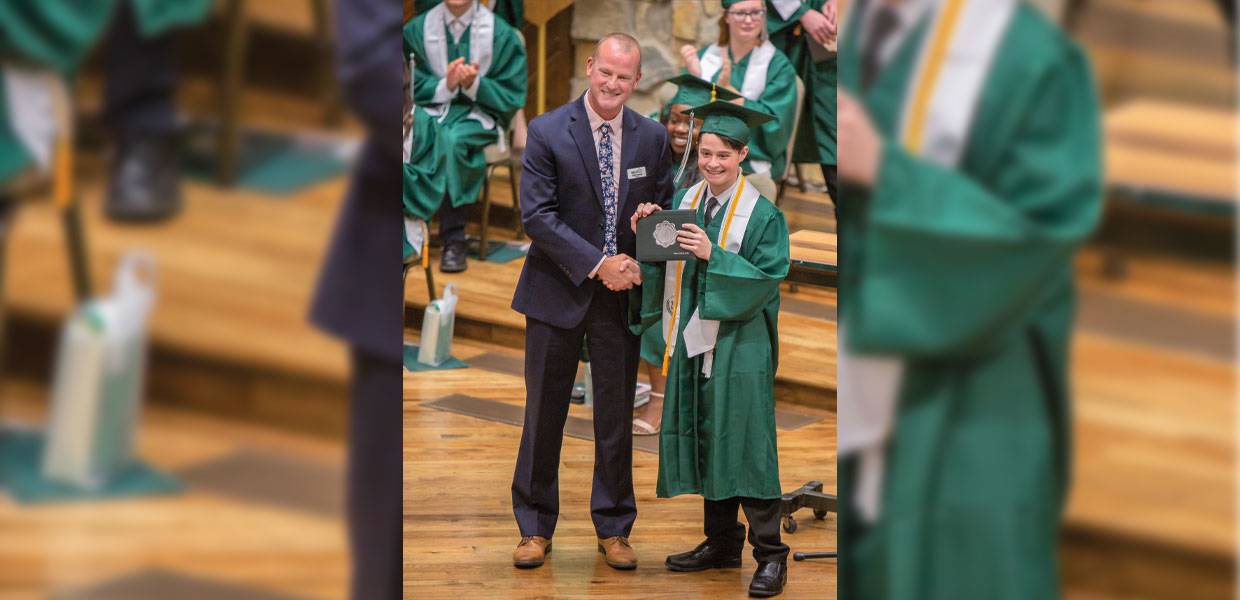 Noah Wade receives his diploma from Chadd Watkins, Highland Academy principal.
Spring 2020, the staff at High- land Academy (HA) in Portland, Tennessee, did not witness the usual caseload of senioritis, the condition in which seniors wish to be anywhere but school. The students left for spring break not knowing that they would not return in person that school year due to a pandemic. Instead, the senior class of 2020 wished to be back at school doing the usual end of year activities — classes in person, gymnastics homeshow, spring concert, and graduation. Especially graduation!
Restrictions for COVID-19 remained in place longer than anyone had anticipated. HA administration tried to find a way for the seniors to have a full graduation weekend. They opted to schedule graduation at the end of July, hoping that postponing it that long would give the best chance of an in-person ceremony. As the date drew nearer, the seniors hoped and prayed they would at last get their chance to march across the stage — everyone, that is, except for Noah Wade.
Wade had received his diploma in the mail, was already working, and was just over everything school related … and church related, too. In fact, he had stopped going to church. He was just over everything. He did not want to be at Friday morning's grad- uation rehearsal. He arrived dressed out of school dress code, with a large chain around his neck and a negative attitude. Midway through the rehearsal, his mom called and picked him up.
She had a heart-to-heart conversation, asking him if this was the person he wanted to be. She explained that he had friends there who cared about him, and that he should realize graduation was not just about him. It was a way to honor and support his friends, as well as his family who had worked hard to give him a Christian education.
Wade called Chadd Watkins, HA principal, to apologize and let him know he wanted to be at the gradu- ation Vespers that Friday evening. When he arrived at the church that evening ready to participate, he real- ized he did not have his cap and gown. He jumped in his car and raced back home to get them. Driving back to the church at break-neck speed, he came up on a sharp turn. His car flew off the side of the road and, at that moment, Wade thought he was dead. In a daze, he climbed out of the car and was met by a couple that helped him call the police and take care of things. His rescuers told him that something just impressed them that evening to go that way, and that God had brought them to him. He knew it was a miracle he was still alive. He felt God was calling to him that day.
The next day at the church service, Wade witnessed one of his classmates, Aron Mariano, get baptized. In addition to seeing his classmate making a stand for God, an illustration during the sermon made him think about life beyond graduation. Kaleigh Benge, former chaplain at HA, was the guest speaker. She brought a rope for an illustration. The end of the rope that was bound with tape represented your time on Earth. The rope that had no end represented eternity. Wade realized his time on Earth is very short, and he wanted to be prepared for Heaven. He wanted his life to have a purpose.
That evening, he had a long conversation with Roger Schmidt, pastor of Highland Church. During that conversation he expressed how the things he used to do which he thought would make him happy, instead ended up leaving him with regret. He acknowledged that he blamed others for his mistakes instead of taking ownership for his actions. Schmidt encouraged him to use trials to help him grow, and build and experience a real relationship with God. During the conversation, Wade expressed an interest to be re-baptized, and two weeks later, on August 8, 2020, he was reborn into the family of God. A week later, a third senior, Luke Medlock, also decided to make a public commitment to Christ through baptism.
The staff at Highland Academy endeavors to give students opportunities to experience a relationship with Jesus. However, it is "God Who works in you both to will and to do for His good pleasure," Philippians 2:13 NKJV.
There was great rejoicing on the HA campus, as well as in Heaven for not only a much longed for graduation weekend, but also seeing three members of the Class of 2020 publicly make a choice to follow Jesus.
Kentucky Tennessee | November 2020