by ANDREW JAMIESON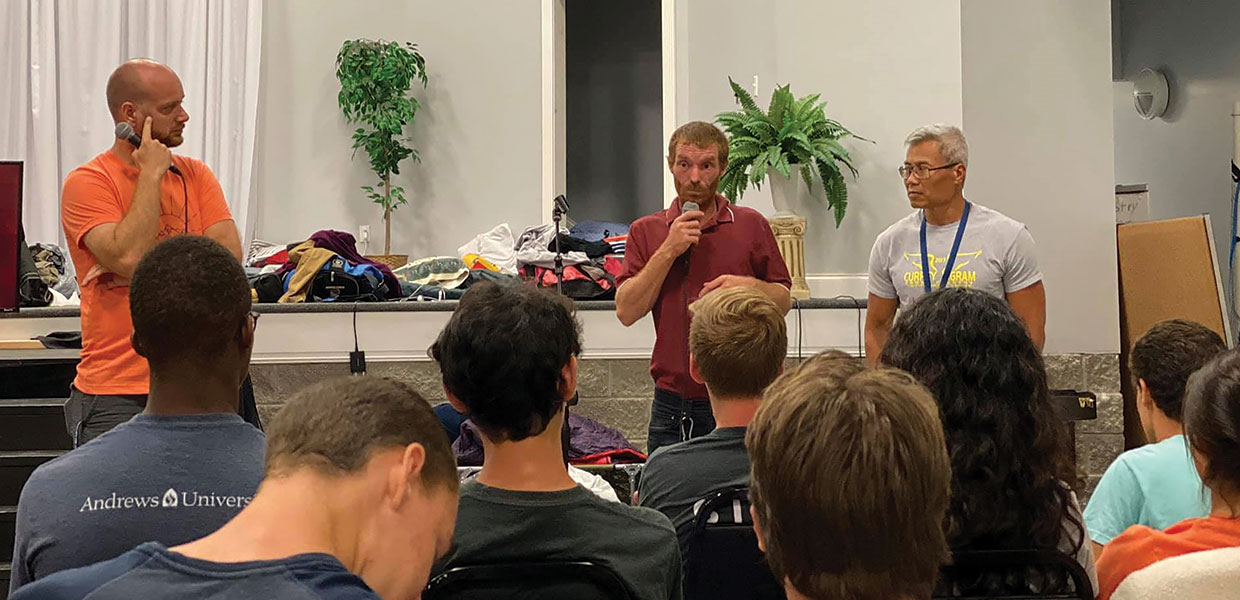 Andrew Jamieson (left), Jason Grubb, and Raphan Ley speak to the Madison Academy and Highland Academy students.
Jason Grubb recently celebrated his one-year anniversary of drug free living and his baptism into the Seventh-day Adventist Church.
Grubb grew up in Manchester, Kentucky. As a teenager he became a drug dealer and eventually a drug addict. He spent time in jail and was known around town for all the wrong reasons. His marriage failed, his house burned down, and his truck was totaled. He remarried and tried to be a loving husband and supportive father, but the addiction kept him from being who he wanted to be. He knew there had to be a better way to live.
Fast forward to the summer of 2018. Tom Kyser, pastor at Manchester Church, and the members held a back-to-school bash. The church gave out school supplies, and Grubb saw an opportunity to save a little money on those supplies, so he took the family to the event. He did not know that this was a divine appointment. After speaking to Kyser for a little while, he and his wife, Candy, decided to enroll their daughter in the Appalachian Christian School and start Bible studies with Kyser. They were convinced of the truths being uncovered, but Grubb still could not shake his drug addiction.
Enter the Appalachian Outreach Power Team, a mission trip to the Appalachian area that dates back to the mid-1980s. Grubb's house needed work, a lot of work. There were holes in the floor, ceiling, and walls. The foundation was crumbling, and every time it rained, everything inside the house would get wet. Students from Madison and Highland academies worked on his house, along with a number of other homes in the area. The students repaired the holes, reinforced the foundation, and sealed the house to keep it dry inside year round.
As the work on Grubb's home was in progress, he had a conversation on the porch with Raphan Ley, a teacher at Madison Academy in Madison, Tennessee. He explained how he wanted to be baptized and follow God, but he could not shake his drug problem. Grubb tried everything he knew, but the demons kept coming back. Ley put his hand on Grubb's shoulder and said, "Your house is a disaster. It leaks, there are holes, and it is falling apart. However, you did something to change that. You let us in. You could not fix it yourself. You do not have the skills or the resources to do it. You simply opened the door and let us in. You need to do that with your life, except it is Jesus you need to let into your heart. He will clean up and repair your life, heart, and your drug addiction. You are right; you have tried everything and you cannot do it, but He can. Let Him come in." It is a conversation Grubb says he will never forget.
In September of this year, students from Madison and Highland went back to Manchester, a year after that short conversation on the porch. The students worked on nine projects in and around the Manchester, Kentucky, area, one of which was to continue the work on Grubb's home. Grubb worked alongside the group and announced to the group that he was baptized and had been clean for a year. He credits that to the Bible studies with Kyser, and the "life changing" conversation he had with Ley. He says, "If I had known I would feel this free, I would have given my life and addictions over to God 10 years ago!" A short and simple conversation on a rickety porch in the hills of Appalachia opened the door for Jesus to restore a life.

Andrew Jamieson is the vice president for student life and a teacher at Madison Academy in Madison, Tennessee.
Kentucky-Tennessee | December 2019