Paola Mora Zepeda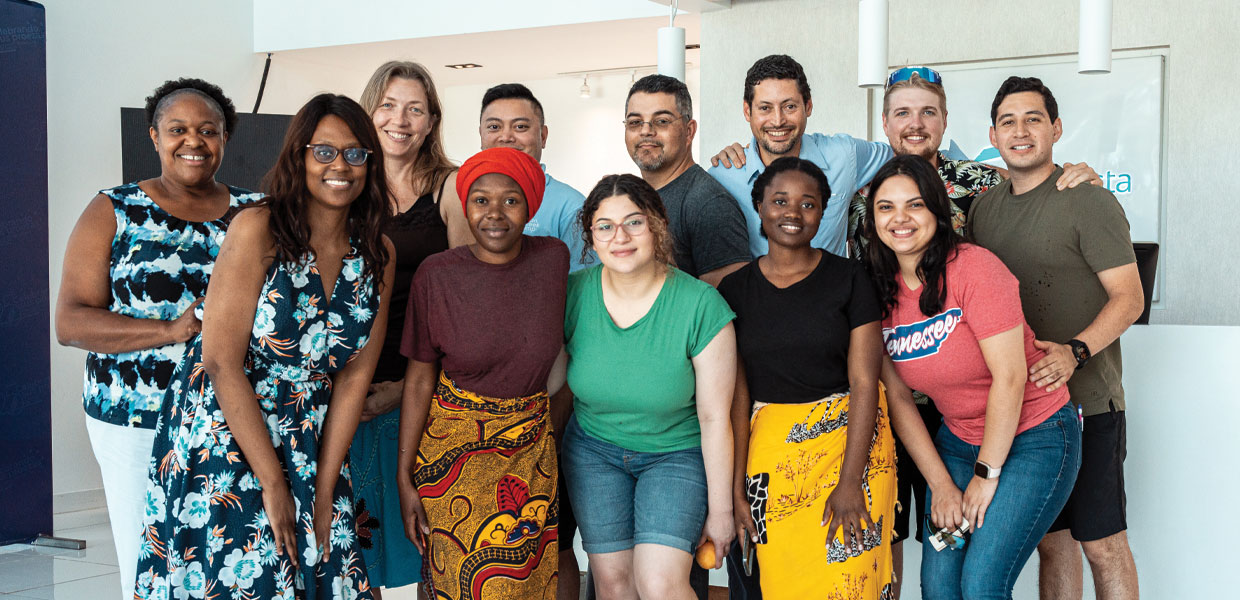 The mission trip group pose inside the Dominican Republic Southeast Conference. The evangelistic mission trip was a life-changing opportunity for the 12 participants, many who preached for the first time in their lives.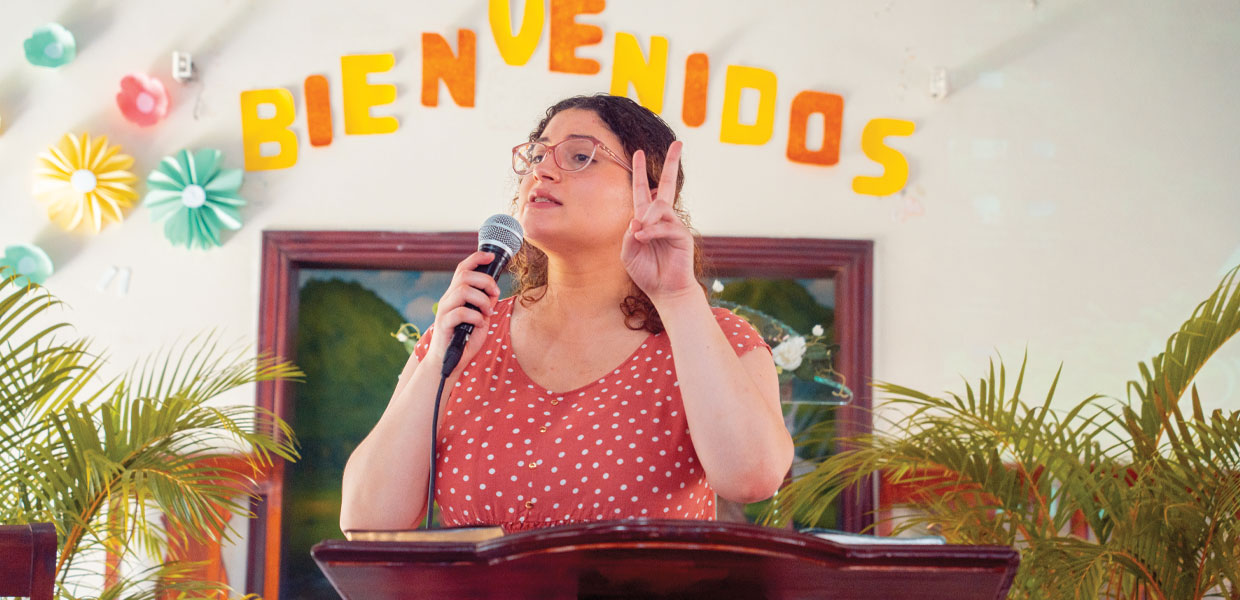 Ariana Mercado preaches her first sermon at the Brisas del Este Church in Santo Domingo. At first, Mercado was hesitant about joining the mission trip, but God opened the doors for her to go and now she shares the experience of how she was blessed.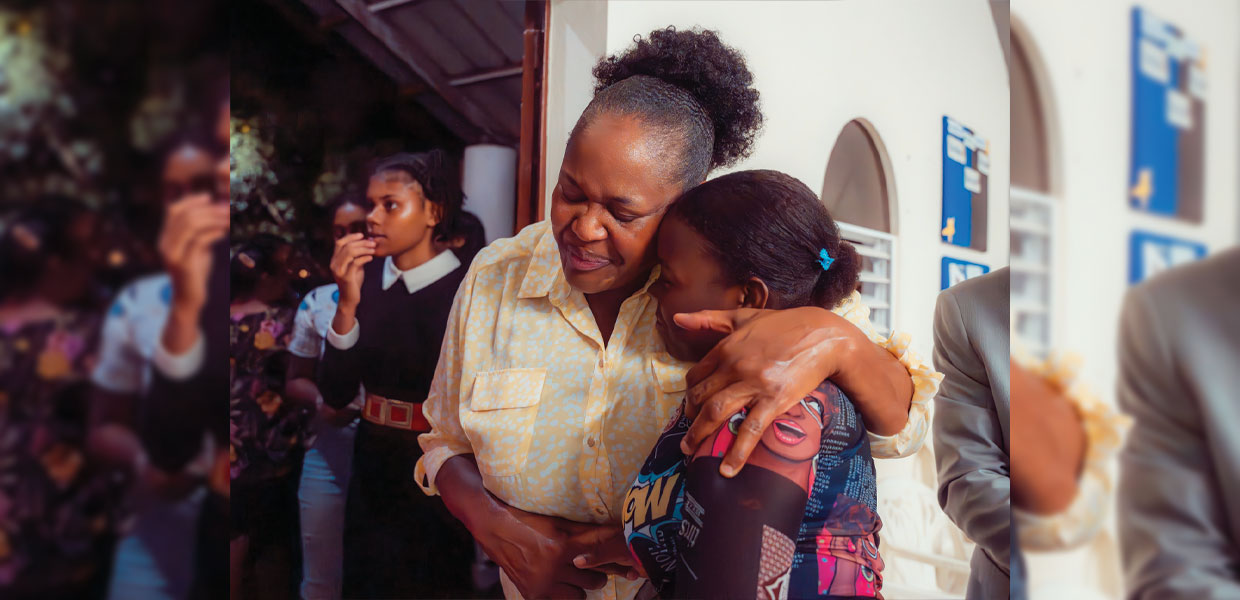 Samantha Barclay connects with a member at the Villa Esfuerzo Church, where she preached a total of nine sermons. At the end of the evangelistic mission trip, 25 people were baptized, and an additional 51 signed up for Bible studies.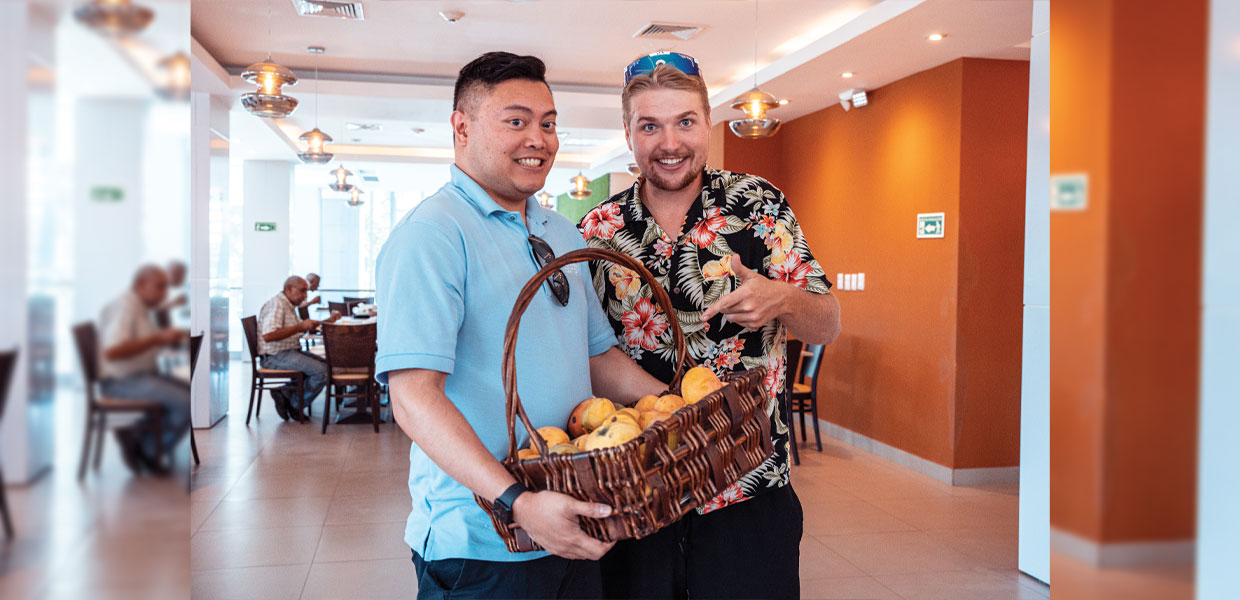 Jon Remitera (left) and Justin Johnson enjoy some delicious mangoes from the Dominican Republic.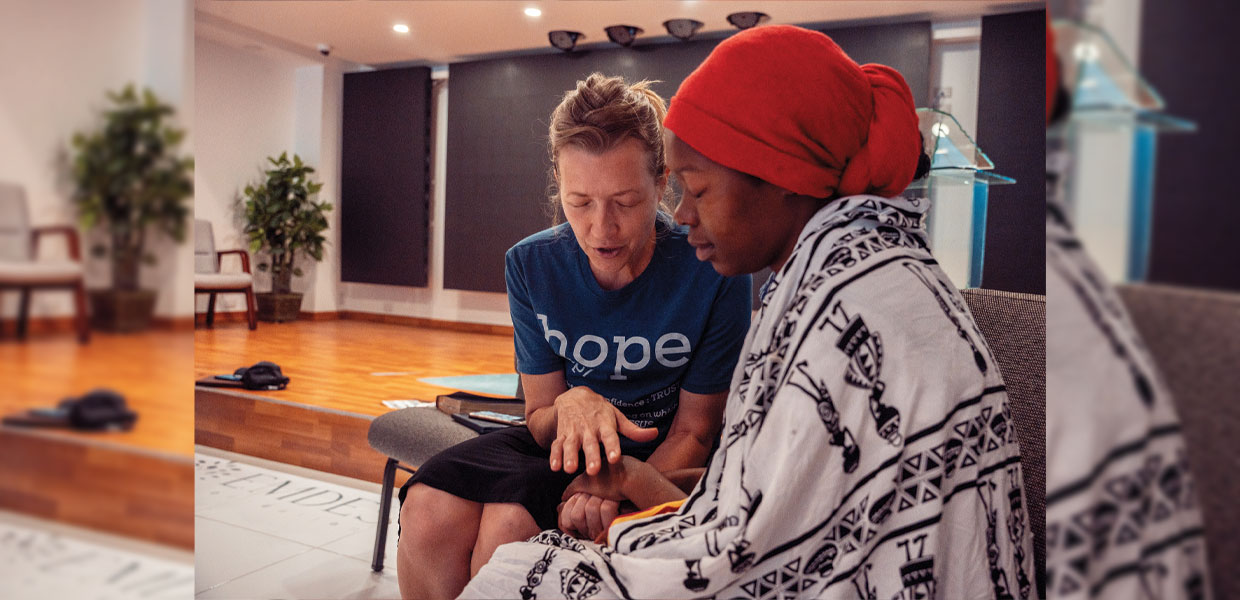 Amanda Hagar (left) prays with Monalisa Dubujena. Each day, mission trip participants got together to worship, practice their sermons, and share their testimony.
In the heart of Ariana Mercado, a member of the Nashville, Tennessee, First Church, a hesitant reluctance brewed when she first heard about the upcoming evangelistic mission trip to the Dominican Republic organized by the Kentucky-Tennessee Conference Youth Department. She found herself crafting an assortment of excuses, citing constraints like time and money. However, it seemed that God had different plans for her, and, as if He was determined to make it happen, all the doors opened for this opportunity.
"As I was praying about [the mission trip], I had to ask myself: what is my real reason for not going?" said Mercado. "I didn't really have an excuse anymore. I could feel God saying, 'I can provide for you. I will help you get the funds. I will help you have that courage to speak in public. You have to trust me.'"
And so, in June of 2023, Mercado flew to Santo Domingo alongside 11 other participants for a life-changing opportunity. The eager missionaries, most who were preaching for the first time, shared God's message throughout seven nights and two mornings. The theme for the week was "Conocer a Jesus Es Todo," (Getting to Know Jesus is Everything).
The mission trip was a joint endeavor by Kentucky-Tennessee Conference and Southeast Dominican Conference. Nelson Silva, Kentcuky-Tennessee Conference associate youth director, says this turned out to be a remarkable partnership in evangelism.
"We came with an attitude of collaboration," said Silva. "I think that that's the most important element, that they see us as partners. This means that we were coming to learn from them. They were in charge of their events, and we just cooperated with what God was already doing in their community."
At the end of the series, 25 people were baptized and 51 others signed up for Bible studies. The evangelistic series not only impacted the local community at Santo Domingo, but also the lives of the Conference preachers.
One of the mission trip's participants, Justin Johnson, from the Woodbury, Tennessee, Church, found himself in a similar state of apprehension as Mercado when deciding to join the Dominican Republic mission trip. Struggling through a difficult period in his life, Johnson felt as if his own troubles rendered him unable to make a difference in the lives of others. But as with Mercado, God was guiding him to this mission trip.
Johnson dived deep into his Bible studies as he prepared to share God's message. When he was nervous to preach, Johnson says he felt the Holy Spirit working through him. Reflecting on his experience, he now realizes that God had been calling him to the Dominican Republic for a special reason.
"People think mission trips are just about where they are going or the people that they're going to be preaching to," said Johnson. "And, while that is obviously important, mission trips are also about God calling you because He knows you have something going on in your life, and He just wants to get closer to you."
Beyond the individual transformations, Silva says the mission trip fostered a sense of unity among the participants. As they practiced their sermons together and shared their testimonies each day, they discovered newfound depths in their connection with one another.
"When you have conversations with peer missionaries, you realize that something is going on inside of them, that they are changing from within," said Silva. "During this week, the group becomes family and gains a similar sense of community as the early church where they ate, worshipped, and preached together."
As the mission trip drew to a close, Mercado emerged from the journey with a newfound understanding of God's guidance. She learned that when God has a mission for you, He will ensure that you find your way there. Now, she has signed on for another evangelistic mission trip, to Peru in October 2023.
"I once again heard God saying, 'Don't worry about all the obstacles, we're going to get through them together,'" said Mercado. "This experience really showed me that He is in control. I know that at the end of the day, God's got me and He will continue to use me to bring Him glory."
Kentucky-Tennessee | August 2023